In our pantry at home, we have this bottle of Italian balsamic vinegar that we bought on sale from our local supermarket.  The bottle features the face of TV personality Tony Tantillo (a.k.a. "The Fresh Grocer"), along with the number 8, which I had assumed was the vinegar's age.  But I learned a lot of things on our recent trip to Italy–including not to trust Tony Tantillo!
Making Traditional Balsamic Vinegar in Modena, Italy
As a lifelong fan of Italian food, I knew that most balsamic vinegar comes from a place called Modena, Italy. I knew that the best balsamic vinegars were aged, and assumed that like a good whiskey or scotch, there was a simple formula to determine quality based on age.  I guessed that, at some point of my life, I must have had good balsamic vinegar.  I was wrong about everything except the place.  (And even then, I was saying it wrong… Modena is pronounced "MOE-deh-nah", not "moe-DAYN-ah".)
We decided to use the city of Modena as our base for visiting Emilia-Romagna, a region renowned for its food, including Parmigiano-Reggiano cheese, prosciutto, lambrusco wine, and of course, balsamic vinegar.  To learn more about the local vinegar-making tradition, we visited Acetaia Pedroni to take a tour and have lunch. Our guide was owner Guiseppe Pedroni III.  He is the 3rd Guiseppe and the 6th generation in his family to make traditional balsamic vinegar.
How to Make Balsamic Vinegar (Trust Me, You Had No Clue, Either)
All balsamic vinegar of Modena begins pretty much the same way.  After they crush the white Trebbiano grapes, they heat the juice and reduce the volume to begin concentrating the flavors. We visited during the fall grape harvest, which meant we were lucky enough to see the initial stages of balsamic production.
The fermentation process begins with a "mother," an acetobacter colony that converts alcohol to acetic acid.  The mother is a living organism, adapting perfectly to the surrounding conditions – the temperature and humidity, the grapes, and even the barrel in which it is stored.  The Pedroni family has been using the same mother since they first began producing balsamic in 1862.  And this matters a lot!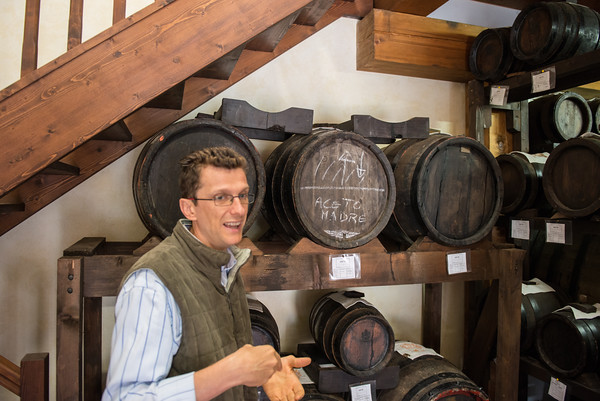 Upon entering the aging room, you'll see barrels lined in rows and stacked on shelves, and immediately be overcome by the intoxicating balsamic aroma.  The vinegar is aged in a "battery" (batteria). A battery is made up of a set of wooden barrels of progressively smaller sizes, using any combination of different woods such as juniper or cherry. Each year, half the contents of the mother barrel are replaced by new grape wine, and moved to the aging barrels.
The balsamic spends time fermenting in each barrel before it gets moved to the next.  Perhaps 20L from the 1st to the 2nd, 12L from the 2nd to the 3rd, and so forth until only 1L is ready for consumption each year from the final barrel.  It takes a minimum of 12 years for a battery to come of age.  Because only a percentage of the contents of each barrel is moved each year, with some evaporating over time, it is impossible to say with any precision the exact age of the final product.
A Way of Life in Modena
Guiseppe explained that in Modena, making balsamic vinegar is a family tradition.  Almost every household in the region makes their own supply, and each takes great pride in making the highest quality possible.  The tradition is passed to the next generation — parents start a new battery for their children when they are born.
We also were allowed up close to smell the difference between the young vinegar, pungent and causing my nose to wince from the acidity, to the aged product nearly finished, which was so unbelievably smooth and sweet.  I didn't want to leave this room.  Until, that is, Guiseppe offered to let us taste his balsamicos.
Balsamic Vinegar Tasting
The first balsamic we tried was the Pedroni label I.G.P. (Protected Geographical Indication) that is aged for a relatively short period of time and produced in much higher quantities for use with salads and as a condiment.  Guiseppe poured us each a spoonful, which I got the sense he intended for us to try only to show us the difference between this and his aged balsamics.  And yet it was still the best balsamic I'd ever tasted.  "Wow, that's really good," I exclaimed.  Guiseppe sighed.
He told us about all the misleading marketing of balsamic vinegar which makes it impossible to tell the real thing from garbage.  Shady distributors will use labels intended to fool buyers into thinking a balsamic is a certain age.  It will have the number 2 on it.  The next bottle might have a 6.  But 6 what?  Sometimes, you never know.
Next, we tried two affinato grade DOP (protected destination of origin) balsamics that differed by which woods were used in the aging barrels.  Each had been aged at least 12 years, and while they had different flavors imparted by the wood, each was refined, complex, and positively heavenly…
Until we tried the next grade, extra vecchio (extra old), aged a minimum of 25 years (though the governing body determines the actual grade, regardless of age).  Even more, the flavors had matured, with more refined and unmistakable notes from the wood barrels.  As a special treat, Italians use balsamic of this quality to top ice cream, as the refined acidity and subtle sweetness of the vinegars enhances flavors such as vanilla.
But Guiseppe had one final treat for us.  This time, it was a sample from the oldest battery the family has in production (75+ years).  The flavors have so perfectly merged that it would be a crime to allow anything else to interfere.  This balsamic is intended only to tasted by the spoonful.  As the thick liquid coated my tongue, I was almost euphoric. High on vinegar!
Afterward, we shared a meal at the Osteria di Rubbiara, the small tavern operated by the Pedroni family since the 19th century that features not only their balsamics, but also their Lambrusco sparkling red wines, and award winning grappas. Of course, we had dessert–vanilla gelato with a generous pour of the aged balsamico!
Before we left, and still in our euphoric state of mind, we blew our travel budget on a bottle of the 25 year extra old vinegar.
Back Home
So back in the United States, I took a second look at that Tony Tantillo bottle of vinegar in my pantry with the number 8 on it.  What did the 8 mean?  8… stars.  Stars?!?  8 Stars out of what, exactly?  What scale even goes up to 8 stars? Never mind that nonsense. More importantly, I tasted it, and it's awful. It's all sour, no sweetness, no other flavors to add complexity. We are going to have trouble going back to that.
Another problem we see now is that no occasion seems special enough, no friends seem good enough to motivate us to open our bottle of Pedroni vinegar (sorry, friends!)  It feels like a precious heirloom that must be preserved. It's irreplaceable.
How to Read A Balsamic Vinegar Label
The highest quality traditional balsamic vinegar of Modena will bear the phrase Aceto Balsamico Tradizionale di Modena and have a label that says D.O.P.(protected destination of origin), meaning that the production process has been regulated by the local producers consortium and the vinegar is aged at least 12 years.  If the label has the words "extravecchio" on it, that means it has aged a least 25 years. Traditional Balsamic Vinegar is required by law to be bottled in the short, round bottle, pictured above.
Cheaper, commercial-grade vinegars usually call themselves Balsamic Vinegar of Modena (Aceto Balsamico di Modena) and have a label that says I.G.P. (Protected Geographical Indication) which means, though it was made in Modena using a similar technique, it uses the faster industrial method (minimum aging of only 2 months). This vinegar may be a simple wine vinegar with added coloring, caramel, and even thickeners like guar gum or cornflour imitate the sweetness and thickness of traditional balsamic vinegar. (As with the I.G.P. balsamic we tasted at Pedroni, these can still be very good, but our Tony Tantillo bottle doesn't even say I.G.P. on it, yikes!)