I've traveled down Highway 1 through California's Central Coast several times and I think the region has some of the best beaches in California. On our recent trip, my friend Cathy and I stopped off at one of my favorites: North Point Beach, just north of Morro Bay.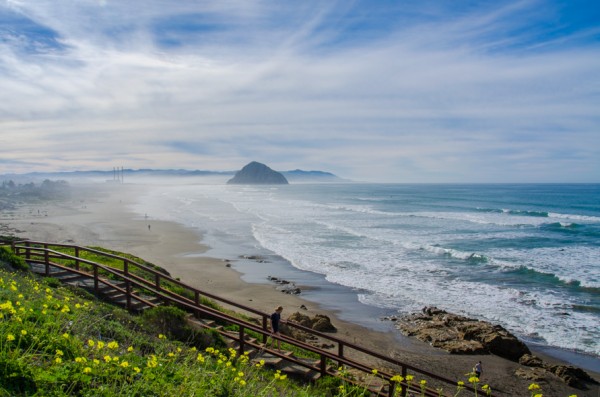 North Point Beach, straddles the towns of Morro Bay and Cayucos. I love it because there's literally something for everyone: Soft sand, good surf, wildflowers, tidepools, sandy bluffs, bird-watching, fishing, it's dog-friendly, and (I can't forget!) epic views of Morro Rock.
Here are some of my favorite things about this stretch of coast:
Dog beach!
There are a dozen or so "dog beaches" in California where you can allow your pup to frolic in the surf off-leash (two of my other favorites are in San Francisco and Carmel). Your dog will have a blast, and you don't have to find a petsitter.
Cathy and I had brought both of our dogs on this trip. Her black lab, Macie, loves to swim and we couldn't get her out of the surf.
My little pup, Posey, doesn't mind getting her feet wet, but she prefers to chase other dogs…
… trying to steal their ball.
Not into dogs? (I don't judge.) Head north, closer to the Cayucos Pier, where dogs have to be on leash.
Bird watching
This part of the Central Coast is one of the top birding spots in the United States. The diverse coastal landscapes attract more than 200 species, especially in winter, where it's an important migratory bird stop, along the Pacific Flyway, stretching from Alaska to South America.
Each year, the area hosts the Morro Bay Winter Bird Festival that attracts birders from across the state. Cathy and I were there the weekend of the festival, but couldn't make it to any of the events (that's fine with me–my family are the crazy birders, so I can use the break). Still, we enjoyed watching the diverse mix of birds on the beach and in flight.
Note: If your dog has a very strong prey drive and is capable of catching and hurting birds, please leave them home! Ours were more interested in splashing in the surf and chasing other dogs. My Posey enjoys barking at the flocks that taunt her overhead, but she's far too slow and easily distracted to ever catch one.
For more about local birding opportunities, check out the Morro Coast Audubon Society and the website of the Central Coast Birding Trail. The Highway 1 Discovery Route offers a unique program called "Stewardship Travel," which presents lots of opportunities to learn about and help coastal wildlife and environments.
Wildflowers & Scenic Bluffs
The rocky cliffs up above this beach make for some really stunning landscapes and coastal views, especially in the late winter when the grass was green and seasonal wildflowers are in bloom.
Seashells!
Heading further north on the beach, the sand is studded with colorful rocks and seashells.
My favorites are the sand dollars–the Central Coast beaches seems to have a lot more lovely sand dollars than other beaches I've visited in Northern and Southern California–but, I wonder if that's because so many collectors take them home on those relatively busy beaches. I look, find my favorites, and then toss them back.
And, last but not least…
Epic views of Morro Rock
Morro Rock is a stunning, 581 foot volcanic landform, that rises from the water in Morro Bay. While you can (as I just learned!) visit the land near the base of the rock by walking across the causeway, the rock itself is off-limits, protected as the Morro Rock State Preserve, home to nesting birds including the locally endangered Peregrine falcons.
This impressive backdrop makes for one of the most memorable beach walks in all of California.
What are some of your favorite beaches–in California, or around the world?