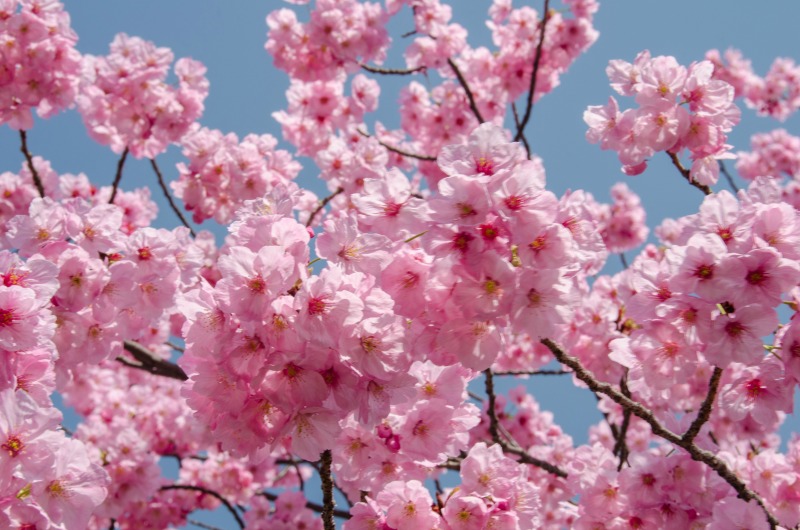 Millions of pink and white cherry blossoms, or sakura, color Japan each spring. Indeed, cherry blossom viewing is such an important annual activity in Japan that the national government publishes a cherry blossom forecast predicting annual blooms.
When we booked our flight to Tokyo's Haneda Airport almost a year ago, we decided to travel in mid-February, hoping to arrive during the annual spring bloom. As we neared the date of our trip, we learned that we had guessed too early — peak bloom was set to start at the end of February, a few days after we were scheduled to head home.
When we arrived and saw the barren trees, I started to fear that we wouldn't see any blossoms. Every time we went outside, Kevin carefully studied the buds on the trees, speculating about how much time we had until they would burst into bloom. On the last day of our trip, we planned our dedicated cherry blossom hunt. I read that one of the best places to see cherry trees in Tokyo was Ueno Park, the city's most popular urban park, about 15 minutes from our hotel in the Tokyo Bay area.
It was a Sunday morning, and the train was packed with about a thousand other people headed for the park in search of cherry blossoms. Here are some photos from our hunt:
Cherry trees line the main walkway of the park. As we entered the park from the train station, most of the trees we spotted were bare.
The sidewalk was decorated with this cute figure, the park's mascot dressed up in pink for the cherry blossom viewing.
The walkway was painted in a grid: Tokyo residents celebrate the cherry blossom season by packing a picnic and hanging out in the park from dawn until dusk.
A traditional Japanese tea ceremony demonstration attracted a crowd.
As we continued through the park, we spotted some pink!
A handful of tall trees had burst into bloom, drawing crowds seeking selfies and the chance to take long-awaited cherry blossom shots.
There were a number of food stalls set up to feed the cherry blossom-seeking crowds.
You could buy all types of foods grilled on a stick, like this jumbo crab…
…or these sweet grilled mochi (rice cakes).
We grabbed some snacks and sat down to enjoy them with a view of Shinobazu Pond.
A little old man fed the birds that gathered next to a pond. You could tell that this ritual was his daily routine.
After eating, we walked down to the pond. We had looked at a park map and spotted what appeared to be another grove of cherry trees. Sadly, all the branches were bare.
When we stopped to watch these distinctive duck-shaped paddle boats, I spotted some pink in the distance . . .
. . . where we saw more blossoms! Three trees at the edge of the park had burst into vibrant bloom.
As their branches waved and floated in the breeze, the lawn was covered with tiny pink blossoms that floated to the ground. We picked up a few of the freshly fallen blossoms and pressed them between the pages of my Japan travel guidebook as one tiny gift to take home–along with this sakura selfie.
How to Get to Ueno Park:
To get to Ueno Park, take the Tokyo Metro (Ginza Line and Hibiya Line) or Japan Rail (JR Yamanote Line), exiting at Ueno Station. After visiting Ueno Park, explore Ameya-Yokocho ("Candy Store Alley"), a busy food and flea market under the tracks between Ueno Station and Okachimachi Station.
This post was written in partnership with IHG. Views and opinions expressed are not those of IHG.