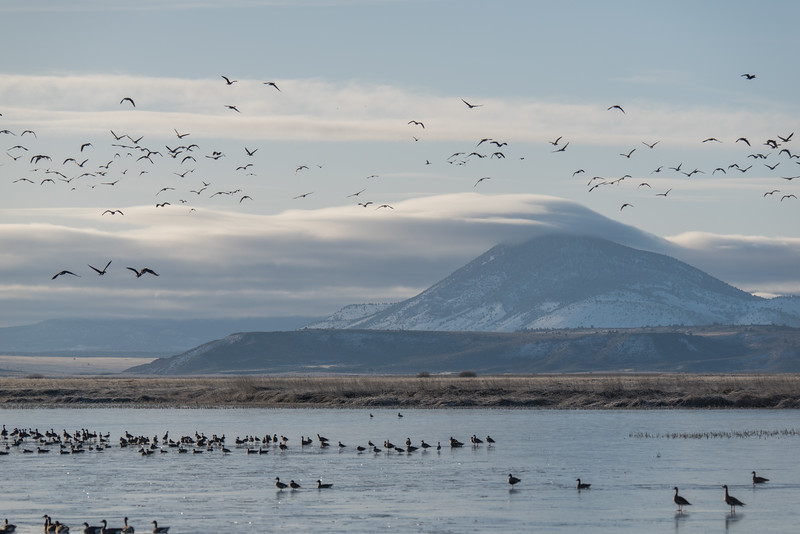 Five years ago, Kevin and I joined his dad and one of his brothers for a somewhat unusual winter vacation. We took the Amtrak train north to attend the Winter Wings Festival, an annual bird-watching conference in Klamath Falls, Oregon.
Birding in Klamath Falls
The Klamath Falls area is one of the top birding locations in the United States. The high-elevation valley is surrounded by mountains and it contains a variety of habitats from desert, lakes, wetlands, rivers, and even rainforests. The diverse environment makes it one of the largest migratory stopovers for birds. More than 350 species of birds call the region home and one in three birds that travel the Pacific Flyway each year stops in the Klamath Basin.
While bird spotting is good year round, the winter's big draw are the bald eagles. From December to March, Klamath Basin has the largest concentration of bald eagles in the lower 48 states. If you get up before dawn, you can watch more than a hundred bald eagles fly out from their roost near Bear Valley in the first light, and head out into the basin for the day to hunt and feed. Beyond the eagles, you can see Tundra Swans, Snow Geese, Canada Geese, Sandhill Cranes, egrets, herons, hawks, owls, and more.
The Winter Wings Festival is a big deal for birders and wildlife photography enthusiasts, or "bird nerds" — four days of lectures, workshops, and social events. We froze our fingers and toes on early morning field trips, to spot bald eagles and massive flocks of snow geese, sandhill cranes, and hundreds of other species of local and migratory birds that spend the winter in Southern Oregon
Memories of Klamath Falls
This trip to Oregon was my very first photography trip. I'd always taken lots of photos when I travel, but this was the first trip I'd ever been on where capturing the perfect shot was the goal. Kevin's dad was a lifelong photographer and obsessive gearhead who spent all of his money on the latest professional camera equipment. He laughed at my point-and-shoot camera and the crappy mini-binoculars that I got from Key Bank as a free gift after opening a checking account there back in college.
Still, I had a great time shooting away alongside the guys and their "big guns" and the trip inspired me to work on my photography. Three months later I bought my first DSLR camera–a wedding gift from Kev's snobby dad. Ten months later I started this blog to share our photos. Photography has been a major part of our travels ever since. After we lost Kevin's dad back in 2014, I looked through the photos we all took on that trip and Kevin and I said we would plan a trip back to Klamath one day soon.
This year we did it. With visions of bald eagles, flocks of birds by the thousands, and maybe even Crater Lake (!) we booked round-trip Amtrak tickets from San Jose to Klamath Fall and two nights at Running Y Ranch, a local Klamath Falls hotel popular with birders. We packed up our much improved personal camera equipment and borrowed some fancy gear from Kevin's mom and uncle. We were off to relive that memorable trip.
Here are some of the things you can see and do on a weekend trip to Klamath Falls.
The Bald Eagle Flyout at Bear Valley Refuge
First thing Saturday morning we set our alarm for some awful, pre-dawn hour of the morning and woke up for the famous Bear Valley bald eagle flyout. The Bear Valley National Wildlife Refuge protects 4,200 acres of old-growth forest on a mountain where bald eagles roost at night. You can't enter the protected wildlife refuge, but you can stop along an adjacent dirt road (Bear Valley Road) for a great view of the birds one by one, sometimes two or three at a time flying up over your head and out to the Klamath Basin.
Unfortunately, we did not see very many eagles. A local guy told us that a recent warm spell had tricked the birds into thinking that winter was over. We were about two weeks too late for the largest concentration of bald eagles. Still, we saw about a dozen of these majestic birds flying far up overhead. It was a beautiful sight.
Taking pictures of these far off, fast moving birds in low morning light is really hard, and my best (still awful) shot was only marginally better than the one I took last time with my old point-and-shoot. Oh well! My hands were freezing and I was happy to move on!

Lower Klamath National Wildlife Reserve
The Lower Klamath National Wildlife Reserve is one of the best places to see birds in the Klamath Basin and a historic place for nature lovers. The refuge was established in 1908 by President Theodore Roosevelt as America's first waterfowl refuge. It's even listed on the National Register of Historic Places as a National Historic Landmark.
The 50,092-acre refuge in far northern California, has a variety of wetland, grassland, feeding, resting, and nesting habitat for local and migratory birds. You just drive slowly down the dirt roads, watching out for flocks of birds and natural displays.
If you look to the southwest of the reserve, you can sometimes see Mount Shasta poking up through the clouds.
One of our favorite sitings were these two red-headed sandhill cranes just off the side of the road, hooting and hollering, and tossing a stick around in a performance that I guess was a mating dance.
We spotted other wildlife in and around the refuge. A coyote hopping through a field…
A herd of deer feeding along the side of the road…
And this hawk, perched on a signpost.
Our favorite stop was this grove of tall trees where there were two giant bald eagle nests and with a white-capped mama barely visible, protecting her brood.
This is the grove where we got to stop and enjoy this view of a bald eagle!
Lava Bed National Monument
(Now THIS is a magical place that I didn't even know existed until the ranger pointed it out on a map at the national wildlife refuge visitor's center.)
Lava Bed National Monument is a national park about 30 miles south of the Lower Klamath National Wildlife Refuge and  Tulelake, California. The park protects more than 700 massive volcanic caves and lava tubes, historic battlefields, and Native American rock paintings.
A few dozen of these caves are open to visitors — the visitor's center loans out flashlights letting you explore the caves all day. The caverns range from this "easy" high-ceiling, paved floor, and illuminated cave near the park visitor's center (Mushpot Cave)…
To "intermediate level" (narrower, deeper, rocky-floored, and pitch black) caves like this one (Golden Dome) and even more challenging caves, some so narrow that you have to crawl — the rangers recommend only expert spelunkers with professional safety equipment visit these ones.
Hiking underground in total darkness was a little scary for me, but I braved it to see this. The Golden Dome cave is named for a bacteria on the walls that glows golden when you shine your flashlight on it! (It didn't photograph well)
And Skull Cave, one of the largest and deepest caverns, where water deposits and the cold air deep in the bottom keeps a year-round layer of ice.
There are two main places where you can see ancient rock paintings in the park. The first, Big Painted Cave was disappointing, we didn't see any ancient rock paintings. Sadly, I just read that that is because most of it was vandalized by a visitor. Awful.
The Symbol Bridge hike, though, led to a narrow cave with these beautiful and well-preserved displays.
We could have spent several hours more exploring the caves at Lava Beds, but after a few hours driving and hiking at several stops in the park, we realized we were running out of food, water, and gas so we headed back to Klamath Falls. This place was a beautiful surprise!
Where to Stay in Klamath Falls
I was really excited to get to stay at Running Y Ranch Resort, a scenic local hotel that I'd learned about a few years ago at a travel conference. This hotel and conference center sits on 3,600 acres of forest bordering Klamath Lake. The property includes 12 miles of hiking and biking trails and Oregon's only Arnold Palmer-designed golf course.
While golf is the draw in the summer, in the winter, the hotel draws lots of birders. If they are anything like me, they enjoy the comfortable hotel's fireplaces and warm wood throughout as well as the resort's separate sports complex with full-service day spa, indoor pool and, jacuzzi.
It was a welcome place to return to after long days on the road and frozen early morning field trips.
When we arrived at the hotel late Friday morning the roads were dry and it was just starting to snow. Soon, it started coming down so thick we couldn't see very far in front of us.
Rather than leave, we picked up some groceries at the resort store and holed up in the room to wait for it to pass. I borrowed a sharp kitchen knife from the front desk and set up a makeshift sandwich shop in our room, using our Travel Southern Oregon travel guide as a cutting board (Sorry, Travel Southern Oregon!)
Hiking the Skillet Handle Trail
On our final day in Klamath and a failed early morning trip to Crater Lake (a post on that coming soon!), we decided to stick close to the hotel and check out the nearby hiking trails.
I wanted to check out the Skillet Handle, a 2.5 mile long peninsula at the base of the hill near the hotel.
Though the sky was gray, the oak, pine, and juniper forest was colorful, with vibrant shades of red, green, and yellow
I named this odd-shaped stone,"Recliner Rock."
At the end of the peninsula, there were some seasonal floodplains that drew hundreds of snow geese. We saw them flying overhead…
We saw them flying overhead…
…and in the mud at our feet.
We made a bit of a wrong turn (not realizing these seasonal floodplains would not show up as water on Google Maps!), and wound up doing a 6-mile loop down the peninsula, and around the flooded land, similar to this route. But it was an easy and scenic hike, and a great way to close out a wonderful trip.
Getting To Klamath Falls
Klamath Falls is a small city in southern Oregon, about half-way between San Francisco and Portland so it makes a great stop on any West Coast road trip. Klamath Falls is 17 miles north of the California border along US-97. It's a 6-hour drive north of San Francisco, 2.5-hour drive north of Redding, CA, 5-hour drive south of Portland, and 2.5-hour drive south of Bend, OR.
From points along the West Coast from San Diego to Seattle, you can take the Amtrak Coast Starlight train that makes daily stops in Klamath Falls. (We took the train to and from San Jose — post on that coming soon!) You'll need a rental car to visit most of the region's major sights. Enterprise, Budget, and Hertz all have offices in Klamath Falls. We used Enterprise and know that they will pick you up for free from the Klamath Falls Amtrak station.
Tips for Birding in Klamath Falls
There are six National Wildlife Refuges in the area protecting thousands of acres of wildlife habitat– you can just drive slowly down the preserves' dirt roads and stop to watch spectacular wildlife displays. Do pick up a copy of Klamath Basin Birders Trail, an inexpensive ($6) booklet published by a local birdwatching association that includes maps photos and descriptions of 42 of the best birding spots in the Klamath Basin (I wasted a lot of time trying to reference the Klamath Basin Birding Trail website on my phone but many of sites are out of cellular data range).
Pack warm! Southern Oregon is cold in the winter!
Where to Eat in Klamath Falls
Nature drew us to Klamath Falls so we didn't really eat out–we were snowed into the hotel on the first day and on the road most of the second day so we packed all of our breakfast and lunches.
We did have two good dinners on the trip:
Thai Orchid Cafe (1777 Washburn Way, Klamath Falls): A really good family-owned Thai restaurant in downtown Klamath. Very spicy (if you want it) and flavorful foods.
Klamath Basin Brewing Company (1320 Main Street, Klamath Falls): A local brewpub in a historic Creamery building in downtown Klamath. Great beers and good food.
Our trip was organized and hosted by Meet Me in Klamath. All photos & opinions are my own.