There are lots of interesting and unusual food experiences in Japan, but there are few that beat sushi. The best sushi is a minimal and perfect food–made from the freshest ingredients lightly prepared by an expert who has trained for decades to be able to prepare this oh-so-important Japanese food.
The most formal way to experience sushi in Japan is to order the omakase service. "Omakase" means "I leave it up to you" and it's much more than a dish–it's a night of dedicated attention from the chef. If you order omakase the chef delivers several courses of sushi crafted one-by-one, just for you.
The Andaz Tokyo had invited me to check out the hotel, which occupies the top five floors of the Mori Tower, the main building in the Toranomon Hills skyscraper complex. I had heard they had several restaurants, including a traditional sushi bar, called simply, The SUSHI, and a 52nd-floor rooftop bar with one of the city's best nighttime views. I scheduled a dinner there on our first night in Tokyo to celebrate the beginning of our trip.
The SUSHI is a tiny, simple sushi bar just beyond the rooftop bar. It only seats 8 people and it was designed to look like a Japanese tea house. Walking into this tiny place was a bit intimidating. I didn't really know what to expect, but the chef gave us a welcoming greeting and invited us to our seat at the bar. There were two sides of the bar with two chefs, each chef was responsible for four guests at a time for the most personal experience.
Our side featured Chef Onuma, who grew up in Tokyo and started his decade-long training as a sushi chef back in 1986. He served at small restaurants to luxury hotels, before joining Andaz Tokyo to launch The SUSHI in April 2015.
For the next two hours (an omakase meal is long!) he served us perfectly crafted sushi, piece by piece.
The first rule of sushi in Japan is if the chef puts it on your plate, pick it up and eat it! No matter what it is, it will be delicious.
Eating omakase-style is not recommended for picky eaters, though if you let the chef know in advance, the Andaz chefs will happily accommodate any diet. I let them know that I was vegetarian and they put together an assortment of lovely and flavorful vegetarian sushi, free of fish or the ever present dashi (fish stock). It was a pretty amazing spread. Check out this post with tips for finding vegetarian food in Japan
Omakase menu sushi is about a lot more than the taste of the food. It also includes the experience of watching your sushi chef performing his craft. The chef carefully slices each piece of fish with a shining hand-carved knife, sharpened in the traditional style on one side only.  The meal flows back and forth as the chef meticulously prepares each little creation, places it in front of you, and you eat it right away–or if you're like me, as soon as you've snapped a photo.  The fish is as fresh as possible.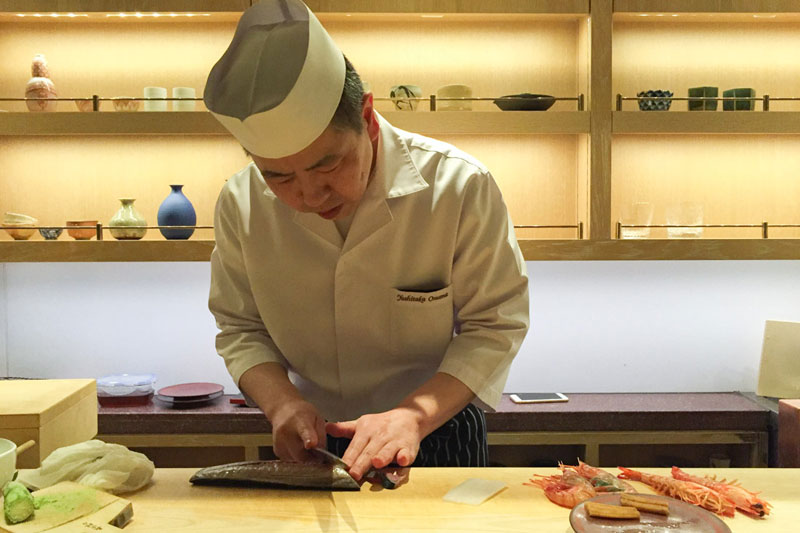 For two hours, he carefully cut and crafted the food–massaging the rice, pressing the rice with the fish. Several of the courses were grilled or seared with a flame. Sometimes the chef flavored his final creation with a bit of soy sauce, salt, or freshly grated wasabi.
There was a beautiful tin of soy sauce on the table, but we didn't use it — if you are doing an omakase serving, it's important to eat the sushi exactly the way the chef prepares it. If he feels it needs soy sauce, wasabi, or a salt rub, he will apply it himself as part of the preparation.
Chef Onuma, didn't speak much English, but when I asked questions about what each item (many were things I'd never seen!) he stopped to help, sometimes searching the Japanese word on his iPhone to show me a photo.
Dessert was a simple plate of top-quality fruit, the kinds of perfect fussy fruit that is sold in department stores at jaw-dropping prices, though somehow still worth every penny.  Like every detail in the meal up until now, Chef Onuma left nothing to chance in the final presentation.  This fruit was more vibrantly colored, perfectly sliced, and exquisitely flavored than I thought possible.
Like all fine dining in Tokyo, a chef-led omakase meal is a bit of a splurge–a 10+ course meal at a nice restaurant will set you back around 15,000 yen (~$150 USD) per person, so it's likely not something you'll eat every day. But it's a great way to celebrate the beginning or end of your trip or a special occasion.
After dinner, we lingered for a while in the hotel's outdoor rooftop bar.  On this crisp, early spring night, the heat lamps didn't keep me warm enough so we moved inside to wait for our drinks. But not before taking in this view! The glistening neighborhood in the top right corner is Ginza, way over to Odaiba and the Rainbow Bridge on the left.
The rooftop bar had a creative menu with interesting fruit and tea-based cocktails, many featuring Japanese ingredients like shiso, yuzu, matcha, and plum wine.
It was a great place to spend an evening and a very memorable dining experience. At the end of the night, it was clear my subconscious didn't want to leave–we got almost all the way back to the subway and I realized I had forgotten my purse! We ran back to the hotel and was happy to find my it right at the bar right where I left it.
A perfect end to an otherwise perfect meal.
---
The SUSHI | Andaz Tokyo Toranomon Hills
1-23-4, Toranomon, Minato-ku, Tokyo, Japan, 105-0001
Reservations are required, call: +81 3 6830 1234
We were guests of the hotel for this meal. All opinions are my own.