Some girlfriends do "spa days"– my girlfriends do "pickling days."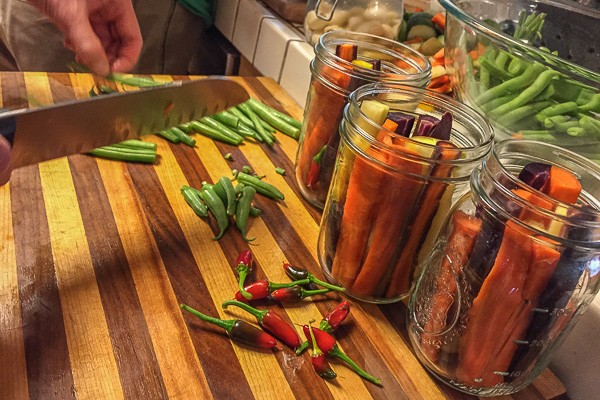 My friend, Cathy, is an elementary school teacher, and on the last full weekend before she started back to school, she invited me and a few other ladies over to make dill pickles and teach us how to can.
She wanted to pass on the knowledge she had learned in a recent pickling workshop at Santa Cruz's Love Apple Farms.
I'm obsessed with pickles. On any given day, our refrigerator contains a dozen or so open jars of various pickled foods.
On our recent trip to Hungary we booked a Taste Hungary food tour, where we learned that pickles are important in Hungarian cuisine. Our guide let us try several varieties of pickled vegetables bought from the basement stalls at Budapest's Great Market Hall. Curiously, the market hides all the "smelly food" vendors (fishmongers and pickle stands) in the basement. I've never seen another food market arranged like that!
Some of the pickles were even crafted to look like smiley faces, sheep, butterflies, and dachshunds.
But back to California… I accepted Cathy's offer to share her pickling wisdom.
When Pickling Day came around, we followed two basic recipes, one for pickled dill green beans, and the other for bread and butter zucchini. We threw a mix of veggies into each jar and then filled them all with one of the two different brines.
It was fun to mix and match the vegetables, adding more chiles to add spice to some, more garlic to others. Cathy had picked up several purple and yellow heirloom carrots from the farmers market, so those added some pops of color color to the mix.
After running out of vegetables, we still had a few clean jars left, so I started nosing around the kitchen looking for other things to throw in (hard boiled eggs? Cilantro? Peaches?) You'll be happy to know we didn't take it this far….
When we got back from our trip, one of the first things I did was crack into two of the jars we made three weeks before. My favorite was the garlic, pickled green beans ("dilly beans"). They were easy to make and so crisp. I ate the whole jar within just a few days, and now I'm desperate to make more!
Here's the dilly bean recipe we used, adapted from the Love Apple Farms Pickle Recipes handout that the instructor gave Cathy in her pickling workshop. Feel free to add other vegetables (carrots, cucumbers, garlic cloves, whole spicy chile peppers) to the jar to mix things up. The purple carrots we used made everything in the jar turn bright purple. Fun? Or weird? It's up to you.
Enjoy!
Dilly Bean Recipe
Ingredients
4 lbs fresh tender green or yellow beans, 5 to 6 inches long
8 to 16 heads fresh dill
8 cloves garlic, optional (or not, who would leave out the garlic?)
1/2 cup canning or pickling salt
4 cups white vinegar (5 percent)
4 cups water
1 tsp. hot red pepper flakes, optional (or use more–we used more!)
Instructions
Wash and trim ends from beans and cut to 4­ inch lengths. In each sterile pint jar, place 1 to 2 dill heads and, if desired, 1 clove of garlic. Place whole beans upright in jars, leaving 1/2­inch headspace. Trim beans to ensure proper fit, if necessary.
Combine salt, vinegar water, and pepper flakes (if desired). Bring to a boil. Add hot solution to beans, leaving 1/2­inch headspace. Adjust lids and process pints for 10 minutes in water bath.