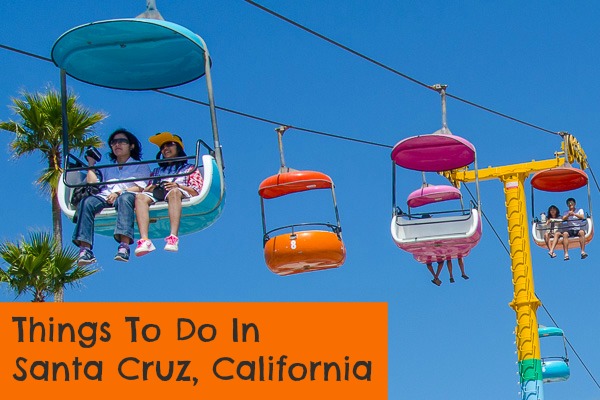 What are some fun things to do in Santa Cruz if you have just a few hours to spare?
When our friend and travel blogger, Kimi told us she would be in San Francisco for the first time, I suggested we plan a trip down to Santa Cruz. Turns out I was only free on one of her last days in town and she had to be back to SF for dinner, so we had to make it a quick trip.
But we had a lot of fun and I wanted to share my itinerary of the best things to do in Santa Cruz in about five hours:
Walk on the beach and visit the Boardwalk amusement park (1 hour)
Our first stop was Seabright Beach where we walked around for a bit. It's just south of the Boardwalk, and I much prefer it to the Boardwalk beach. It's cleaner, more attractive, and less crowded than the Boardwalk. There were a good amount of families lounging, kids and teenagers playing on the beach. There are even fire pits that can be used year-round. Unfortunately, you can't walk directly from one beach to the other as the two are divided by a massive, rock wall. (Kimi and I learned that lesson the hard way and wound up walking back to the car).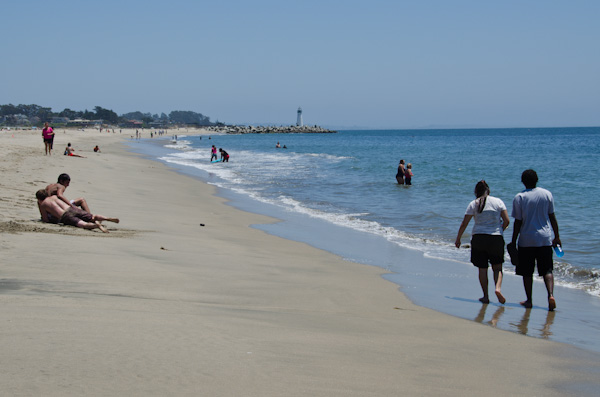 Next stop was the pier where we browsed the seafood restaurants, watched surfers out on the water, and tried our hand at taking photos of pelicans in flight. We even saw one lone sea lion lounging on the beams underneath the pier. In just a few weeks, the Monterey Bay Exploration Center will open its doors nearby, a brand new visitor's center/education center featuring exhibits on the ecosystem of Monterey Bay. I plan to go back later this summer to check it out and will report back!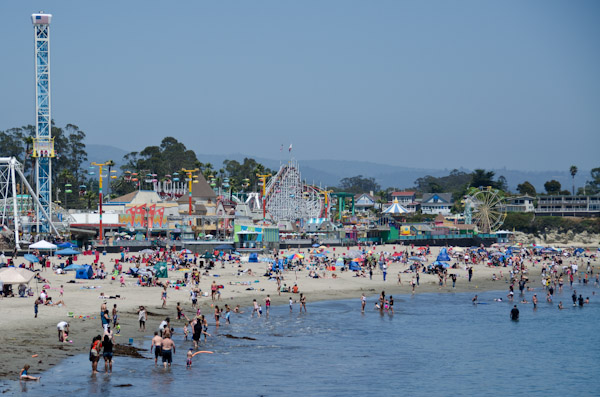 Finally we took a stroll through the historic Beach Boardwalk amusement park.This free, open air amusement park is over 100 years old and one of the last remaining on California's coast. On summer afternoons it is packed with people riding the rides, playing games in the arcades and eating fried dough and assorted junk food awesomeness (Kimi was really tempted by the Dippin' Dots!) The Santa Cruz Boardwalk hours are extended on weekends and during the summer.
Dine at one of the countless vegetarian-friendly/locally-grown/organic food restaurants in town (1 hour)
Santa Cruz is a college town, and a particularly hippy one at that. For this reason, there are LOADS of great natural food restaurants in town that offer the most authentic taste at Santa Cruz. Yes, I'm biased as a vegetarian local who visits Santa Cruz regularly just to eat and shop at the many organic food markets, but I'd say lots of non-vegetarians would be remiss at not checking out this portion of the culture.
We went to my favorite restaurant near the Santa Cruz Boardwalk! It's called the The Picnic Basket and they offer a wide variety of artisan food products that almost all feature locally-sourced ingredients. There are lots of vegetarian options, but they offer meats as well. I had an amazing ricotta and beet panini (with lemon, toasted walnut spread) and Kimi had a turkey and avocado sandwich that she was equally pleased with. They also serve all the daily flavors of our favorite ice cream, from Penny Creamery! (see more below, under Downtown)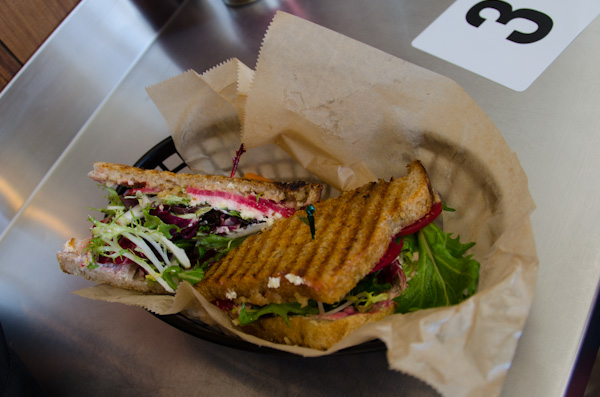 The Picnic Basket is located right at the base of the pier, giving you a much better option than the otherwise overpriced and not very good food options nearby. Also, as the name suggests, it's in the perfect location to get food packed to go for a picnic on the beach! (Thanks to Sara at the Indie Traveler for telling me about this place!)
Other options I would recommend are Charlie Hong Kong (mostly vegan/Asian street food noodle bowls)  and Saturn Café (diner-style, American comfort food, but all vegetarian).
Here are some of my other picks for best restaurants in Santa Cruz, California.
Walk around the downtown shopping district and get dessert (1.5 hours)
The downtown strip of stores and restaurants centered on Pacific Avenue is worth an hour or so browsing. Lots of the shops are expensive, but it's where I go when I need a new pair of flip flops, because there are three big surf shops right in a row that offer a huge variety.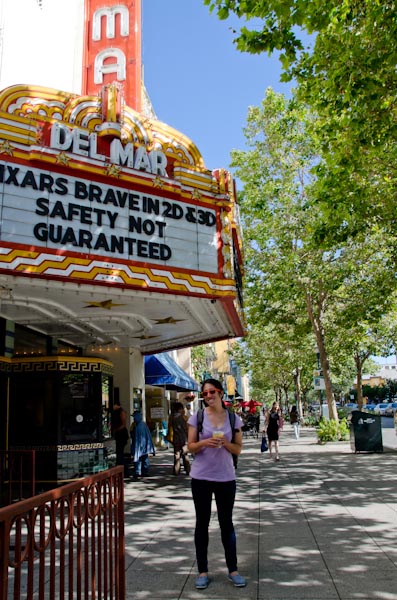 The other shop I always stop in is the downtown location of New Leaf Community Market (one of those large, local natural food grocery stores I mentioned above). Kimi and I stopped in to browse the beauty and personal care section (an entire room off to the side of the market). I always pop in to look for clearance items or good sales. Next we stopped into their deli where you can buy their own homemade kombucha and kefir, two tart and fizzy fermented beverages that I love. They often do a pomegranate kombucha and when Kimi and I were there, I tried the citrus kefir that was also very good.
Right around the corner is the Penny Creamery which makes small batches of ice cream in unique flavors that change daily, and feature local ingredients. When Kimi and I got ours at the Picnic Basket, the flavors of the day included basil (!), bitter caramel, balsamic cherry, and strawberry pink peppercorn! (I sampled the basil and bought a cone of the strawberry pink peppercorn—fresh fruit with the bite of pepper—so unique!)
Have a drink of locally made organic beer or biodynamic wines (1 hour)
When in Santa Cruz, I ALWAYS go to the Santa Cruz Mountain Brewing Company to sample whatever seasonal/experimental blend of beer that they have on tap or my go-to favorite, the People's Porter. All of their standard beers are all certified organic, which is pretty unique in the brew world. They have a very small, creatively decorated little indoor bar, and a great outdoor patio. When Kimi and I were there during the week, they were open and brewing as we could smell the malt in the air and the brewery staff were running around hauling kegs back and forth. The place is dog-friendly and kid-friendly, and the patio is always filled with neighbors who have popped over on their bike for a pint and a stop on their comfortable patio.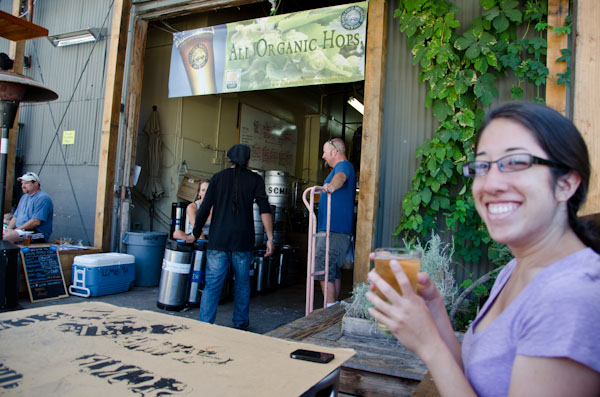 If you prefer wine, right across the parking lot from the brewery is the Santa Cruz tasting room for Bonny Doon Vineyard, a very unpretentious local winery that makes great wines (I prefer their white wines) and has a nice on-site restaurant. Several of them are grown 'biodynamically,' which is a holistic variety of organic agriculture that relies on ensuring the health of the plant, soil and environment and even looks at some wacky things like the astronomical calendar to plan the sowing dates.
Finally, + 0.5 hrs for getting from place to place = 5 hours! We got back to San Jose in plenty of time for Kimi's train back to San Francisco!

One Thing NOT to Do in Santa Cruz
Get a parking ticket! I underestimated the time it would take us to visit the Boardwalk and eat lunch and put 1.5 hours on the parking meter (Note, above how I said these two activities take about 2 hours?) When we returned to the car, I had a $43 reason not to have cheaped out on the meter 🙁
---
What are your favorite things to do in Santa Cruz?