Once you get to Ecuador, getting to the Galapagos is actually quite easy. It was only a 1hr and 50 minute flight from Guayaquil, where we had spent the previous night. As we landed, we saw a few large islands and many other small, rocky, barren islands scattered about. More than 90% of the land in the Galapagos is protected, so none appeared very developed. The main airport for the islands is located on Isla Baltra, which is the only significant human development the island (see below). You land here and then have to travel to the other islands to stay or begin your tours.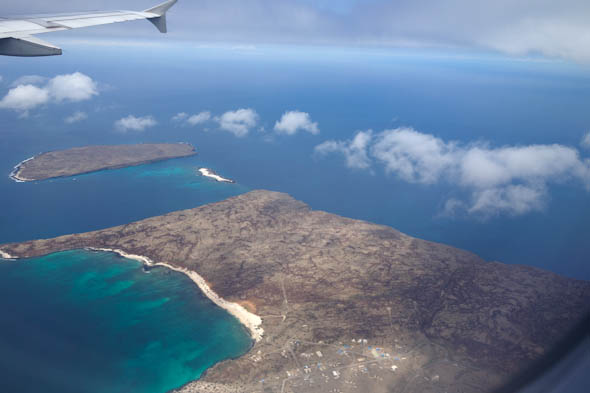 This tiny one is one I couldn't identify, though the landscape behind it is Isla Isabela, the largest of the Galapagos Islands.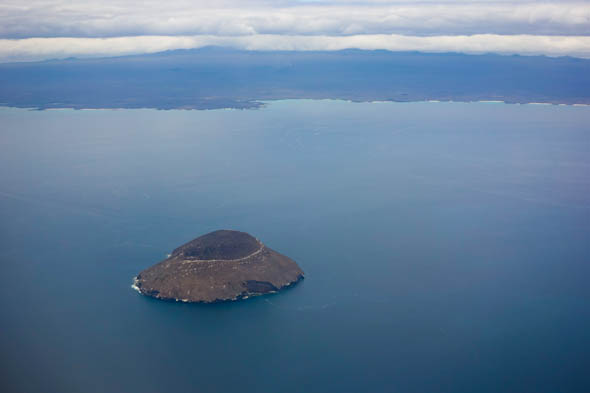 We got off in the small airport, and after paying the $100 National Park entrance fee required of all foreign visitors, grabbed our bag and headed off to the shuttle. We caught our first glance of some of the islands many diverse species of finches (that famously inspired Charles Darwin's theories of natural selection) when walking through the airport's open air cafe… they were everywhere!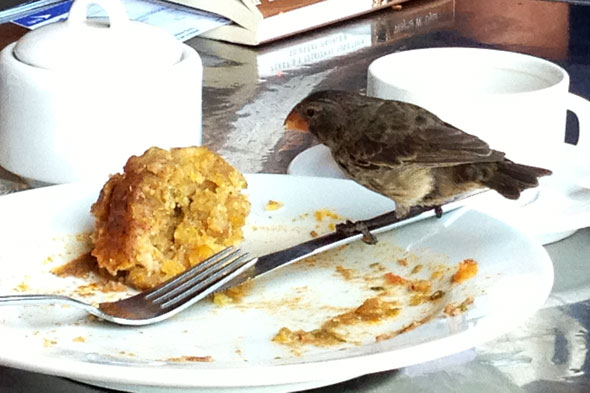 After landing you have to take an airport shuttle bus to a small dock, and then board a water taxi (luggage on top) that will ferry you across the channel to the main island of Santa Cruz. This was the first of our many water transit adventures in the Galapagos.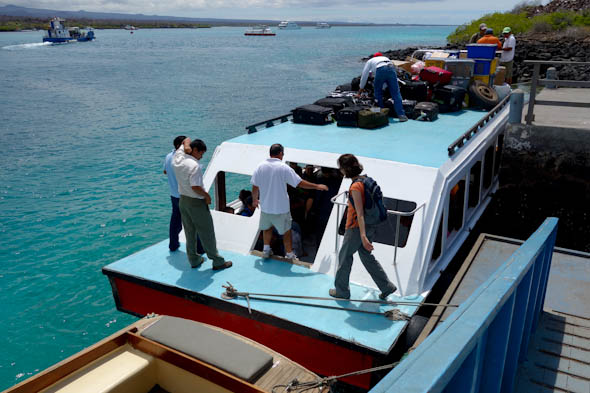 The water was crystal clear, as perfect and inviting as any water I've ever seen, though in October, the Humboldt Current prevails, it was fairly cold.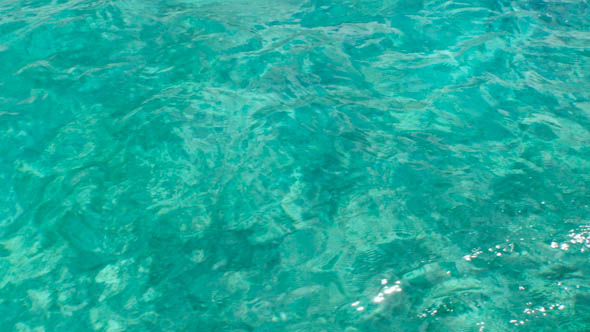 From the landing on the small dock on the remote north side of Isla Santa Cruz, we had to take another taxi, this time a land-based white pick-up truck, for the 30 minute ride to he island's main city, Puerto Ayora. The taxi cost $18 and the driver will drop you off wherever you are going in town. I had heard there was a bus available that was much cheaper, but according to the taxi driver, the last one had left just before we arrived. I was suspicious of this claim, but then I heard there only are a few buses each day. Who knows? The driver's name was Ricardo and he was fun to talk to. Originally from a small city south of Quito, he had lived in the Galapagos for over 20 years. He said the islands were quiet, easy and safe. He pointed out interesting sights along the drive, (including Los Gemelos, a pair of volcanic sinkholes, and the Rancho Primicias tortoise sanctuary) and told us about the natural history of the islands.
When we arrived in Puerto Ayora (the most populous community on the islands at over 12,000 people) we popped into a little local restaurant to grab something to eat. It was a fixed menu lunch deal (soup course then stewed meat and white rice) that we recognized from earlier trip to Peru and is also typical of Ecuadorian food. We hadn't booked a hotel in advance so we wandered into and out of a few places recommended by the guidebook until we found settled on the Hotel Espana. Dirt cheap by Galapagos standards, the rooms were clean but dated (and our room smelled really musty) but we were tired and just wanted to store our 75lbs of camera gear the three of us had been hauling.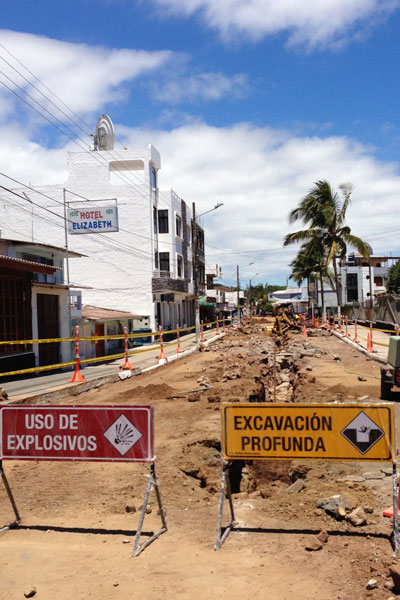 After a short rest, we started off to explore the town. The main street that runs along the coast, Avenida Charles Darwin was ripped up and closed off to cars for almost the entire length. The city is currently undergoing a massive water and sewage modernization project, which will be ultimately great for the island, but temporarily difficult for tourists and residents alike. It seemed every single business on the street was shuttered, though we found out later, many of them had only closed temporarily while the construction is going on. We were soon startled to find out they were using dynamite to blow through the rocks. The workers would sound a siren for about 30 seconds, notifying passers by of the upcoming blast. And then when they were confident there was no one very close, they would light the fuse. The blasts were loud, scary and shocking even when I had prepared myself for it. And worse yet, they were happening 30+ times every day! A waitress we talked to said that one of her colleagues had spilled a whole tray of drinks after being startled by the blasts. They lit three blasts less than 20 yards from us in the time it took us to eat breakfast one morning. It left me so tense, I felt for the people working in those conditions all day every day. But the iguanas didn't seem to mind.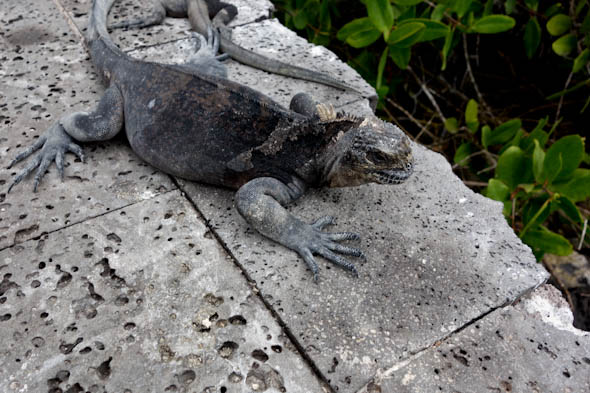 We then went for a walk through downtown, and Kevin's dad took photos while Kevin and I popped into and out of tour agencies trying to get quotes on last-minute cruise deals. We saw iguanas sunning themselves right on the sidewalk. We took about 30 pictures of these damned iguanas, though we knew we would see thousands more in the next few days. But alas, this was our first look at the exotic marine life that we'd come so far to see.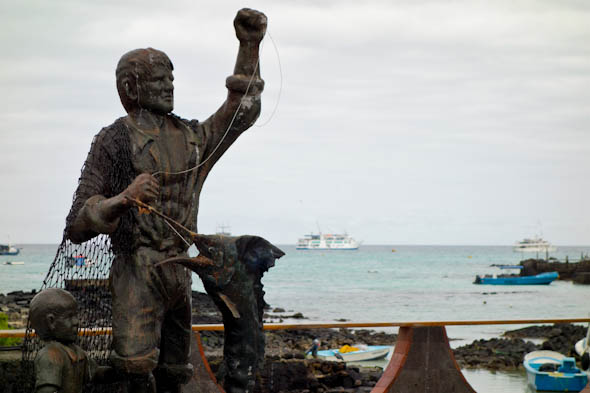 We saw a tributes to Galapagos fisherman in the fisherman's wharf, brightly colored store fronts and tropical flowers…
A mural highlighting the islands' natural resources and important parts of their history, including their most famous visitor, Charles Darwin, whose 4 week stay in 1835 shaped his theory of natural selection.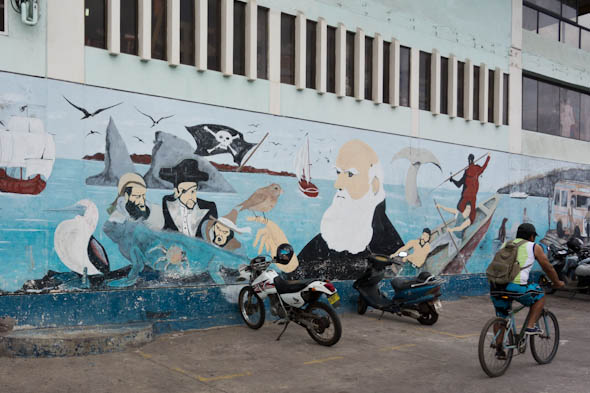 And a tribute to the Galapagos's most famous living inhabitants, the giant tortoises.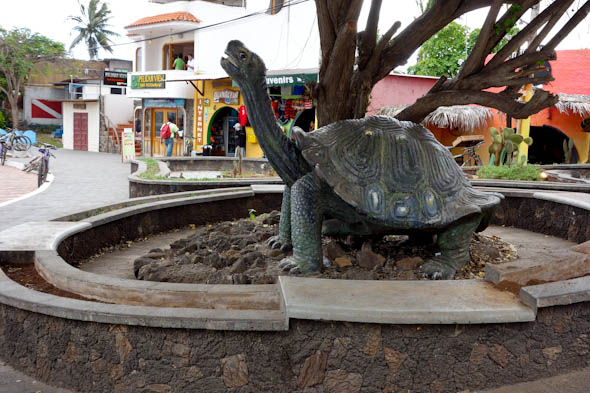 In my next posts we'll share tips for more things to do on the main island of Santa Cruz and our tips for booking a Galapagos cruise last minute when in Puerto Ayora. Doing a cruise is the only way you can explore the more remote islands and most interesting wildlife views. It was pretty easy and we think it saved us a good deal of money.