I was never exposed to spicy food growing up on the rural East Coast of the U.S., but since I've lived in California I've learned to love the spicy flavors of Asian and Latin American foods. When I travel in Latin America as a vegetarian, I'm often left to eat some combination of the following foods: cheese, corn, bread, beans, potatoes, rice, plantains, etc.  In South America in particular, the meat dishes are well-seasoned, leaving the side dishes fairly bland. So I've had more than my share of bland beans and rice and monotonous cheese empanadas.
Luckily there is one thing that has saved me throughout South America: Ají! Ají is South America's version of salsa or hot sauce, though it differs widely from house to house and region to region. It tends to be somewhat tart, having higher levels of vinegar or lemon/lime juice (or an acidic fruit called tomate de arbol, or "tree tomato") in proportion to the spice. Often they are chunky, with bits of onion and tomato. It's not always very spicy, so you can be free to load it on! And it's made every single starchy South American dish I've eaten an adventure.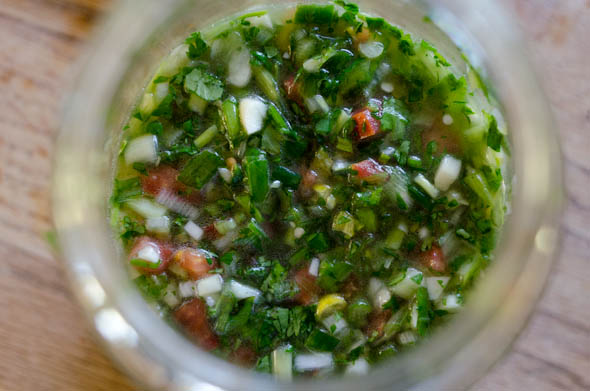 Here's my own ají recipe, modeled on the ones we tried in Colombia:
Colombian Hot Sauce (Ají) Recipe
Ingredients
2 bunches green onions
¾ large roma tomato (diced)
4 Tbsp. cilantro
4 small hot chiles (makes it reasonably spicy, add more or less to taste)
2 cloves garlic
6 Tbsp. white vinegar
8 Tbsp. water
1 tsp. vegetable oil
1 tsp. salt
Instructions
Wash the green onions well and cut the roots off. The onions need to be sliced very finely, both vertically and horizontally. Line the green onions up together and use a knife to sliver them vertically, making at least one long vertical cut per green onion. Then chop the onion finely crosswise, using all of the white parts and half of the dark green parts (you will need to repeat the vertical slicing again for the dark green parts before you chop them).
Place all the chopped onion in a small bowl or jar. Finely chop 3 quarters of a <g class="gr_ gr_53 gr-alert gr_spell ContextualSpelling ins-del multiReplace" id="53″ data-gr-id="53″>roma</g> tomato and add it to the onions. Finely chop the cilantro and add them to the mix as well. Mince the chiles finely and stir into the mix along with the vinegar, water, oil and salt. Let the ají sit in the refrigerator for 30 minutes, then taste it to see if it needs more salt, water or vinegar (if it seems too salty or vinegary, add a bit more water, if it seems flat, add more salt, etc).
Serve with Colombian foods like empanadas or arepas, or alongside anything you would serve salsa with (we had it on tacos last night).
Leave a comment to let me know what you think!