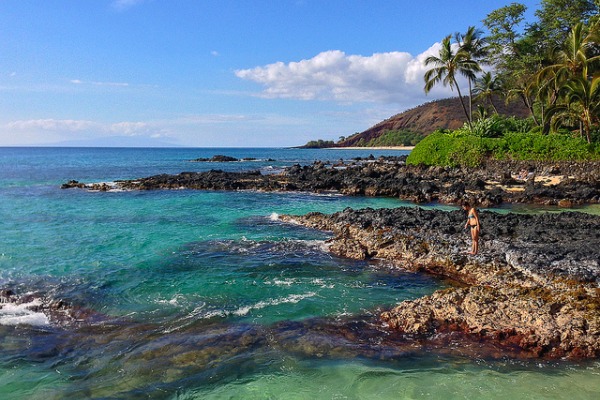 UPDATE: This giveaway has ended. Please join our email list to learn of future prizes + events!
I'm totally in love with the Hawaiian island of Maui. Since our visit last fall, I've shared my favorite photos of Maui beaches and sunsets, shots from the scenic northwest corner of the island, and some Instagram photos from Maui. And I know I'm not the only one. My Pinterest "Hawaii" board, filled with photos from Maui, is my most popular single board with several thousand followers. Hell, the very first post I published here on this blog was about the windy and wild north side of Maui!
So I was excited when a fellow travel blogger offered to send me a copy of his brand new Maui guidebook to give away to one lucky reader.
Moon, Maui (9th ed., March 2014) was published as part of the Moon Handbook series. I've used Moon guidebooks several times around the world so I knew it would follow the format I know and love.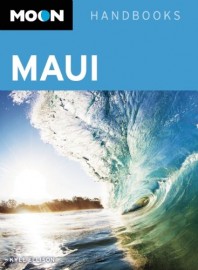 This latest Moon Maui book was written by Kyle Ellison, who has lived on the island since he was a child. Ellison is a freelance writer who has written for Gadling, Viator, AOL Travel, Matador, and Journey. He also shares travel stories on his blog, Kyle The Vagabond.
A Quick Review of Moon Maui
I flipped through the guidebook to give you some thoughts:
Things I like about the book:
The front of the book includes several useful summary sections with color photography: A 10 day itinerary, best beaches, best snorkeling/diving, surfing, hikes, outdoor adventures, history/culture, and best for honeymooners.
There is a chapter for each major tourist region of the island: West Maui, South Maui, Central Maui, East Maui/Road to Hana, and Upcountry Maui.
The book includes chapters devoted to the small islands of Moloka'i and Lana'i, common side trips from Maui.
Each chapter includes sections on the most important things in Maui — beaches (!), snorkeling/diving, surfing, and stand-up paddleboarding.
It includes a detailed drive guide for the Road to Hana.
Highlights lots of places I didn't know about, like the Makamaka'ole Valley waterfalls and sites in Central Maui.
Things I didn't like:
Still, it's an awesome resource if you are planning a trip to Maui — or even just dreaming about Maui!
Enter To Win A Copy of Moon Maui!
Don't want to wait to win it? Buy the Moon Maui book on Amazon!
---
Have you been to Maui? Or dream of going to Maui?