A few years ago, Kevin went out to New Mexico on a photography trip with his dad and brothers. The one souvenir they brought home was a big bag of green chile powder that they bought at a roadside spice market. That was my introduction to the flavor and ingredient that I've learned to associate with New Mexico's cuisine.
Chiles are New Mexico's  largest agricultural crop. The best chiles in the state come from the southern part of the state, near the town of Hatch, New Mexico. Those chiles harvested when green and roasted immediately are known as Hatch Chiles. The annual harvest is a major culinary event. I've always wanted to go out to New Mexico for the fall Hatch Chile harvest.
A few weeks ago I learned that a few grocery stores here in the Bay Area host annual Hatch Chile Roasts–events where they fire roast big batches of fresh hatch chiles flown in from New Mexico, and then sell them by the several pound box. Mollie Stones Market sent me a coupon for a free 10 lb box of hatch chiles from their Palo Alto store, presumably because I'm on their local media list. I didn't know what the hell I'd do with ten pounds of chile peppers but I can't let a good coupon go to waste. I invited my friend, Cathy, along to split the box.
We knew we were in the right place just as soon as we pulled into the parking. The spicy smell of roasting peppers filled the air. The firing pits were set up in a tent in front of the store. Staff were roasting them, one ten pound batch at a time in barrel-shaped rotating cages. I shared a video of this on Facebook.
While we waited for our box, still wondering what the hell we would do with 10 pounds of chiles, the staff loaded us up with samples of dishes they had prepared. Hatch chile mac and cheese, hatch chile cornbread, hatch chile sausage, hatch chile salsa, and even hatch chile-infused coconut water. Cathy, ever the most enthusiastic and curious person I've ever met, asked a slew of excited questions until the team staffing the booth offered to give us each a free copy of the store's hatch chile cookbook.  This kind of thing happens a lot with Cathy. Her enthusiasm get us presents…
Over the past last week, Kevin and I have made five different hatch chile recipes from the cookbook, mostly deliciously fatty and stuffed with cheese and butter, including last night's spicy mashed potatoes. The diet starts tomorrow…
Here was one of our favorite hatch chile recipes:
Hatch Chile Mac & Cheese
Ingredients
3 tablespoons unsalted butter
1/4 cup finely chopped onion
2 tablespoons whole wheat flour
1/2 teaspoon salt
1/8 teaspoon black pepper
2 cups whole milk
2 cups shredded sharp cheddar cheese, divided
2 cups whole wheat elbow macaroni, cooked and drained
4 Hatch Chiles–roasted, peeled, stemmed, seeded, and chopped
Instructions
Preheat the oven to 350 degrees Fahrenheit.
Cook the elbow macaroni in boiling water, drain, and rinse with water until cool. Set aside.
Melt the butter in a medium saucepan over medium heat. Cook the onion in the melted butter for 5 minutes or until tender. Stir in the flour, salta, and pepper. Gradually add the milk and cook, stirring occasionally until thickened (7-10 minutes)
Remove the milk mixture from the heat. Add 1 1/2 cups of the cheese and stir until it is melted.
Combine the cheese sauce with the cooked macaroni and the hatch chiles. Mix well. transfer the macaroni to a casserole dish and top with the remaining cheese. Bake 30 minutes, or until the cheese is bubbly and lightly browned.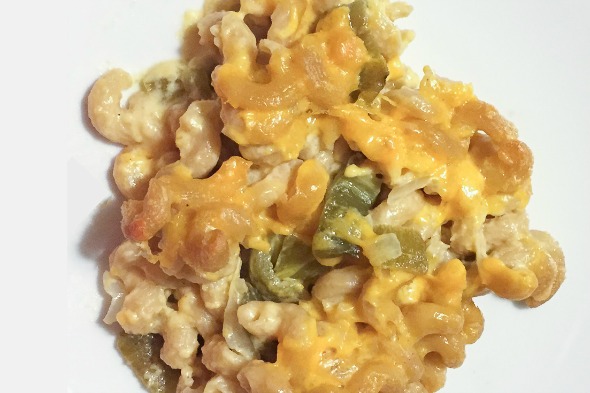 Recipe adapted from the Hatch Chile Cookbook by Sharon Hernandez & Chef Ida Rodriguez.
Molly Stones Market gave me a free box of hatch chiles and this cookbook. Photos and this new-found obsession with hatch chiles, are all my own. And Cathy's.