"Four more hours?" We had just survived the Bay Area's Friday rush hour traffic and stopped for gas in San Rafael. The drive up to Humboldt County was longer than Kevin and I had remembered.
When we pulled into our friend's house in the woods near Eureka that night, I breathed in the crisp air, saw this sky full of stars, and remembered why the long drive was worth it.
I didn't think that Humboldt County was very far off the beaten path. People recognize Humboldt's famous coastal redwood forests–the county is home to many of the tallest trees in the world. And others know about the region's eccentric communities as hippie enclaves, or often, as where the country's highest-quality marijuana is grown. (Related?)
Still, Humboldt is just far enough past the Northern reaches of the Bay Area that it gets fewer visitors than other parts of the California coast. When I was planning the trip, my usual source of travel inspiration, Pinterest, turned up lots of beautiful photos (many that I shared there myself after our last trip!) but few useful resources with both photos and addresses of things to do.  So, I figured I'd write one myself.
Here are some of my favorite things to do in Humboldt County, California. I included address and directions when possible, because cell signals and data service are weak in remote parts of the region. Do your mapping and online trip planning research when you are in your hotel, Eureka, or Arcata.
Bonus: Try this "selfie scavenger hunt"–take a photo with four of the Humboldt County landmarks on this list, and the local visitor's bureau will send you a t-shirt.
SEE + DO
The Avenue of the Giants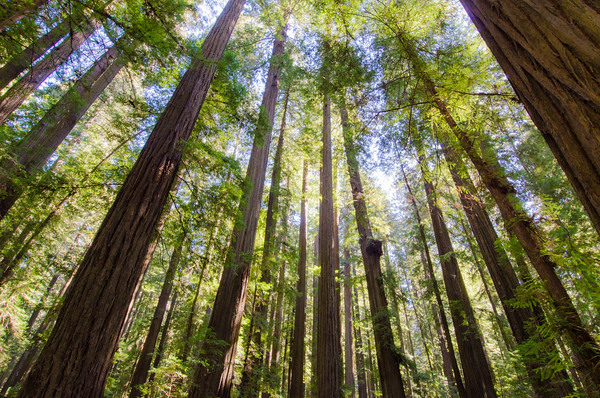 If you could do only one thing in Humboldt County, I'd say drive and hike through the Avenue of the Giants. The Avenue of the Giants is one of California's–and the world's?–great scenic drives, passing through more than 51,000 acres of ancient coast redwood groves. The road (CA-254) runs for 31 miles parallel to the 101 freeway.  The south entrance is about 6 miles north of the town of Garberville. The north entrance is about 5 miles south of the town of Scotia. Follow signs marked, "Avenue of the Giants".
There are several hiking trails and different tall tree groves off this road to explore. Some of the biggest trees in the area are on the Roosevelt Grove. My favorite, though, is the Founders Grove. On this short (1 mile loop) trail, you'll see lots of tall trees including one of the largest fallen trees in the forest, The Dyerville Giant. When this tree fell down back in 1991, you could hear it and feel it for more than a mile around. It sounded like a train wreck–which makes sense, they estimate the tree weighed over a million pounds. Kevin has a soft spot in his heart for this tree because he actually saw it standing back when he visited the park as a kid. His family was heartbroken when they heard that it fell, but standing beside it sure puts the scale of these trees in perspective.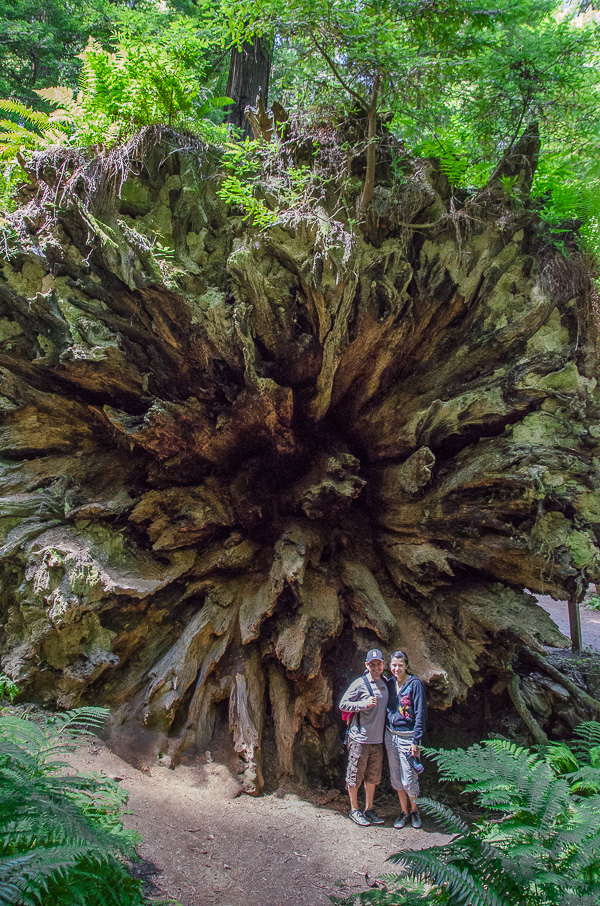 On the drive through, be sure to look for a roadside stand called Flood Plain Produce–they'll have a sign out by the road. This stand sells seasonal organic produce grown on site and is famous for their wild blackberry popsicles. We discovered them when we were up there back in 2012 (photo here), and Kevin and I stopped there again this past weekend.
Redwood National and State Park
The other publicly accessible groves of tall trees are the Redwood National and State Park, jointly managed by the U.S. National Park Service and the California State Parks. This forest is home to the actual tallest tree in the world, named "Hyperion". While you can't visit this tree — it's in a very remote part of the park — you can see many others. Our friend recommended we visit the "nicest grove in the park", Tall Trees Grove. It has fewer tourists because it's behind a locked gate and you need a permit to access the grove. But it's free and easy to get the permit–just go to the park Visitor's Center in Orick and tell them you want to visit the Tall Trees Grove.
On the way south from the park, look for the Roosevelt Elk in the fields by the road. There is a herd that often hangs out outside of the Little Red Schoolhouse across from Stone Lagoon [map]. Be careful, the elk look tame but they can be dangerous. Keep to a distance and don't get in between the males (horns) and the females (no horns).
Trinidad, CA
A beautiful stop on the coast is the village of Trinidad, California. Trinidad Memorial Lighthouse is on the cliff, erected as a memorial to those who died at sea.
Hiking down the hill from the lighthouse, you'll come to a small beach in the Trinidad Bay called Old Home Beach. It's a nice view at sunset.
A more impressive sight at sunset may be Trinidad State Beach, just north of the town of Trinidad and the lighthouse–we actually found the photos of that view online and planned to head there the night we went to Old Home Beach, but we messed up. The following photo is the view that we missed…

Photo: Flickr / ssiaam
Next time.
Samoa Dunes Recreation Area + The North Jetty
One of the strange and beautiful places that we visited was the Samoa sand dunes and jetty, at the southern tip of the beach. The dog-friendly beach allows dogs to run off-leash, so our mutt, Posey enjoyed a romp on the trails. The North Jetty is a pier jutting out into the ocean to protect the Eureka harbor from the surf. There is former road along the pier that is now being washed away by the powerful ocean currents. It was interesting to see the decay.
The end of the jetty includes hundreds of dolos, meant to protect the harbor from the strong waves. They look like giant toy jacks standing fifteen feet high.
Only after we walked to the end of the jetty, running away from powerful waves crashing on the platform in front of us, did we notice a big red sign that says "Danger: Deadly Waves at Any Time." Oops!
Government officials recommend that you only approach the jetty at low tide. If water is spraying over the top of the jetty, as it was when we were visited, it is too dangerous to walk out offshore.
Downtown Eureka
Spend some time exploring the shops in the little downtown area. I enjoyed stopping for a bagel and coffee at Los Bagels (see below) and browsing the medicinal herbs (but not those medicinal herbs), teas, and more at Humboldt Herbals.
The Carson Mansion
This ornate mansion is apparently the most photographed Victorian house in the US. You can probably see why. It's like something out of a fairy tale, or perhaps a vampire movie (I'm not alone in thinking it looks creepy). This unique home, now a private club, is one of Eureka's most recognizable landmarks. The Carson Mansion is lit up at night and offers especially extravagant displays through the holiday season. You can admire it from the outside only — there are no public tours. 143 M Street, Eureka.
Arcata Saturday Farmers Market

The quirky local market is just as unusual as its eccentric college town community–vendors sell everything from locally grown quinoa to carnivorous plants. The market is open every Saturday from 9am-2pm through mid-November. Check website for exact dates. Arcata Plaza, Main Street, Arcata.
The Shrine Drive Through Tree

California's famous drive-through trees are not natural. Cutting a hole the size of a car in an ancient, living tree weakens the structure, and often kills it. The only drive-through trees that still exist are ones that were carved out the early 20th century before the practice was made illegal. If you have to do a drive through tree (I admit, it makes a good photo-op), do the Shrine Drive Through Tree, where the hole was mostly a product of natural growth. 13078 Avenue of the Giants, Myers Flat
EAT + DRINK
Samoa Cookhouse

The last surviving "lumber cookhouse" in the West.  Lumberjacks and mill workers would come for a big hearty meal. The food is served family style, it's all-you-can-eat, and great for feeding hungry kids or folks with big appetites. The dining room is decorated with saws and historic photos of lumberjacks. They also have an interesting little Logging Museum on-site.
If you are vegetarian, call ahead or check their Facebook page to find out what's on the menu that day. When we were there, the meatless options were sparse, but on other days they said they offer pancakes and french toast. 908 Vance Ave., Samoa
Mad River Brewing Company
Good food and craft beers and a big outdoor patio. They had a very spicy Chile Ale that I loved. 101 Taylor Way, Blue Lake.
Humboldt Cider Company
Celebrating the local bounty by brewing cider with Northern California apples, honey, and various flavors. This craft brewery offers about 10 different hard ciders on tap. Try the dry-hopped ciders, uniquely infused with the flavor of Sitra and Simcoe hops. This place was right down the street from my friend's house, and he hadn't heard of it yet. Score one for Cassie! 3750 Harris Street, Eureka
It's Alive Kombucha
Roger and I tried this apple-flavored kombucha (fermented tea) at a downtown restaurant, and the waitress told us that the local maker has a brewery-style tasting room that offers lots of crazy flavors of home-brewed kombucha. It's only open Tuesday and Thursdays, so I wasn't able to stop in but I hope to visit next time! 1612 Old Arcata Rd, Bayside, CA
Nacho Mama
A great California-Mex food stand right off the 101 freeway in Downtown Garberville. Good place for a quick bite before a hike or getting on the road back to the Bay.  375 Sprowl Creek Rd, Garberville
Groceries:
Arcata Farmers Market. See above.
North Coast Co-Op. A member-owned food co-operative offering  a wide selection of natural foods, organic products, and bulk foods. You do not need to be a member to shop there. Two locations: Eureka (25 4th Street) + Arcata (811 I Street)
Eureka Natural Foods. Large natural food store–a locally owned version of Whole Foods. 1450 Broadway, Eureka.
Costco. If you're a member. 1006 W Wabash Ave, Eureka.
WHERE TO STAY
I don't have any hotel recommendations, but for camping, we once stayed at the Hidden Springs Loop campground in Humboldt Redwoods State Park. It's the perfect location for a first trip to the area–right on the Avenue of the Giants highway. While I found it a little unsettling at first, I learned to love the rhythmic creaking sound of the tall redwoods swaying overhead. It was also a short walk to the South Fork of the Eel River, where we found a swimming hole that we had all to ourselves.
DOG-FRIENDLY BEACHES + HIKING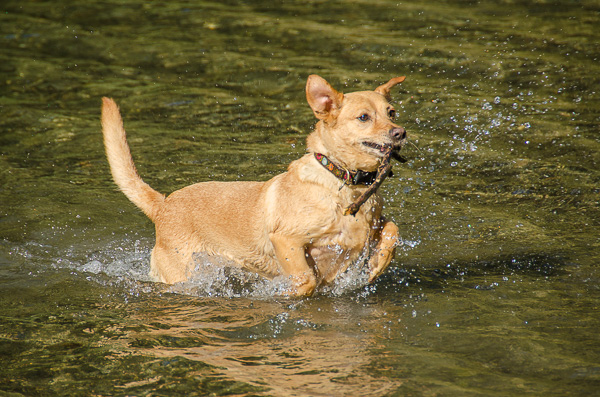 These beaches allow dogs to run off-leash: Clam Beach, Big Lagoon, Moonstone, Luffenholtz, Mad River County Park, and the Samoa Dunes Recreation Area. Dogs are allowed on-leash at most other county and state parks.
Dogs are prohibited from all trails within the redwood groves, though they are allowed in developed areas and campgrounds. The only dog-friendly hiking trails are the Arcata Community Forest, Redwood Park (Eureka), and Rohner Park (Fortuna).
Note: Many of Northern California's freshwater lakes, rivers, and streams are prone to a seasonal bloom of blue-green algae that causes liver failure in dogs–the outbreak this summer killed a few dogs who ingested water while swimming in Mendocino and Humboldt County rivers. If you go in the summer or fall, ask locals if it's safe to let your dog in the river. If it's bloom season, be sure to keep your dog on leash and away from the water.
---
Our meal at the Samoa cookhouse was hosted by the restaurant. Opinions are my own.
Ever been to Humboldt County? What would you add?