Update: This fundraiser has ended. Thank you for your support!
We landed in Nairobi, Kenya on the morning of my 21st birthday. It was my first time traveling outside of the U.S. and I was incredibly excited. I'd been awarded a federal research grant to travel with my college biology professor and nine other students to do ecological field research out in the Kenyan savannah. Still, I was so jet lagged and culture shocked, I spent part of that long first day–after an overwhelming experience trying to haggle for souvenirs in the noisy and crowded Nairobi public market–hiding in the bathroom and crying. I never did tell any of my travel companions it was my birthday.
Three weeks later, I had made peace with the chaos. Daily research trips out into the Kenyan wilds had gotten me used to seeing amazing wildlife like baboons, zebras, antelopes, and giraffes out in the brush, scampering away from my professor's jeep. I'd even woken up one morning to an elephant, snacking on acacia branches just feet from my cabin window. Just another day in Kenya…
On the last day of our trip, we took the day off to visit a private game reserve. For weeks driving through the savannah, the animals kept their distance, fully wild and unaccustomed to people.  In the reserve, though, the animals seemed almost lazy, paying no attention as jeep after jeep of tourists clamored for photos.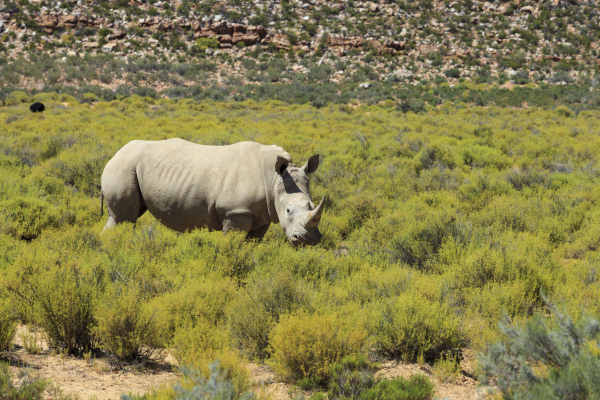 Photo courtesy of Adventure Life
The one thing I'll always remember from that day was a black rhino named Morani. Morani was born in 1974, and was brought to the sanctuary after his mother was killed by poachers. He was totally tame, and we were allowed to walk right over and pet him. His thick, steel grey skin felt calloused, and like it couldn't possibly be attached to something alive. It felt like tire tread. It felt unreal.  But perhaps the most heartbreaking part of this encounter was his human companion: Morani was followed 24 hours a day by a guard with a giant machine gun. Even more so than wild rhinos, Morani was at severe risk of being killed by poachers, poor men trying to make a few bucks on the lucrative illicit sale of rhino horn. That memory of Morani, his lonely existence, and the fact that this armed guard was necessary, haunts my memories of that trip.
God, that was almost 15 years ago! And the situation for these animals has only gotten worse.
Today, only five Northern White rhinos are left in the entire world. And it was a record-breaking year for rhino poaching in South Africa. A full two-thirds of the rhinos killed last year were poached within the nation's legendary Kruger National Park.
It's entirely possible that rhinos will be extinct from most of their current habitat in our lifetime.
That's why I've partnered with my friends at Green Travel Media and the nonprofit, Travelers Building Change to share a fundraiser called #JustOneRhino.
The #JustOneRhino campaign is raising money to benefit the Rhinos Without Borders project. Rhinos Without Borders was started by National Geographic Explorers In Residence, wildlife photographers/filmmakers, and wildlife conservation advocates Dereck and Beverly Joubert. Rhinos Without Borders is working to save rhinos by moving 100 of them from South Africa to a wildlife preserve in Botswana, to protect them from the troubling rise in poaching. As you might imagine, it's very expensive to move these giant animals to safety. The estimated cost of this project is close to $5 million.
Here's how we can help: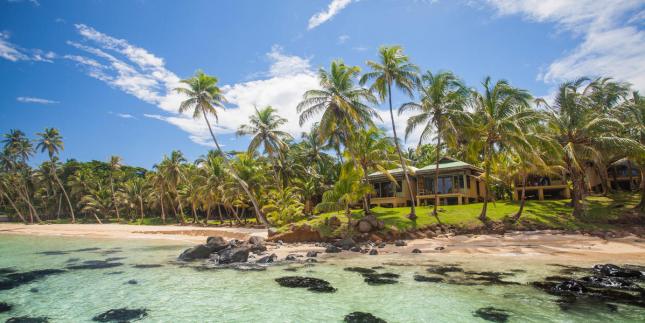 Photo courtesy of Yemaya Island Hideaway and Spa
#JustOneRhino's generous sponsors have donated more than $30,000 worth of prizes to be raffled off to readers who donate to this important campaign. They are some truly epic vacations being raffled off including:
9-day South Africa Big Five Safari: Kruger & KwaZulu-Natal for 2 people from Adventure Life.
10-day Galapagos Islands Voyage for 1 person with International Expeditions.
10 nights' stay for two people at Yemaya Island Hideaway and Spa, Little Corn Island, Nicaragua.
Seven nights' bed and breakfast in a Garden View suite with Cobblers Cove in Barbados.
(2) 3 nights for 2 people at The Scent Hotel Koh Samui, Thailand with Secret Retreats.
3 nights for 2 people at Bali Jiwa Villa, Bali, Indonesia with Secret Retreats.
3 nights for 2 people at 4 Rivers Floating Lodge, Koh Kong, Cambodia with Secret Retreats.
3 nights for 2 people at Flower Island in Palawan, Philippines with Secret Retreats.
Other prizes: eBag Luggage, WeWOOD Watches, Dinner/Brunch Cruises, 2 nights in an Italian Villa, 2 Tours in India, ExOfficio Gift Certificate, 2 nights Renaissance Asheville, Travel Blog Success Lifetime Membership, African Elephant Photo Pack, HDR Timelapse Video Camera w/Lens, Blogger Mentorship Package from Green Global Travel & more!
Click here to see the full list of prizes.
A $20 donation will get you 10 entries, $30 will get you 20, $50 will get you 30, and so on. Just donate on the Travel Building Change website and enter the top three prizes you would like to win. Easy!
This fundraiser runs through March 1 and winners will be announced on World Wildlife Day, March 3.
So please head on over to Travelers Building Change to find out more about the prizes, how you can donate to help save rhinos, and win. Thank you for helping to save #JustOneRhino!
Epilogue: I just read that Morani, the tame black rhino I met on my college trip to Kenya, died of old age in 2008.  I'll be donating in memory of him and all the rhinos that, unfortunately, we couldn't protect.
---
Which of these prizes would you like to win?