My favorite parts of travel are when we discover something completely unexpected and new. For all the planning we could do on a trip, jam-packing an itinerary with stops from thorough internet research, reading about what to expect, or watching Rick Steves programs, it is the unexpected surprises that are the among the most memorable.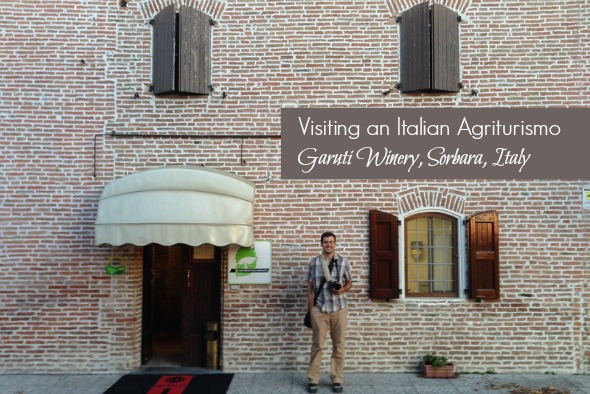 In the case of Emilia-Romagna, the region in Italy just north of Tuscany, our days were full of surprises. We were lured to the city of Modena by stories of a region less touristy than Tuscany with perhaps the best food in all of Italy (which is really saying something). We came expecting to be wowed by prosciutto, cheeses like Parmigiano-Reggiano, and balsamic vinegar (though you may remember I still had no clue on that one). And we were, but it was a type of wine I'd never heard of that provided perhaps the greatest surprise.
Lambrusco di Sorbara: A Red, Sparkling Surprise
Today, when people think of Italian wines, it is most likely the powerful Tuscan reds such as Chianti or Brunello di Montalcino that first come to mind. These wines all feature the Sangiovese grape, and differ mostly because each individual hill in Tuscany seems to have its own microclimate and terroir. They also age and ship well, so when they get to the United States, they are like an advertisement for Tuscany, as you might picture an emotional Tuscan sunset with each sip. Your eyes might just tear up a bit. And that's ok. Really.
But I was surprised to learn that in the 1970's and 80's, Lambrusco was actually the most imported wine in the US. Unfortunately for Americans at the time, the overly sweet sparkling wine they were drinking wasn't anything like the Lambrusco that those in Emilia-Romagna so cherish. (Man, the 80's were terrible, weren't they?) As a Northern Californian who grew up in a region dominated by Napa Valley where Lambruscos had been long forgotten, I simply had no idea what to expect.
Touring the Garuti Winery and Learning How Lambrusco is Made
We spent the afternoon with Alessio Bompani, the 4th generation winemaker at Garuti Winery–oh, and his dog, Sam.
We toured his family's Agriturismo, where guests can stay alongside the beautiful vineyards in the Italian countryside. During our visit in September, they had harvested the grapes just a few weeks earlier, and the initial fermentation was wrapping up.  Workers were separating the grape pulp and skins from the young wine.
From there, the wine gets fermented again over several weeks in the winter, necessary because, if done during the warmer months, fermentation would happen too quickly. When produced in volume, the family uses large, pressurized tanks for the second fermentation. But they still stay true to the ancestral method of production as well, fermenting some of their wine directly in the bottle.
These bottle fermented wines pack just a bit more refinement, and to me, represent everything good about Italian food. The real thing is slow. That level of attention to detail and dedication to the manual labor required is so very rare to find in Italian food in the United States. You can taste the difference.
A highlight of the tour is the family acetaia, the room where their balsamic vinegars are aged. Because the balsamic fermentation process requires oxygen for the bacteria to convert alcohol to acetic acid, the barrels have openings on top, covered by a white cloth, and as a result, a powerful balsamic aroma fills the room. It was one of my favorite smells. Ever.
Finally, Tasting the Wine
Lambrusco di Sorbara is one of several varieties of red, sparkling Lambrusco wine, but generally the most prized varietal. Unlike the sweet swill from the 70's, it is meant to be dry, with a fragrant nose and robust fruit flavors setting off a touch of acidity. In fact, while trying to see if I could even find a Lambrusco here to refresh my palate (and maybe if I'm lucky, not come off as a wine noob), I had to laugh when I visited the website of the revered local wine seller in my area.
"A wine to be drunk, not talked about," says the listing. Though this compliment is more than a little backhanded, I don't mind, because if a Tuscan wine might be something akin to heavy drama, then Lambrusco might be that witty comedy you'll love the first time and find yourself watching again and again. It is fun and easily accessible. It's not even remotely expensive. Normally when tasting wines, it's customary to take a sip and then spit it out. Otherwise, you ruin your palate. But during this tasting, I didn't care. I was simply enjoying myself too much.
On to Dinner
With that balsamic aroma fresh in my mind, Cassie and I ended our evening at the Agriturismo with dinner at the on-site restaurant, Cantina Garuti. On every table, alongside a pungent, flavorful olive oil (also practically non-existent in U.S. dining experiences) is a bottle of the family's traditional balsamic vinegar.
After a starter featuring locally produced cured meats, I enjoyed an immensely flavorful pork fillet while Cassie had roast vegetables, both generously drizzled with balsamic. I'll let the photos speak for themselves here. These dishes were paired with the family wines, we tried a Trebbiano Bianco along with the obligatory Lambrusco di Sorbara.
For dessert, we shared a grape mousse and zuppa inglese, a layered custard and chocolate cream flavored with liqueur.
The experience of visiting an Italian agriturismo such as Garuti is something I highly recommend for anyone visiting the region. Obviously, the food and drinking experiences are unparalleled. Additionally, agriturismos are a fantastic way to get close to that authentic lifestyle of the Italian countryside. You can see for yourself as a family carries on traditions that go back hundreds of years. And did I mention the food and the wine?
Italy in general, and Emilia-Romagna in particular, is a place that activates all your senses like a powerful drug. And now that I've been there, I find myself scheming ways to go back.  My standards for what to expect from culture and scenery, food and drink are now unfairly raised, and I'm obsessed. I make no apologies.
Our day was hosted by Turismo Emilia-Romagna.  All opinions are my own.