This is the story of Tom Bombadil, master of wood, water, and hill. In JRR Tolkien's The Lord of the Rings, Tom is a man untempted by the promise of power, unburdened by the troubles of the world, impervious to magic, both light and dark. He lives on an island–an unspoiled land of unspeakable beauty that few even know exists.
And that is how Tom wants to keep it.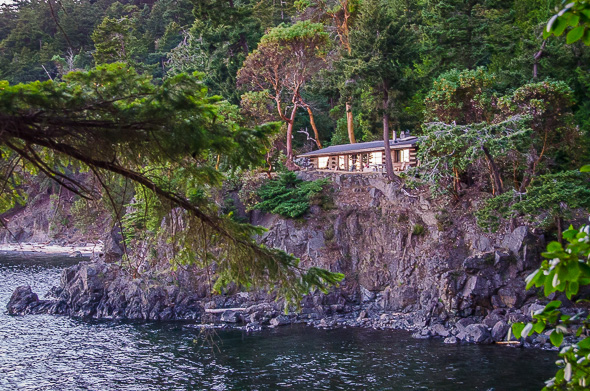 We met Tom during our travels and he showed us the secret way to his home on the hill, overlooking the blue water and distant islands and above a magical lagoon that looked like a kaleidoscope of greens, yellows, reds, and blues.
As bald eagles soared over our heads, Tom asked us to relax and breathe deep, to let our worries roll off of us. We felt free to sip our ales and, if it came over us, to smoke our pipe weed. And as we did this, Tom buzzed around us like a worker bee, doing all of the little things needed to get by in a place without the modern worldly comforts. In this place, the electricity, the water, and everything else all require work.
But in this place, work doesn't feel like work at all. As we drove off in search of our meal, the wind whipped through our hair. When the tide was out, we could walk along the mud flats to pick up oysters off the ground and dig for clams.  In this place, work feels like living.
Before dinner, Tom took us on a hike along the cliffs, past the bald eagles' nest, to a place overlooking the deep blue sea.
We jumped as far as we could, and swam back around the cliffs to the lagoon.
As the sun went down, the last light illuminated the mosses and the ferns.
We settled in and cooked our oyster feast on hot coals on the beach. When they were ready to eat, they burst open with a blast of steam.
We toasted our glasses to celebrate what might have been the perfect day.
But our day wasn't over. As the sun went down, Tom fired up his wood burning stove in the sauna that he'd built with his father and grandfather. After we warmed up in the dry heat, he splashed water on the coals until the room filled with fog, and the hot steam filled our lungs.
When we got too hot, he told us to go down to the lagoon to cool off. As we did, this heavenly cove had one more breathtaking secret to share with us.
As I splashed my arms and legs in the bay's cool water, bioluminescent bacteria sparkled bright green. As I looked over the water, the little lights seemed to merge with the stars twinkling above us in the sky. Time seemed to slow down, and I understood the source of Tom's power.
As it came time for us to leave this magical place, to return to our deadlines and responsibilities, Cassie and I worried we might not be able to readjust to the outside world again. This place felt just as unspoiled as those that Tolkien dreamed about. And though we all seem to have forgotten about wizards and ents, and though the elves have long since sailed away over the horizon, leaving the earth in the hands of man, Tom is still here.
You may wonder who he is, he's a mystery. It is enough to know simply that "He is."  And he is real.
And for me, it is comforting to know there are still places that are mostly unknown by the world and where people like Tom have little interest in the conflicts and desires of others.  We have a duty to make sure these places last long after we're gone.
We have returned to our regular lives now, but we will never forget our time spent in the House of Tom Bombadil.