A few weeks ago, I joined my friends Garrick and Jenna on a day trip to Sacramento.  I'd been wanting to explore California's capital city for years, so I was excited when Jenna invited us up for the day. (I was even more excited when we decided to take Amtrak.)
I'm being generous when I call it a day trip. It was only enough time to see some of the sites, grab lunch, dessert, and a beer, and then make it back to the train station–unfortunately, about three minutes too late for our 4:30pm train.
But this little glimpse at this surprisingly hip Central Valley city made me eager to plan a trip back. (Garrick actually did go back the next weekend, and shared the story here.)
Here are some of the photos from our quick urban escape:
Dome spotting at the California State Capitol (1315 10th Street)
Wandering Capitol Park & The Rose Garden
Admiring a Sacramento historic home at the Leland Stanford Mansion  (800 "N"  Street)
Getting our fancy (nitro carbonated!) coffee fix at Temple Coffee Roasters (1010 9th St)
Strolling the cafes and Victorian homes in Midtown Sacramento
Treasure hunting at a chic Midtown vintage store, Scout Living (1215 18th St)
Sampling our way around Preservation & Co, a shop that stocks craft pickles, fermented foods, and an award-winning Bloody Mary mix (1717 19th st. #B)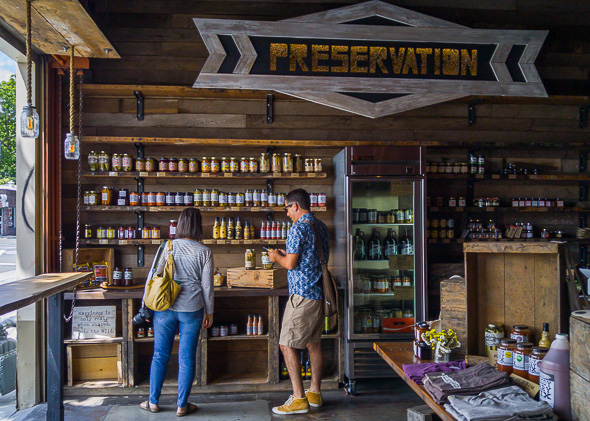 (Not blood & not a crime scene–pickled beet tasting)
Lunch, pizza and a homemade strawberry shrub (fermented fruit soda) at Hook & Ladder Manufacturing Company (1630 S St)
A California take on a French tradition–ollalieberry macarons at Ginger Elizabeth Chocolates (1801 L St)
"Farm to fermentation"– beer tasting at Ruhstaller Brewery, whose brews feature locally-grown California hops and barley. (630 K St.)
And finally (oops!), hanging around the Sacramento train station for an hour after missing our evening train.
Until next time, Sacramento!
---
Find more tips from the Sactown local, Jenna at this post: The Perfect Day Trip to Sacramento.