Like many vacation resorts, our hotel in Jamaica had a tour company representative stationed at a booth in the lobby. She had a fat binder filled with glossy brochures highlighting dozens of ways to spend money. I'm always wary of the packaged tours sold in this environment, knowing that some of the options are overpriced, manufactured activities with little connection to the natural environment or culture of the place. It's always hard to know which of these tourist-oriented experiences are really worth it.
In that binder, though, I found one that is:
A night tour and swim at a bioluminescent lagoon.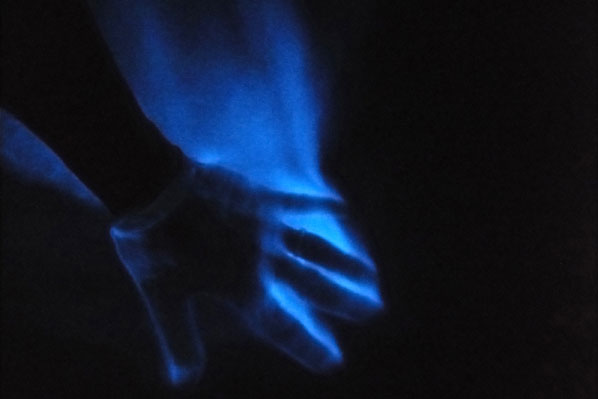 Photo: Luis Esteves/astroturtle
What is the Luminous Lagoon?
Jamaica's Luminous Lagoon is home to billions of naturally occurring "bioluminescent" microorganisms, i.e. they light up when touched. You can't see them during the day, but by night, splashing the water causes an eerie blue glow. The tiny organisms are harmless to humans and it's safe to swim alongside them. I remember reading about a bioluminescent bay in Vieques, Puerto Rico, but until I saw a photo in the tour company binder, I didn't know you could see this wild phenomenon in Jamaica, too.

Photo: Josh Kesner
Our tour included bus transportation from our hotel. The bus got to the dock at dusk, where we got off and boarded a small motor boat. For about twenty minutes, we sped toward the brackish waters at the boundary of the Martha Brae River and the Caribbean Sea. As the sky darkened to black, the wake behind the boat started to glow, and our captain turned off the engine. I scraped my fingers across the water and watched them glow. On raising my hand out of the water, dozens of tiny blue sparks flashed on the surface of my arm.
After coming to a stop, Captain Jerry invited us to slide into the shallow water one by one, being careful not to disturb the muddy floor — kicking up mud reduces visibility. We found that treading water near the surface would emit brightest glow.
Neither my photos nor underwater video captured the phenomena (have I mentioned that I don't know how to use my GoPro?), but I found this great video online:
I'm prone to hyperbole, no doubt, but I'm not exaggerating when I say that swimming in this glowing pool was one of the most magical experiences of my life.
Tips for Visiting the Luminous Lagoon in Jamaica:
The Luminous Lagoon is located in Falmouth, halfway between Montego Bay and Ocho Rios, Jamaica. You can book group tours or arrange private taxi transportation from almost any hotel or resort on the island. Prices vary, but our tour (including transportation) cost $50 per person from our hotel in Runaway Bay.
Every night past dark, boats leave from docks at the "Glistening Waters" restaurant.
Visibility is best against a dark sky when the moon is less than half full, so plan your visit for the darkest night of your trip.