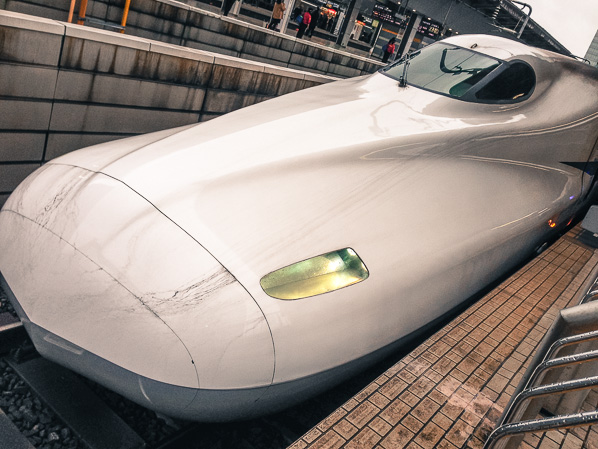 Japan may be the easiest country in the world to travel around. The country has an impressive rail transportation network allowing both commuters and travelers to move between every major city, and most small cities, by train.
A subset of the overall rail system is the large and rapidly expanding high-speed rail network, called shinkansen or "bullet trains". On these lines, these long-nosed trains travel up to 200 miles per hour. Because I'm an urban planner and transportation nerd, I envy this public infrastructure so riding these trains was a highlight of our recent trip to Japan.
Check out this time-lapse video (in 1080p HD) I made that shows part of the ride from Shizuoka, near Mount Fuji, into the Kyoto region. My favorite part begins at 7 seconds, when the train makes a quick stop at the Nagoya station [map].
Unfortunately, some shinkansen trains are not covered by the Japan Rail pass that most foreign visitors buy to travel around Japan (e.g. Nozomi, the fastest train running between Tokyo and Kyoto), so these trips must be booked separately. It's worth budgeting in some extra money for transportation on select routes if you are 1) on a short trip to Japan, or 2) you're a transportation or tech geek like me. Even if you don't ride on the shinkensen, visit one of the high-speed rail platforms in any of the major Japanese train stations to watch them glide into the station. It's a beautiful thing.
I've been experimenting with capturing video and time-lapse photography using our new GoPro camera, but I don't have any idea how to edit video files… the shots in the video above were actually taken in reverse order (Kyoto –> Shizuoka), but I can't figure out how to flip them! If anyone knows any good video editing tutorials or classes,  please let me know!
---
Our trip to Tokyo was supported by the Japanese Ministry of Foreign Affairs. All opinions and photos are my own.