We had followed the directions given by a sign taped to the window of the shuttered storefront. It directed us into a poorly lit back alley off of the main street in Kaunakakai, the biggest town on the sleepy Hawaiian island of Molokai.
And it was late — by Molokai winter standards, that is, which was about quarter to 8pm. Every shop on the street was closed, we were all alone and, hell — 8pm feels late after getting up to start the day before sunrise.
We followed a string of lights down a secondary alley between two buildings. We heard some clanking in one of the warehouses, the muffled sound of young men laughing, and a radio playing rock music.
Anywhere else in the world this situation might feel uncomfortable, but on the small island town where everyone knows everyone and the main weekend activity was yard sale-ing, we figured we were fine.
We were there to buy bread.
On the ferry ride over to the island, a local guy we met told us we had to go to Kanemitsu Bakery for "hot bread."
It turned out this 80-year-old local bakery offers the island's only "night life," when locals come out past 8pm  to buy hot, doughy bread,  straight from the oven, slathered with cream cheese, jelly, butter, cinnamon, or sugar.
Despite being occasionally shut down or tagged with heavy fines for state health code violations, the place is a popular night-time tradition. When we were there on Thanksgiving weekend, there was a couple of teenage lovebirds right behind us. They appeared have ordered bread to take back to family gathered at home (eight loaves of bread with 'the works,' totalling $64).
For two people, one loaf was more than enough, which was good after I balked at paying $8 for what I thought was a piece of bread.
We didn't snap a good picture of the bread; the only shot we got was this crazed-looking shot of me eager to take my first bite. The bread was crusty on the outside but sticky inside. While alone I could imagine the bread to seem boring and perhaps undercooked,  it was delicious when hot and slathered with melting sticky sweets. What we couldn't eat we took back to our apartment and heated up in the oven for breakfast and dinner the next day.
For more shady photos of this uniquely Molokaiian experience, check out this GIF: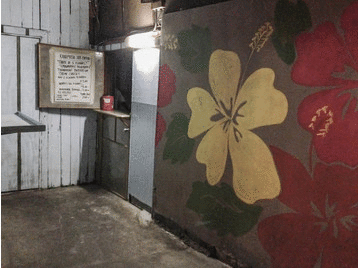 ---
How to Get Molokai Hot Bread:
Kanemitsu Bakery is located at 79 Ala Malama Ave, in Kaunakakai, HI. The bakery is open during the day for regular baked goods and sweets, but reopens at night for their famous hot bread (Tuesday through Sunday at 8pm). Go to the alley behind the building off of Hotel Lane.