A few months ago, Kevin overheard two of his French colleagues grumbling about American cheese. They complained about the low quality of our mass market cheeses and yearned for the food they had back at home in France. Ever the helper, Kevin set out to convince them that there are some California producers who are crafting great cheese. The proof was just an hour away up in Marin and Sonoma Counties.
We got his whole team together and planned a day trip. To make a culinary day of it, we tacked on a few additional stops to sample freshly harvested oysters and visit one of our favorite local breweries. This foodie day trip from San Francisco highlights some of the best of the North Bay's local foods.
1. Nicasio Valley Cheese Company
5300 Nicasio Valley Road, Nicasio, CA
The first stop was to the tiny tasting room and store of the Nicasio Valley Cheese Company, a producer that makes organic, soft-ripened cow's milk cheeses. They have 8 to 10 cheeses out and available to sample all the time. You can also sample dozens of locally-produced jams and chutneys. They stock a limited supply of freshly-baked bread for you to take to go with your cheese purchase, but they tend to sell out of bread early in the day.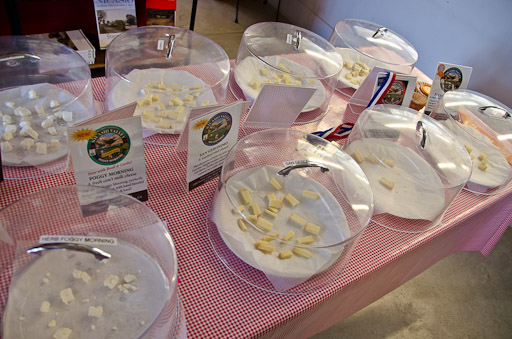 They offer cheese-production tours Monday through Friday, but not on the weekend.
2. Hog Island Oyster Company
20215 Highway 1, Marshall, CA
After we tasted all the cheese that we could handle, we drove out to coast to have lunch at Hog Island Oyster Company. Hog Island is one of many local oyster farms located on the Tomales Bay–we wrote over a year ago about wanting to go "oyster hopping" along the coast, but we still haven't made this happen.
I like Hog Island for their large communal tables and great view over Tomales Bay. Because you have to sit with strangers, you always meet interesting people.  As long as you are ordering oysters, you can bring your own picnic supplies to the table. For our large group, we brought a variety of snacks, beers and wines to accompany the oysters. It's a great place to spend a few hours.
Get there early as the tables fill up fast, especially on sunny spring and summer weekend mornings. We got there before 11:30am on a Saturday and got the very last table.
3. Marin French Cheese Company
7500 Red Hill Rd, Petaluma, California
After you've eaten your fill of oysters, it's back to sampling cheeses. The Marin French Cheese company specializes in brie and camembert-style soft cheeses. They have a handful of cheeses out for you to sample. Their prices are good, and they always offer discounts if you buy multiple wheels of cheese, reminding you that you can freeze their cheeses to eat at a later date.
The French guys were pretty happy with the cheeses they bought to take home.
Like Hog Island, one of the best things about this shop are the grounds. They have a large pond outside in the midst of a grassy field, with picnic tables for you to use.
On this last trip, because I don't eat oysters, I was still hungry when we got to Marin French cheese, so I bought a toasted vegetable and brie panini to eat for lunch. We spent some time outside enjoying our cheeses, and watching the geese that surround the pond…
… and this adorable little girl with her adorable little dog.
4. Lagunitas Brewery
1280 N. McDowell Boulevard, Petaluma, CA
Lagunitas makes great hoppy, IPAs and it's one of our favorite Bay Area breweries. It was a great place to end an afternoon of food exploration.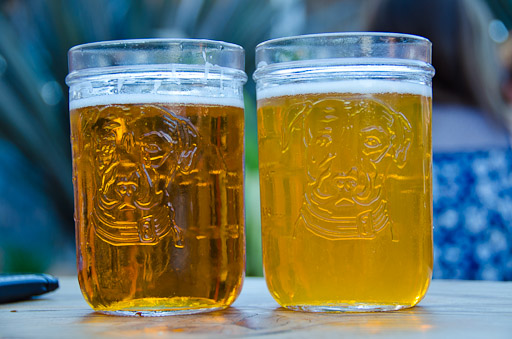 Their huge outdoor beer garden is packed all day on weekends so it's quite challenging to find space at a table. We lingered around waiting for groups to leave for almost 40 minutes before we got a table.
Lagunitas has pretty good food (including locally-produced cheese plates, in case you didn't try enough cheese earlier in the day) so it's a great place to eat before heading home.
The brewery offers live music on the patio, Wednesday through Sunday afternoons. Lagunitas also does free brewery tours every afternoon.
Bay Area friends: What is your favorite day trip from San Francisco?
---