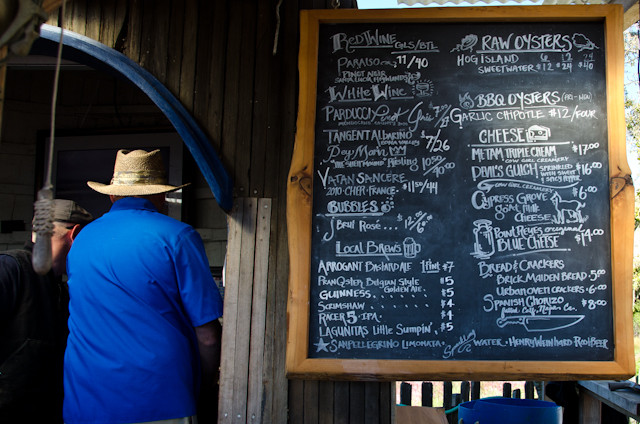 Marin County, CA is full of opportunities for interesting culinary adventures. Last weekend we went up there to go cheese tasting on the Marin-Sonoma Cheese Trail. When we dropped off our Posey Dog to stay with my father in law, he suggested we stop by his favorite oyster place, the Hog Island Oyster Farm, to pick up some oysters for dinner the next day. Even though I'm a vegetarian, Kevin will obnoxiously tell you that "anyone who knows anything" knows that oysters on the half shell are one of life's treasures.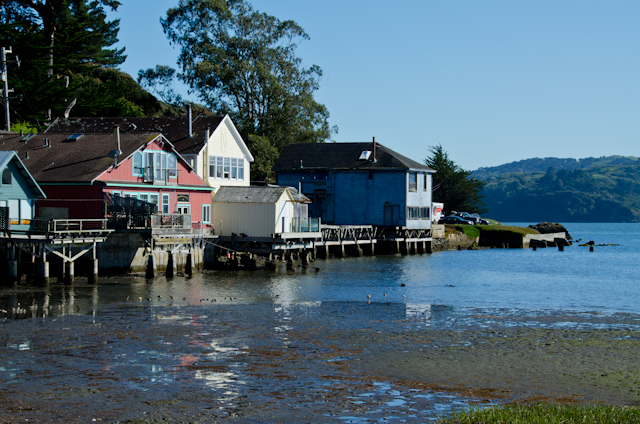 Only about an hour north of San Francisco, Highway 1 along the Marin County coast is dotted with vendors who sell freshly-harvested oysters from the sea. En route to Hog Island, we passed several other places, ranging from oyster farms to bay view restaurants to simple wooden shacks selling oysters by the roadside.  It was a beautiful, sunny and warm Saturday afternoon, and when we arrived at Hog Island there were cars lined up along the road. We followed the signs to their outdoor oyster bar, which was a deck overlooking the tiny fishing village of Marshall on Tomales Bay.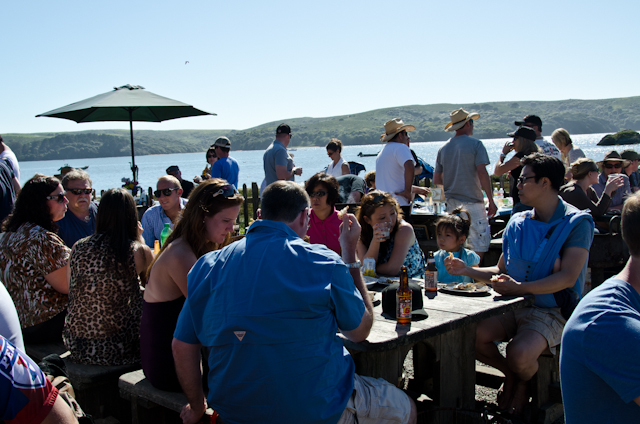 The menu was simple, oysters (raw or barbecued), a few appetizers featuring local cheeses and produce, and local beers and wine. You can either order your oysters pre-shucked, or to save a few dollars, order a bag and shuck them yourself at the bar. We started off with six oysters and a few local microbrews and had a seat at one of the patio's shared tables.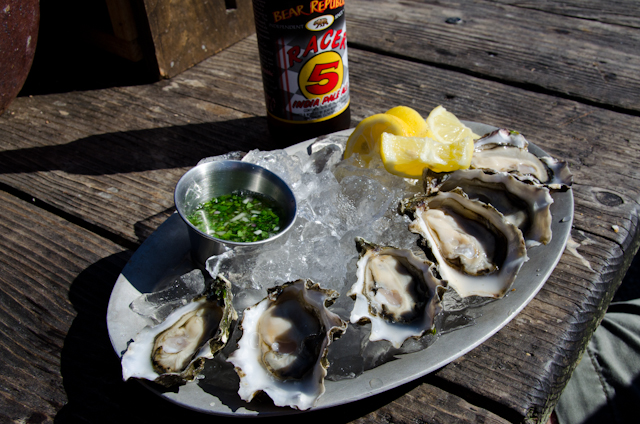 All of the tables had wire baskets adjoining them to dispose of your empty shells. A chocolate lab that belonged to the table next to us had his head buried in the basket searching for shells with a tiny bit more meat on them. There was something for everyone here!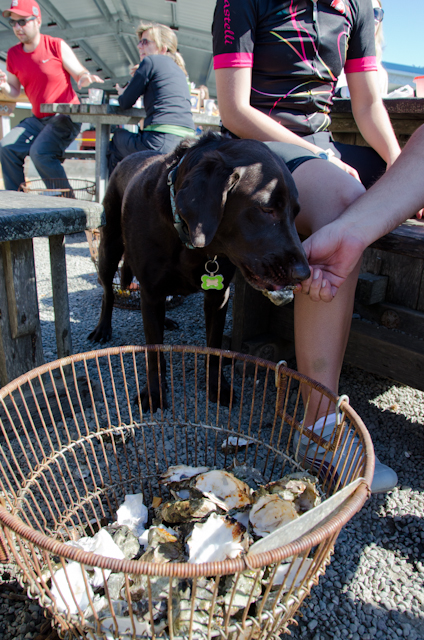 We sat at a table with two women from the Sacramento area that were driving down the coast on motorcycles. They were "oyster hopping," the Marin County coast going from stand to stand along the highway and trying a few oysters at each one.  This sounded like a perfect way to see the coast, especially on a beautiful day like this one.  Great idea, ladies!  We plan to go back to explore the other oyster bars one day soon.
---
Who wants to go oyster hopping with us?