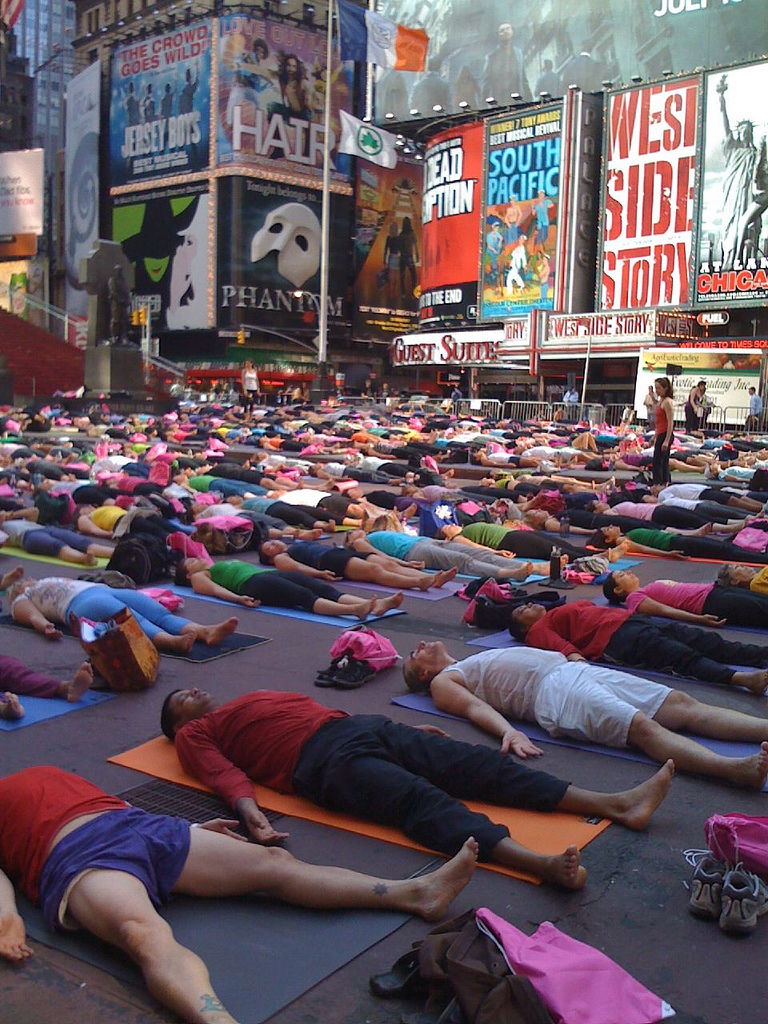 I read once that frenetic New York City has the highest density of yoga studios of anywhere in the world.  If you happen to be there in mid-June, there are several free yoga events scheduled to celebrate the summer solstice, including several outdoor classes in Central Park, Bryant Park, and even Time Square.
Kevin and I were in New York a few years ago for the weekend after attending a friend's wedding near Philadelphia. I usually don't pack a bulky yoga mat when I travel, but when I decided to attend this 7:30am class at Times Square, I figured a sponsor would be giving free mats, as appeared to be the case in previous years' photos on the website. Unfortunately, I arrived to find that wasn't the case and worse yet, I was the only person in the crowd without a mat. But I decided to stay and participate, bare feet and hands on the dirty city street. I called it quits right before the final relaxation pose (shavasana, pictured). I saw nothing relaxing about lying flat on Broadway, with nothing between my bare legs and the grimy street. So instead, I took this photo and a great memory of this uniquely NYC event.
This year, the event falls on June 20, 2012. Click here to find out more.
---
Foto Friday is a series where I go back through my archives to share photos that I love either because I think they are beautiful or they have an interesting story. I hope you enjoy them as much as I do!