My friends and EIT readers, C. & B, have decided to take a trip to the Big Apple. Neither have ever been to New York City, and they are overwhelmed by the number of things to see and do. I thought I'd help them out by putting together some tips for their first trip to NYC.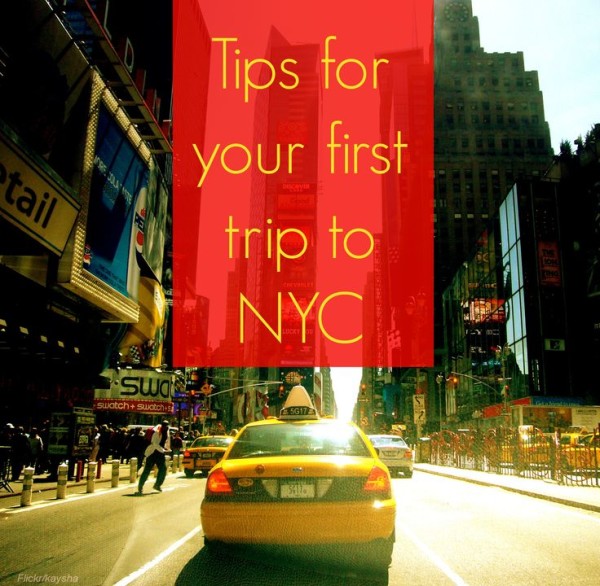 Here are some things to see and do that I suggest for first-time visitors to NYC. Please help us out by sharing your own tips in the comments!
Stay Somewhere Central and Walkable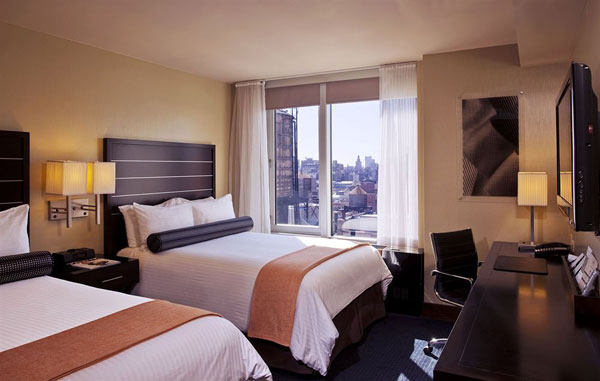 On your first visit to a big city, I think it's important to stay somewhere centrally located and in easy walking distance of the city's sights. For your first trip to NYC, you should probably stay in Manhattan. The last time we visited New York, we stayed at the Hilton New York Fashion District, which I thought was a great location–a close walk from the High Line Park, Chelsea Market, a great seasonal greenmarket (see below). It was a convenient base for visiting Manhattan and the neighborhood felt safe to walk alone at night.
Explore Central Park during the day…
This giant park dates all the way back to 1857 where it was designed to be a respite from the fast-growing, industrial city. At 778 acres, It's huge and easy to get lost in the winding paths, bridges, gardens, and hills built into this urban oasis. Photo: Flickr/FrancescaGallina
AND at night
After dark, Central Park is particularly scenic as the lights of the city reflect off of the lakes, ponds, and streams. Photo: Flickr/smoovey
Walk the length of the High Line Park:
While Central Park is historic and grand, this park on Manhattan's Lower West Side is slim, modern — and 25 feet above the city. Built on an out-of-use elevated rail line, it's an innovative way to turn a blighted manmade space into a scenic and peaceful place. It is only one mile long so it's worth walking the path from start to finish. Photo: Flickr/Asterix611
Visit the Statue of Liberty and Ellis Island
I visited the Statue of Liberty and Ellis Island immigration museum the first time I visited New York on a school trip in 6th grade. I remember how exciting it was to stand at the foot of this beautiful statue and think about what her image means to people seeking liberty and justice around the world. I also remember really enjoying the immigration museum with the chance to getting a feel for what emigrating to this country was like across the ages. I'm very curious to find out how the museum addresses more recent waves of immigration to the U.S. I would hope it handles the challenges honestly and respectfully. We did a lot of overpriced, made-for-tourists junk on that trip that I can't recommend (dinner at Hard Rock, etc.) but some things are visited for a reason. The Statue of Liberty is one of those. Save on your Ellis Island admission by picking up the NYC CityPass. Photo: Flickr/Nietnagel
Visit Times Square:
As an icon of American consumerism and the place where people around the world grew up "watching the ball drop" on television every New Year's Eve, it's worth walking by for the photograph. If you're lucky, there will be something strange like a yoga festival in Times Square, like when I last visited the city back in 2010.
Ride the subway
At $2.50 per ride on the subway and buses, the NYC Metro system is not cheap, but it is fast, goes everywhere, and the subway map and typography make design nerds go wild. Buy all kinds of NYC Metro map souvenirs (t-shirts, umbrellas, boxer shorts…) at the New York Transit Museum's gift shop, noted below. If you're buying more than 13 individual Metro fares on your trip, buy a 7-day unlimited transit pass for $30. Photo: Flickr/e_monk
Visit a museum or two:
As a global center of art and culture and home to scores of world-class museums, I can't attempt to recommend must-see museums to visit. I'm not much of an art museum person, so I actually haven't been to that many. I have visited the top three: the Museum of Modern Art, the Metropolitan Museum of Art, and the American Museum of Natural History.
Planning to go to a lot of museums on your visit? Consider buying the NYC CityPass to save you money on the city's top attractions.
Two lesser known but personal favorites are the Tenement Museum on the Lower East Side (if you are interested in the city's immigration and social history) and the New York Transit Museum in Brooklyn (to learn about how the transit system was built and changed throughout the years, including this replica of a historic subway station.)
Walk across the Brooklyn Bridge
It's one of the oldest suspension bridges in the United States, the detail is beautiful up close, and offers great views of Manhattan and Brooklyn. Plus, Grimaldi's coal-fired pizza is right at the end.
(On that note) Eat lots of pizza!
Grimaldi's or otherwise, I'm no expert. Just eat as much pizza as possible.
Take the Staten Island Ferry for a free view of the NYC skyline
So, I haven't done this. But it was recommended by several people on Facebook and Twitter when I raised the question, more than any other single thing. Unlike the rest of the pricey, NYC metro system (as above), the Staten Island commuter ferry is apparently free and offers a great view of Manhattan. I'll be doing this next time, too. Photo: Flickr/dvpfagan
Watch for film crews and celebrities
I lived in Los Angeles for six years before moving to Northern California. When my friends came to visit, they always asked, "have you seen any celebrities?" The answer was always an emphatic "no". Unless you hang out in fancy areas of the West Side (which I didn't) or work in the movie or music industries (which I didn't), you rarely see celebrities in Los Angeles because they are always tucked away in the expansive homes and in their cars. In New York, on the other hand, I have seen celebrities every time I visit, which I think is due to the city being more dense and people walking more. On our last trip in 2010, we saw the above shoot for a TV show starring Willie Garson (who played Carrie's friend, Stanford Blatch, on "Sex and the City"). Later that evening we noticed we were seated right next to Garson (with a friend and his family) at the wood-fired pizza place we visited with a friend. Same guy, twice in one day. That would never happen in L.A.
Here are a few other things I like to do in NYC:
Visit farmer's markets (Note: In New York they are called "green markets")
Take a stroll through Chinatown — where, among many other interesting things, you can buy live frogs.
Eat dill pickles at delis across the city.
Wander around, looking up and down to admire the details of this big and diverse city. I think NYC's fire escapes are quite pretty.
New York City Travel Resources
Looking for a hotel? On our last trip to NYC we stayed at and can recommend the Hilton New York Fashion District. Or, search other NYC hotels using Booking.com which often features great deals on New York hotels.
Heading to Brooklyn? Check out this Williamsburg walking tour that I did and loved! Looking for a hotel in Brooklyn? Check out my review of Hotel BPM in Brooklyn.
NYC has so much to do! Be sure to pack a good travel guidebook for destination guides, maps, and travel tips, and insight into the country's rich history and culture. I like this one by Lonely Planet.
Want to save this list for your next trip? Click here to pin this post on Pinterest!
---
What are your tips for first-time visitors to New York City?