If you've been following us on Facebook, you might have seen me mention that there's a new way to get from Los Angeles to San Francisco. Megabus, the discount bus carrier that has served the U.S. East Coast and Canada for several years now, has started service on new double decker buses between some of California and Nevada's most populous cities: San Francisco, Oakland, San Jose, Sacramento, Riverside, Los Angeles, and Las Vegas.
Update: Boltbus recently started running buses on this same route. For a review of Boltbus, check out this post.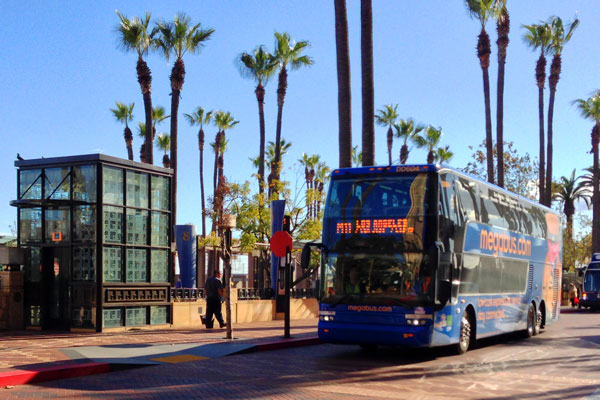 I never really considered taking a bus to Los Angeles. I'd looked at Greyhound fares before, but the buses usually take 8 or more hours, stopping several points in between the start and end point. With discount airfares being (rarely) as low as $59 each way but always under $99 each way, it's never seemed worth it to take such a long trip. Some day I hope to ride the planned California High-Speed Rail bullet trains that will travel from Los Angeles to San Francisco in only 2.5 hours, but as with any large infrastructure project in the US, it's moving ahead slowly while fighting off a lot of well-organized and well-funded opposition. Until then, travel via road and air are our only options.
To celebrate the introduction of their new service, Megabus offered a promotional special of only $1 each way from Northern to Southern California! Tickets from San Jose to Los Angeles were nearly nonstop–6 and 1/2 hour, with one 30 minute rest/food break midway.
Total cost round trip (with $0.50 booking fee) = $2.50!  
I couldn't pass up a deal like that! Not to mention, the buses have bathrooms, electrical outlets AND free wi-fi. That was huge for me–I find the distance much easier to tolerate if I can use the internet to do work on my plugged-in phone or laptop.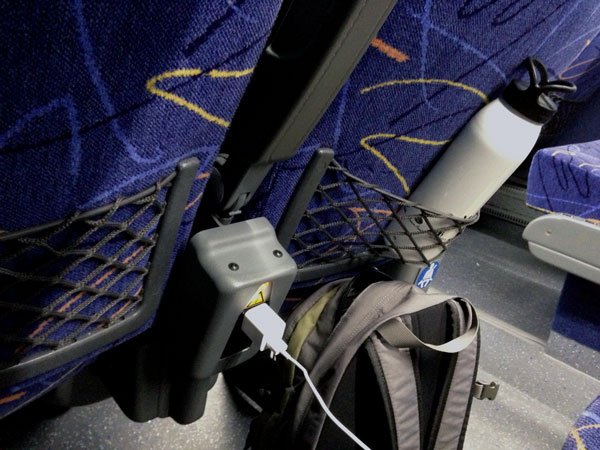 Possibly in response to Megabus' entry into the market, Greyhound now offers express buses with only one rest stop in between San Jose and LA. But the fares are still higher. I just checked both sites and prices for a one way ticket San Jose to Los Angeles this coming Thursday, and they are as follows:
Megabus: $24 (tickets from San Francisco to LA that I saw go as low as $19)
Greyhound: $36-67
I'm not sure whether Megabus fares will stay this low, but for now it's a great budget alternative to flying.
Some tips for planning a trip across California on Megabus:
The wi-fi is slow and sometimes intermittent. This didn't bother me that much because I was able to use my iPhone (having the electrical outlet was more important for me). But if absolutely you need to have internet access to get work done on the route, bring a laptop data card or a tablet with a data plan.
Try to get the top-deck front seat. If you do, you'll get an unobstructed, wide expansive view from the large front and side windows. Great for taking photos!
Bring a snack. It's a long ride and you may want to be prepared for potential delays. The bus does make one rest stop mid-way through the trip, but the only options at the rest area are fast-food chains and gas-station junk food.
Dress in layers and bring a scarf or blanket to cover up with if traveling in the winter. I was pretty cold for the first 2 hours of the southbound trip after departing in early morning at sunrise. I didn't warm up until we reached the central valley and the high sun started shining in to the big windows around me. I suspect that the top deck is difficult to heat and cool.
Be aware that the route from Northern California to Los Angeles passes over The Grapevine/Tejon Pass, a high altitude mountain highway that can be very cold, rainy, and snowy in the winter. I went in early January and when we got half-way to LA, the driver announced that because of the ice on the pass, it may be closed and we would need to be re-routed around these mountains. This would cause a serious delay of more than 4 additional hours! We were all pretty distraught about that. Luckily he kept going toward the pass hoping that conditions would improve and they did. By the time we got there, there was some snow accumulation but no heavy ice so we were allowed to continue through as planned. But the weather changes quickly and passes quickly. This was the way the roads looked at peak elevation at 11:55am…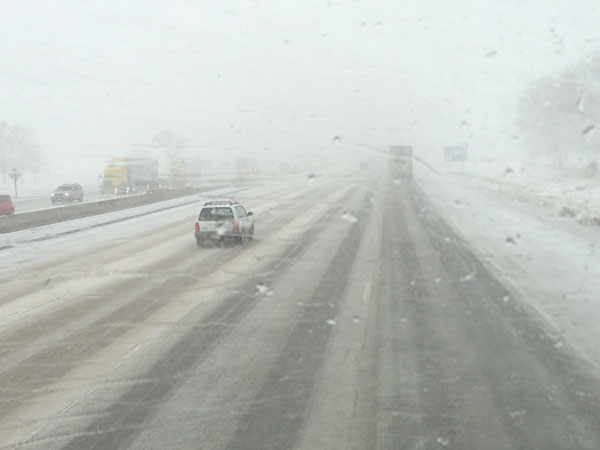 And this is the way it looked only 17 minutes later when passing Pyramid Lake at 12:12pm.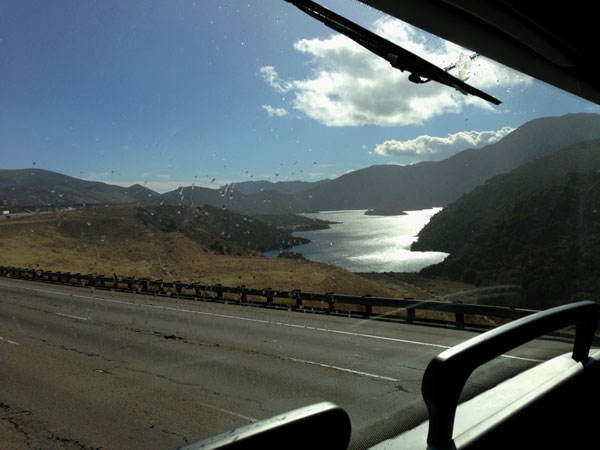 Here are some more photos from the trip. A great sunrise and reflection caught in the big front and side windshield…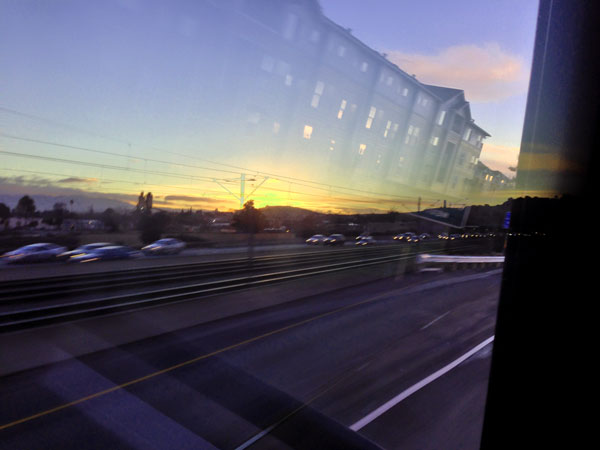 A nice reflection with light streaming through the clouds at sunrise (San Felipe Lake, south of Gilroy)…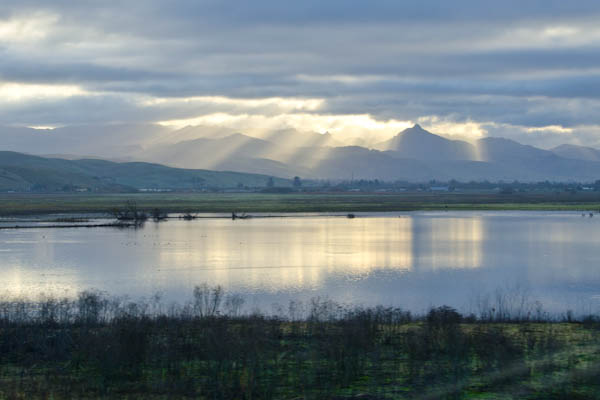 But in between the pretty vistas, there's a whole lot of this in the center of California–wide, empty expanses that are boring to drive through, so it is really nice to just sit back and enjoy the view, sleep, or lose yourself in a book or electronic device.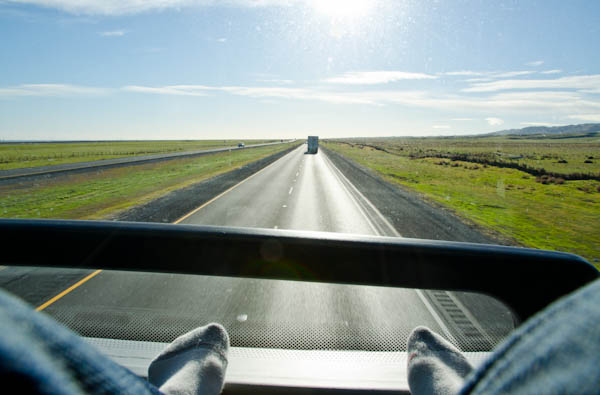 The buses into Los Angeles arrive at the centrally-located Union Station in downtown Los Angeles where you can very easily transfer to the city's MTA metro bus/rail system, Metrolink and Amtrak regional rail systems, or rent a car (Budget and Hertz have offices in the station).
So in conclusion, I had a great experience with Megabus, and this new offering certainly changes the equation when deciding how I'll travel from Los Angeles to San Francisco in the future. Even if next time it costs a bit more than $2.50!
Click here to learn more about Megabus and book your trip.
For information about another bus service running this route, check out this review of Boltbus.
---
Have you ever taken Megabus? What did you think?