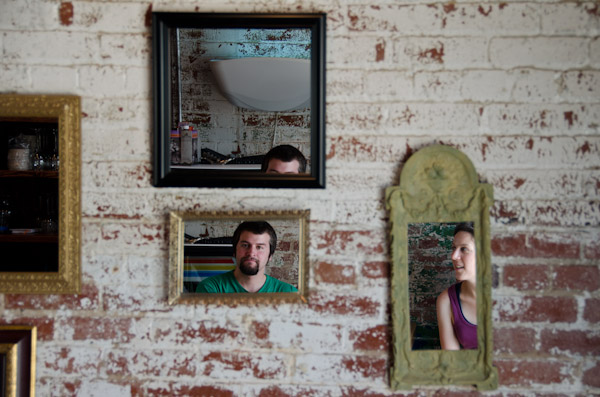 We met in Durham, North Carolina. Kevin and I were exploring the downtown and hoping to go to popular Fullsteam Brewery, but they were closed when we got there. It was a thousand degrees outside and humid as hell, so we retreated into a neighboring restaurant to cool off. We sat down at the bar, where we met Greg, who was working the bar. We chatted him up, finding out that he was originally from St Louis and a Cardinals fan. Kevin and he talked baseball for a while, and he introduced us to several excellent, North Carolina craft beers. We didn't previously know about North Carolina's burgeoning beer scene, and his enthusiasm was apparent. After we left, Greg and I stayed in touch via Twitter, occasionally chatting about baseball and beer.
When our San Francisco Giants were playing his Cardinals for the National League spot in the World Series last fall, we made a bet. Loser sends the winner a 6-pack sampler of local beers that the other can't find in their area.
Kevin and I wound up winning the bet (it was an amazing 7 game series), but decided to be good beer friends and send him a 6-pack anyway. The beer swap talk inspired Greg to get moving on planning a trip to California. We're excited to have our beer swap penpal come visit later this year!  Kevin wants to take him to see his World Champion Giants play when he comes out.

Greg–your carefully selected West Coast Beer sampler ships out this weekend!
---
Want to do a beer swap with us? Let us know!