I'm taking a brief break from packing to announce our next trip:
We're going to Jamaica!
Last summer, I went to TBEX 2013, an annual conference for travel bloggers. I won the door prize at one of the events: A seven-night stay at a resort in Jamaica! Neither Kevin nor I have ever been to the island, so we were excited to have this opportunity. Big thanks to Expedia for sponsoring this giveaway!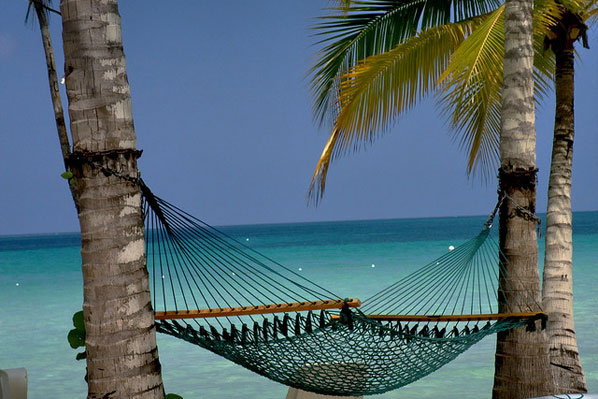 We scheduled this trip to celebrate an important milestone that Kevin just reached at work. With the exception of a few brief excursions, he's been working 80+ hours a week/seven days a week for the last nine months. I am eager to celebrate his return to a more normal schedule — and he's eager to sleep!
For most of the trip, we'll be staying near the resort in Ocho Rios, a popular tourist destination on the north coast. It's very close to Dunn's River Falls, a gorgeous multi-tiered waterfall that you can walk into. We'll hike around and practice using our new GoPro video camera.

We're thinking about making a day trip to the lush and quiet Portland Parish on the east side of the island, and perhaps the bustling city of Kingston on the south coast. We'll do some typical touristy things, but as always we'll be looking to learn as much as we can about local food and culture. Did you know Rastafarians are vegetarian? I'm particularly eager to learn more about ital, the rastafari vegetarian cuisine.
At the end of the trip, we have one night open, and I haven't decided yet where we will stay. I'm looking for somewhere small and local in a less-touristed area to balance out the resort experience we'll have in Ocho Rios. I'm looking at small hotels and guest houses on the north coast heading back toward Montego Bay where the airport is.
Otherwise we have very few plans. I'll be looking for interesting things to do and write about, and Kevin will be sleeping on the beach, moving only to reapply sunscreen and order another piña colada.
Help Us Out…
Have you been to Jamaica? What should we see/do/eat, particularly on the northern coast of the island where we will be spending the most time?
We'll be sharing photos during the trip on Facebook, Twitter, and Instagram so join us there for the latest updates!
Photo credits: Hammock via flickr/svilnit; Waterfalls via flickr/leonidasGR