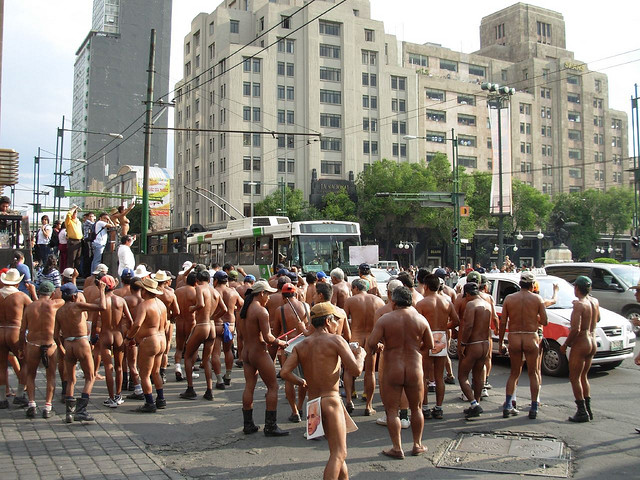 Mexico is no stranger to civil disobedience. When people object to policies or leadership, they take to the streets, en masse, especially the poor and disenfranchised that feel like they have nothing to lose. I respect that and wish that in the US, where we are very safe expressing our dissent, people would take to the streets more. We're comfortable with online protest, the "Twitter revolution" we keep hearing about, but that's a compliment to, not a substitute for, showing up in person and making noise.
But that's beside the point. I took this photo several years ago in Mexico City across from the Bellas Artes museum. A group of nude, male farmers from the State of Veracruz were blocking traffic to protest some decision made by a corrupt politician, whose face they are creatively wearing as a loincloth! It was a land dispute that I never fully understood, but thanks to the wonders of the internet, I just now found this article explaining their grievances.
Just another morning in Mexico City!
---
Foto Friday is a series where I go back through my archives to share photos that I love either because I think they are beautiful or they have an interesting story. I hope you enjoy them as much as I do!