Update November 2015: After three years of more testing in life's most difficult environs, I've decided that I prefer the ExOfficio underwear to the ScottEvest travel underwear. I've worn both pairs equally–the ExOfficio travel boxers have held up surprisingly well, but the ScottEvest pair's elastic weakened and frayed and I had to throw them out. ExOfficio is my pick for best men's travel underwear and it's an essential part of my men's carry on travel packing list.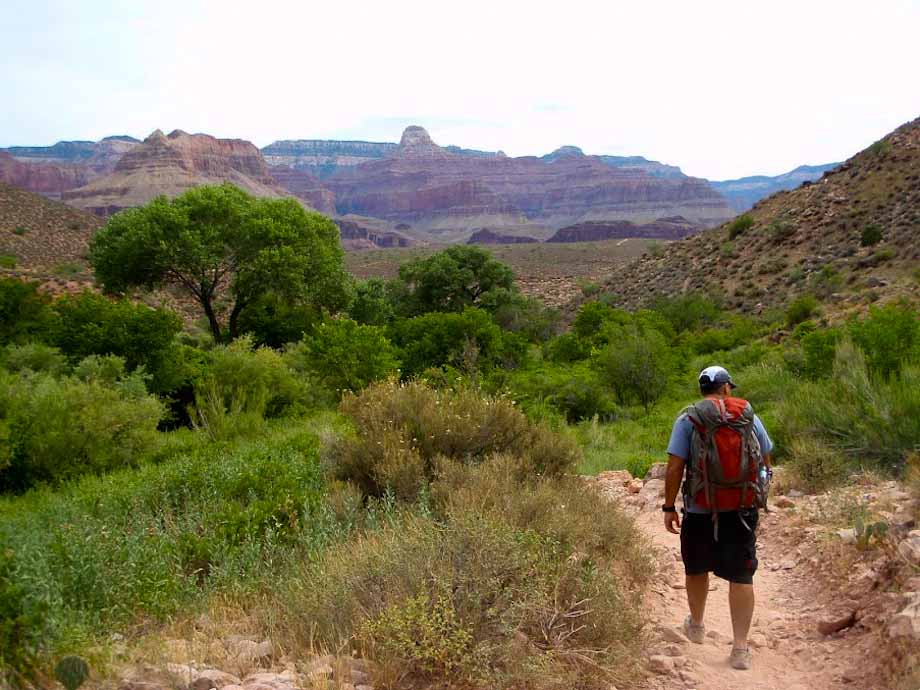 It's hot and we've got miles to go, but something tells me he'll be just fine
We were like four hobbits deep in Mordor.  In 2009, after six miles down the Bright Angel Trail, we'd descended deep into the Grand Canyon.  The temperatures reached 105 degrees Fahrenheit, and we were closely tracking (and carefully avoiding the evidence of) several mule trains that preceded us.  The hot sun beat down on us, the stench was overwhelming.  Three of us were sweaty and miserable to our very core.
Two years later, four bandoleros traveled to Tikal, deep in the jungles of Guatemala.  For three of us, our clothes literally stuck to our skin, practically requiring that they be peeled off.
The last of us was wearing ExOfficio boxer shorts on both of those hikes.  He was doing just fine where it mattered most.  And after two hard lessons in the importance of good housing for the jewels, we all wised up and got our own.  My friend could barely stop going on about his "ballwickers," and with word-of-mouth like that, these things sold themselves.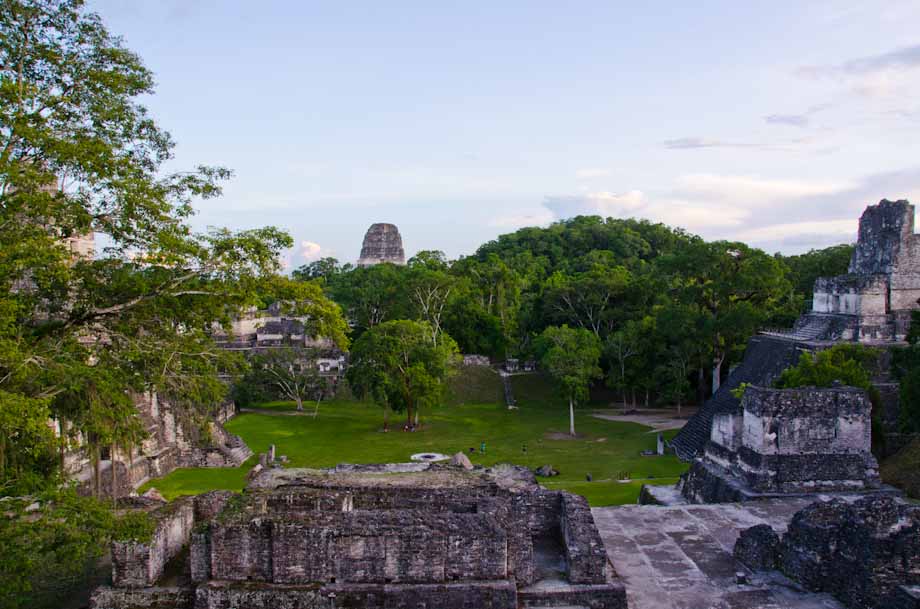 Tikal is beautiful, but it's hot and sticky.
I was SOLD!
I brought two pairs of ExOfficio travel boxers along with me on our recent, month-long trip to South America, and not only did they allow me to save valuable space in my pack, their performance met my high expectations.  I camped 4 nights on Easter Island, trekked 40 miles in Patagonia, and scaled Machu Picchu Mountain.  I stayed dry the whole time.
While Cassie implored me to rinse out my shorts each night and alternate between pairs, "for science" I decided to test the limits on how long I could last without following that advice.  Six days is the answer (your tolerance may vary).  Guys like me think about this kind of thing a lot.  I'm not ashamed to admit it.  Cassie thinks I should be.
So when I visited the ScotteVest booth at the TBEX conference in Keystone, CO, and discovered they were giving away pairs of their own quick-dry travel boxers (ScotteVest Travel Boxers), I wanted to see if these could provide competition with my beloved ExOfficio underwear.  Typical of the brand, the ScotteVest underwear feature two pockets, one for your phone (it will fit your iPhone or giant Android as well) and one for your passport.
The Test
Since a direct comparison between month-long trips would take far too long, I put the ScotteVest travel boxers through the toughest test I could think of… my kickboxing class, with an old passport in the back pocket.  After an intense hour of constant running, push-ups, and ab work along with what would appear to the outsider as random flailing of my arms and legs, the results were in.
The Results
In its primary role of keeping me dry, the ScotteVest Travel Boxers performed quite admirably.  Protected by the Aegis Microbe Shield, identical to that of ExOfficio, I wasn't at all surprised to be so comfortable.  Of course, the real comparison is between this high performance gear and cotton, and there is a *BIG* difference.  So here, the ScotteVest boxers hold their own against ExOfficio underwear.
So what about the pockets?  As you might guess, the passport I took with me kickboxing ended up… moist.  I imagine this isn't exactly the company's intended use case, but then what is?  ScotteVest states on the packaging that these boxers can "double as shorts in a pinch." This has me envisioning the situation where I'm all alone, with only my shorts, my cell phone, and my passport.  Sure, I've got big problems, but I know I'll be ok where it matters most.  For all the predicaments in between, I suppose it's better to have the pockets than not, and in this way, I'll give ScotteVest the edge here.
Most importantly, though, more choice is always a good thing for the consumer, and ScotteVest is certainly a viable option to ExOfficio.  If you're a guy reading this and wondering if any of it is worth the trouble, to you, I say that a relatively small investment in good travel boxer shorts makes an unbelievable difference in the level of comfort, especially if you plan on being very active.  You can pack less and feel like you're getting more.  I'd feel safe anywhere in the world in the care of either brand.  And if you're already a fan of ExOfficio underwear like me, I recommend you give the ScotteVest a try and compare for yourself!
Buy men's travel underwear on Amazon:
---
The comments in this review represent my own opinions about the products mentioned.  I have not been compensated in any way, though as I mentioned above, I did get the ScotteVest boxers for free at a conference.  I'd like to think that hasn't affected my objectivity… the issue of quick-drying underwear is just too important!