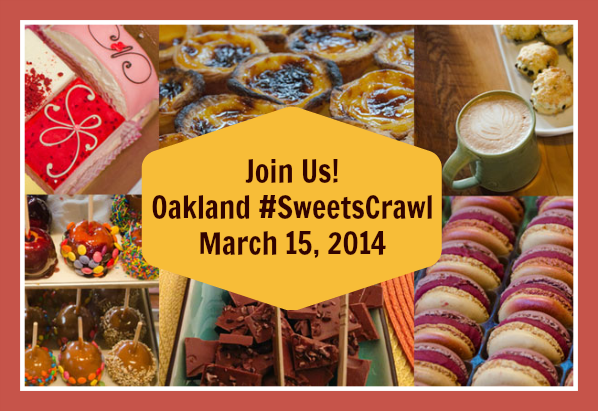 I'm very  excited to announce the date of our next Bay Area SweetsCrawl reader meetup and local food tour! Our last event in San Francisco was a lot of fun and I've been looking forward to doing it again. So mark your calendars and save this date: Saturday, March 15.
This time we're hitting the streets of Oakland, a city that has emerged as one of the most vibrant places to live, work and play in the Bay Area. In 2012, the New York Times ranked Oakland #5 on their list of top places to go — in the world! Oakland's food scene is particularly exciting, and the food adventures rival anything across the Bay Bridge.
I'm most excited because this time we've added a new twist to the event. I noticed that other local food tour companies charge $50 or more for similar walking tours. For this reason, I decided to add a small charitable component to these events and support a worthy food-related organization working to improve the lives of people in the host community.  Donations are voluntary, but welcome.
Learn more:
What: Oakland SweetsCrawl is an Ever In Transit reader meetup, walking tour of great Oakland neighborhoods, and a celebration of all things sweet! We'll visit 5 or 6 shops across the city to sample locally-made cupcakes, chocolate, pastries, ice cream, and more. We'll end the afternoon at a local pub (optional) to wash down the sweets with a good local beer or a glass of wine.
When: Saturday, March 15. We'll start at 1:00 PM, end at about 5:00 PM. Please plan to arrive about 10 minutes early (12:50).
Where: We will start and end at the Rockridge BART station, 5660 College Avenue, Oakland, CA – [map]. Parking is available at the station. Meet near the entrance.
Cost: Free, but with a suggested donation of $20. All proceeds from this event will go to the nonprofit City Slicker Farms, which has worked for over a decade in West Oakland to support access to healthy and affordable food for low-income families in the neighborhood. They run a network  of cooperative urban farms, sell produce at a weekly farms stand, and helping neighbors start backyard gardens. It's an important cause in a part of the city that has long lacked easy access to healthy foods. Check out this video to learn more.
Are you in? Great! Please RSVP to [email protected]. Space is limited.
Other things to know:
The tour is free, but bring money to sample something small at every stop, and a donation if you want to contribute to the fundraiser. Also consider bringing about $10 for BART/bus fare between some of the stops (I'll have a better estimate of this when the itinerary is finalized, so stay tuned!)  3/12/14: Scratch that, the entire tour is walkable.
Please eat a LIGHT lunch before we meet. I don't anyone to pass out from all the sugar.
Want to see what SweetsCrawl is like? Check out these wrap-ups from our walk in San Francisco, and this reader-organized event in Atlanta.
Please email me or leave a comment below if you have any questions or suggestions for the tour. I hope to see you there!