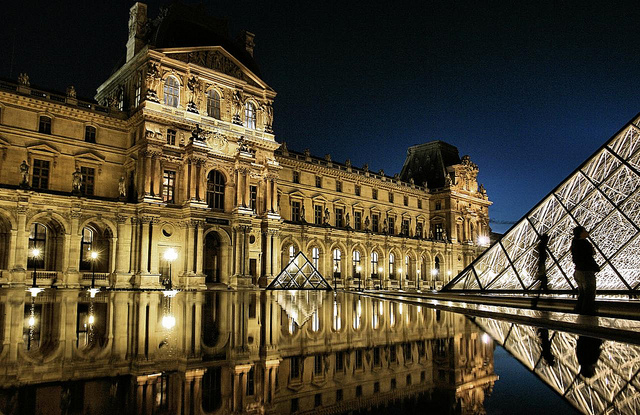 Who goes to Paris but skips the Louvre?
Well, me.
When I visited  Paris back in 2003, I didn't know what to see or do. I was new to international travel, didn't have a guidebook, and had never taken French in school, so nearly all I knew about the city came from history classes, that seemed like an eternity ago. The one thing I did know about Paris was that I was supposed to visit the Musée du Louvre. The Louvre is one of the largest museums in the world, and with more than 8 million visitors a year, it's the most-visited museum in the world. Most travelers go there to catch a glimpse of the famous Leonardo da Vinci portrait, the Mona Lisa.
Our Camembert-fueled days in the city were flying by, and on the last day before we were scheduled to return to London, my friends decided it was time to hit the most famous of Paris museums. I was dreading our departure, and realized that there was one more thing I wanted to do in the city: I wanted to go record shopping.
For more than a year before, I'd been exchanging mix CDs by mail with a French friend I met at the hostel I worked at in Los Angeles. Pierre would send me mixes of his favorite music from France, and I would send him what I was listening to in the US. I came to Paris with a list of artists that I liked the most so that I could find more of their work. I also looked up a list of new and used record stores in the city that I wanted to check out.
But the week was near over and I had only visited one of the stores that we happened to pass on our way to somewhere else. I knew I'd regret it if I missed out scouring these markets, as I was known to do back home–I spent nearly every dime I made in my early 20's on CDs and concerts. So I  made the choice, to skip the historic and cultural treasures at the Louvre and rummage through dusty bins at Paris' used record stores.
This adventure was one of the most memorable of my trip.
I got to practice the few phrases I knew in French, shyly chatting up shaggy-haired boys that worked at the shops. At the time, that was really important to me.
I got lost a few times in dodgy areas of the city. I asked a lot of people for directions. I remember a very elderly lady that didn't speak a word of English, taking me by the hand and hobbling an entire block with me to lead me to the correct Metro station. She spoke to me kindly, but rapidly, in French the entire time. I didn't understand a word.
At the end of the day, I returned to the hostel with a stack of albums that included songs like this one:
this one:
this one:
and this one (explicit lyrics):
These and the other CDs I picked up that day are some of my most treasured souvenirs, and listening to these songs always takes me back to that trip over a decade ago.
To this day I have no regrets over having missed the Louvre. I recall thinking, "Meh… the Louvre will be there next time."
And it is.
On the cusp of another trip to the City of Light, I'm considering stopping there next week.
But we'll see, I might have some shopping to do.
---
Have you ever skipped out on something you were "supposed" to do when you travel? Let me know in the comments…
Photo Credit: Flickr/josefstuefer