It was sometime in 2002, and I was watching the movie Amélie for the first time. There was so much that I loved about this film. First, the artful camera work made the Paris streets, apartments, parks, and metro stations where it was set look irresistible and inspired my desire to travel like no film ever had before. Second, the traveling garden gnome inspired my traveling JennyCat. Third (and most important), was the whimsical main character, Amelie Poulain.
Amelie was kind, beautiful and curious — seemingly in love with the world. She was also painfully shy and her anxieties tugged at me, because I could relate so well. I felt very connected to her.  In some ways I felt we were already the same, and in others ways, I wanted to be like her.
But it was the rainy scene at Collignon's produce market that gave me the most unexpected connection to the main character.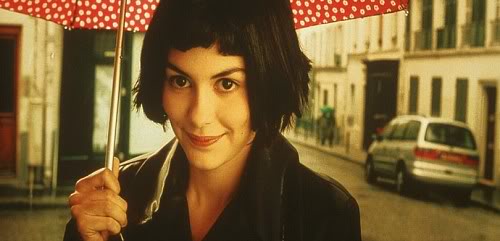 I have that umbrella!
I stopped the video tape, hit rewind, and watched the scene over and over until I could pause it just right to get a closer look. Indeed, the umbrella she was holding looked just like the one with the oddly-shaped polka dots that I'd picked up a few years before. I have no idea where I bought it.
I'm not a fashionable person, so to think Amelie and I owned the same of anything seemed a pretty amazing coincidence, especially back in the days back before the internet made possible the obsessive pursuit of, well, just about anything. I took it as a sign that I would need to go to Paris one day soon.
And I did. Within months, I had two friends on board and we planned a trip in early 2003 to London and to Paris — my first self-guided trip abroad. And the umbrella came along, for pictures like this one at the market in Montmartre where they filmed that scene from the movie …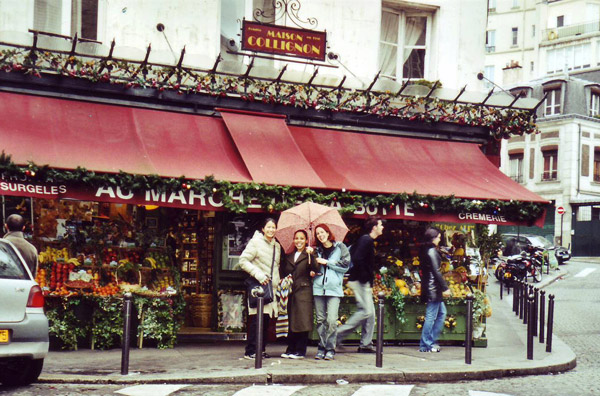 In the years since, the umbrella has broken over and over again. The seams keep ripping, and the fabric detaches from the metal frame. I've hand-sewn it all back together several times. I don't actually use the umbrella very often anymore because I don't want it to break again. I know that it's purely sentimental, but I can't bear the thought of throwing it away.
At long last, Amelie's umbrella will get to travel again. I plan to bring it when I return to Paris next month.
I'll get to revisit the places that Amelie Poulain loved and find new inspiration, exploring the neighborhoods in more depth than I was able to do last time. And, again, Amelie's umbrella will come along for the ride.
To see the photos from my Amelie-inspired walk through Paris, check out this post: A Return to Amelie Poulain's Paris