In case you missed it, early last year I published a post sharing my love for the French movie Amélie…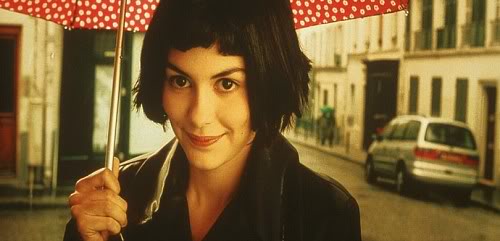 And telling the story of how this film (and a red polka dot umbrella), inspired me to travel to Paris back in 2003: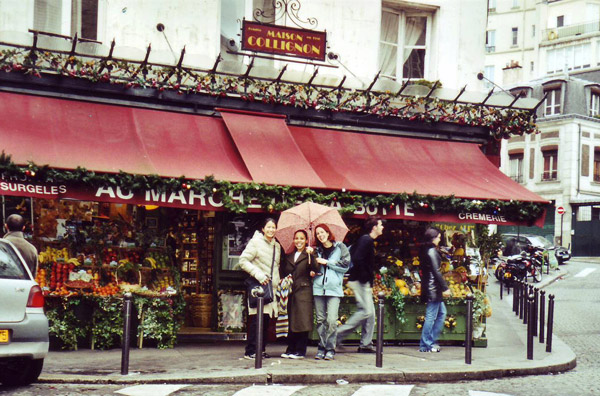 At the time, I promised to revisit this post and share photos of the red umbrella on its second visit to Paris, ten years later.
I almost forgot…
So here it is, some photos Kevin and I took of Amelie Poulain's Paris last spring. Some things had stayed exactly the same, many others had changed, but in most cases, I think Amelie would  have approved of how her beloved city had changed.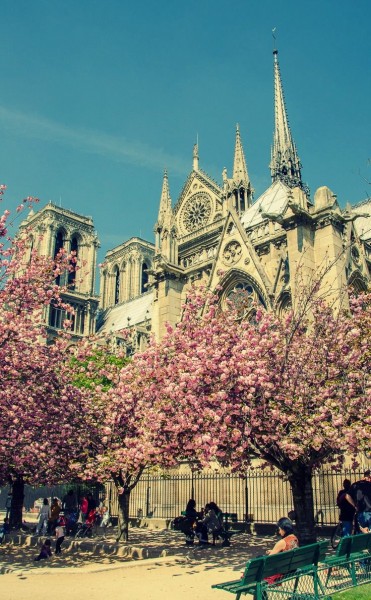 (If you've never seen the movie, its on Netflix streaming or you can rent it or buy it here. Seriously… watch it this weekend!)
Scenes from the Film:
Our first order of business was to revisit Collignon's Market (Au Marche de la Butte, 56, rue des Trois Frères. Metro: Abysses) where Amelie used her red umbrella while talking to the shopkeeper's assistant Lucien in the rain. The building looked exactly as it did back in 2003, except for the old lady in front…
Next we went by the cafe where Amelie worked as a waitress, the Cafe des Deux Moulins (15 Rue Lepic, Metro: Blanche). Rue Lepic is a very busy street so I felt a little awkward posing with an umbrella under clear skies.
The front entrance of the Notre-Dame Cathedral is where Amelie's mother met her untimely death…
Most all trips to Paris involve a pass through the city's main, intercity train station (and busiest in Europe), Gare du Nord. This is the station where Amelie catches the train to visit her father and offers money to a homeless man, who declines it saying he doesn't "work on Sundays."
The carousel in the park below the Sacré-Cœur Basilica is where Amelie returned Nino's scrapbook. On our visit, there was no sign of the public phone booth Amelie used to call him. (Damn cell phones…)
Several Paris subway stations are important places in the film and in the movie, while I don't think these two stations (Menilmontant and Oberkampf) were used, they are equally romantic.
The Canal St. Martin is where one of the most beautifully-filmed scenes in the movie takes place — with Amelie skipping stones as the camera pans out and around her.
(While we didn't run into Amelie at the canal, we did meet our friend, Agathe, there right before sunset)
Things Amelie Would Enjoy
In addition to scenes where the movie was filmed, there were many things we saw in Paris that I thought the whimsical, beauty-seeking Amelie would enjoy.
In 2013, there was a lot more street art in Paris than I remember a decade ago. I think Amelie would have enjoyed these delicate paste-up works by artist, Fred le Chevalier…
And this work by an unknown (by me) artist in the Belleville neighborhood.
I think Amelie also would have enjoyed this quirky art project. When we were exploring Monmartre, we watched a young guy pasting these funny thought bubbles on the heads of these cast iron fountains. This one says, "I'm tired of this job"…
and this one says, "put your arms in the air!"
Amelie definitely would have approved of our cute and colorful apartment! Every table was covered with a different oilcloth in bold patterns and colors I imagine that Amelie would have picked out.
Like me, I don't think she would have enjoyed the "tour groups by Segway" gumming up the city's busy streets, but unlike me, I know she would have loved the love locks!
There's no doubt Amelie loved local markets and though we didn't run into her friend "Lucien" at Collignon's Market, we did meet some other friendly produce vendors…
We shared Algerian food with this guy over stories of his life growing up in a small town outside of Algiers. I can imagine Amelie would be curious about other cultures and inspired to travel by friends she meets at a food stall.
This comically Parisian woman and her cute daughter reminded me of the scenes of Amelie as a little girl.
While we know from the film that Amelie loved cracking the surface of crème brûlée, I bet she probably also loved biting into the perfect macaron.
We know from the film that Amelie was a prone to voyeurism, imagining the intimate life details of people she saw when she looked out her window. I felt a bit like that when watching unassuming sunbathers from the top of the Promenade Plantee.
Amelie wore her heart on her sleeve and definitely would have enjoyed the I Love You Wall (Located in the square at the Place des Abbesses), a large tile installation that depicts the phrase "I love you" written in 250 different languages.
Amelie definitely would have loved my friend Pierre and his uncle, Scott. They are kind people and, if I remember correctly, Pierre likes the movie as much as me!
 We stumbled upon this street, Rue Amelie, in a ritzy area on the Left Bank. It was definitely not the kind of neighborhood Amelie would hang out in, but I enjoyed imagining the street was named after her.
---
Have you ever been inspired to travel by a movie?