I was on the beach in Tulum, Mexico. A little girl was going from beach blanket to beach blanket selling cups of sliced fruit. She had an empty gaze, looking through me as she made her sale.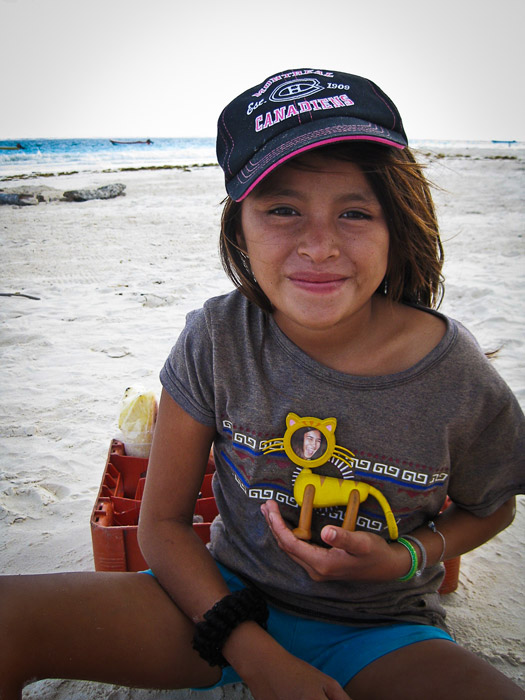 That changed when she noticed JennyCat — a cartoonish plastic frame that holds a photo of my friend, Jenny. Rocio and I used to travel with it a lot, snapping photos of it in places around the world.
The girl's eyes lit up when she saw the toy face down on my towel. She dropped to her knees in the sand, pointed and asked if she could hold it. I handed it to her and she examined it front and back, wiggling the feet and flicking the whiskers. I took this photo of her looking so very happy.
She played with it for a few minutes, but suddenly snapped out of it, remembering she had to go back to work, and continued down the beach.
Why was she working? Why wasn't she in school? Where were her parents? Did she have parents?
Every time I look at this photo I regret not giving her JennyCat. As much as I like the silly thing, this little girl liked it more. But it wouldn't have solved her problems.
---
We live in a world with an economy that doesn't work for millions of low-income parents, driving kids in developing countries to work, and in the US, making parents unable to work due to their inability to find and afford child care. Once low-income parents — and consequently, their children — fall behind, it becomes increasingly difficult to pull themselves up.
Today is International Women's Day a day meant to celebrate the achievements of women and empower them to continue the fight for equality. The holiday grew out of suffrage movements and the role of women in labor organizing.
Companies are clueless about what this means. In the US, hotels are offering discounted spa visits to guests and one Hyatt hotel is offering corsages to female employees (Hey, Hyatt — if you really want to help your mostly female workforce, you might start with ending the abusive and illegal labor practices which have gotten you pegged worst hotel employer in America.)
Economic issues are women's issues. Helping women advance means helping build an economy that works for all, especially at the lowest income levels, where women are disproportionately represented. Helping women means creating jobs that pay a living wage, access to affordable child care, affordable health insurance, and paid sick leave. In the developing world, it means making sure parents are supported so that kids do not have to miss school and work to help support the family. We have a long way to go, in the US and abroad.
---
I took this photo about five years ago. By now, this little girl is a young woman. I'd like to think that she's in a better place, that she's in school and on a track to a better future. I hope that she is, but I know the odds were stacked against her and it's hard to be optimistic.