I have a confession. And a problem. It's hard for a self-described foodie and adventurous eater to admit. But alas, here it goes.
I always order the same thing.
Yup, I love to try new places and will eat anything almost once, but once I've found a place I want to go back to again and again, I almost always order the dish that led me to fall in love with it.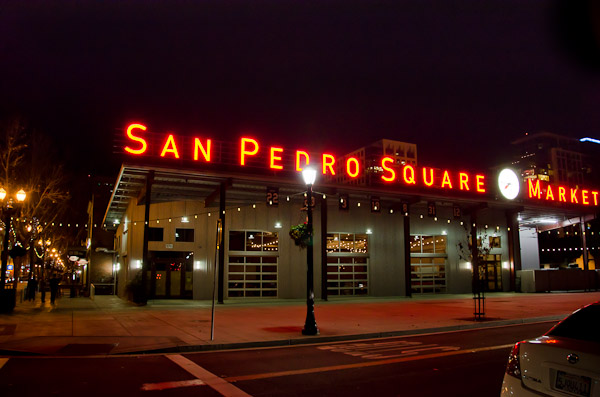 One great example is the my favorite of the food stands at the San Pedro Square Market, just blocks away from home in  San Jose, CA. This gorgeous, brick-clad central market was inspired by some of my favorite urban food markets such as Seattle's Pike Place market and nearby San Francisco's Ferry Building. When it opened in late 2011, there weren't that many food businesses operating yet, so we visited Pizza Bocca Luppo. This wood-fired Napoli style pizza place and their unique flavor pairings, immediately became our favorite pizza place in the South Bay.
After that, every single time I visited the market, I'd order pizza. All the while, new businesses were opening up, filling out the expansive space. On weekends, all day and into the night, the place is standing room only. It's a great place to visit and see the range of new businesses that have opened up.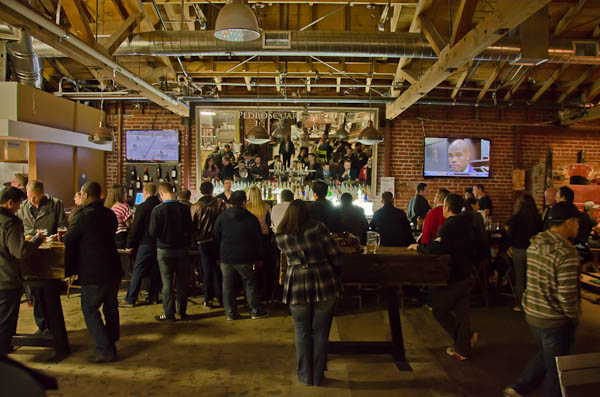 So when I saw the good folks at the San Pedro Square Market were looking for writers to explore the diverse offerings of the tenant businesses, I offered to do it. I'd been meaning to write about this hometown love of mine for a while, and why not take the kick in the pants to do something different, finally.
Oddly enough, that very same morning, a friend emailed to ask us if we wanted to go see a band play  at the market that weekend. Indeed, we did. Perfect timing!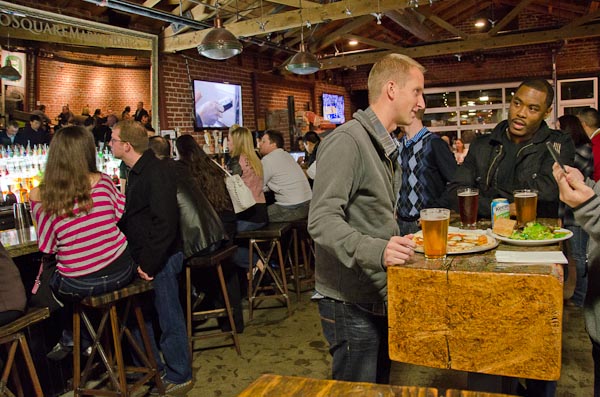 So Kevin and I went by that Saturday night, with the goal of trying as many new (to us) options as we could stomach. Kevin had already had his eye on Calidog, a hot-dog stand offering quality hot dogs, topped with unique, fusion toppings. He chose the ShakingDog, an American Kobe beef hot dog with Vietnamese shaking beef topped on lemon-vinaigrette watercress. It was hearty and ambitious for a first meal (especially with the garlic fries on the side) I feared he'd have no room to try anything else. Little did I know he was up for the challenge.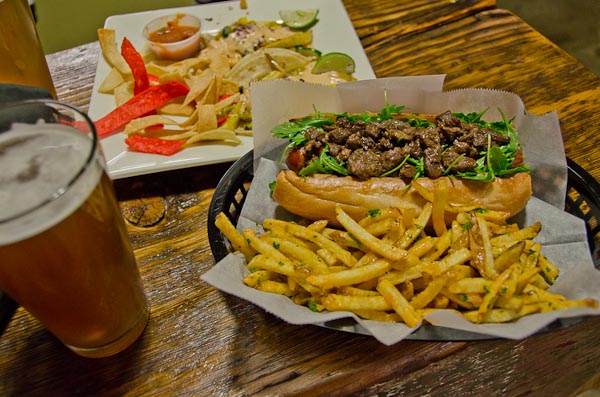 I started with tacos from Loteria Taco Bar. Portabella mushroom and butternut squash tacos, with an amazing, creamy and spicy sauce. I had recently fallen for two very similar taco recipes recently at Guisados's in Los Angeles, but these were decidedly more flavorful. I dove in before I could get a picture, though you can see my half-eaten mess in background of the photo above.  They were so good, I'll forgive them for serving them alongside red-dyed tortilla chips.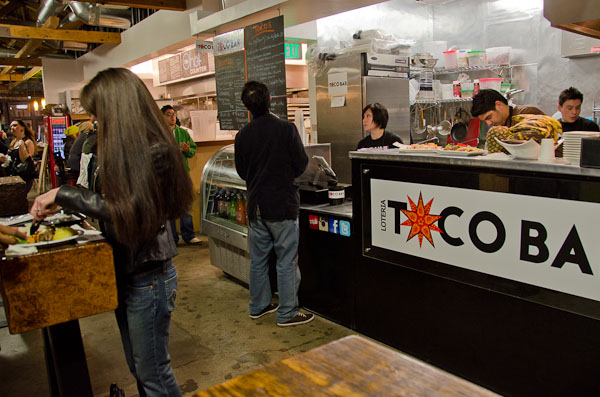 After that, we split a falafel wrap from Robee's Falafel. Tasty falafel and hummous, though I'm never a fan of the flour tortillas they wrap such things in. The centrally-located Market Bar always has several of our favorite Northern California craft beers on tap so we washed our meal down with pints of Lagunitas.
One of the places I've always thought was curious, but we didn't get to try is the Little Chef Counter, a place that prides itself for bringing fine dining to a market stall. Duck confit and short rib poutine? Definitely some interesting and unique market options!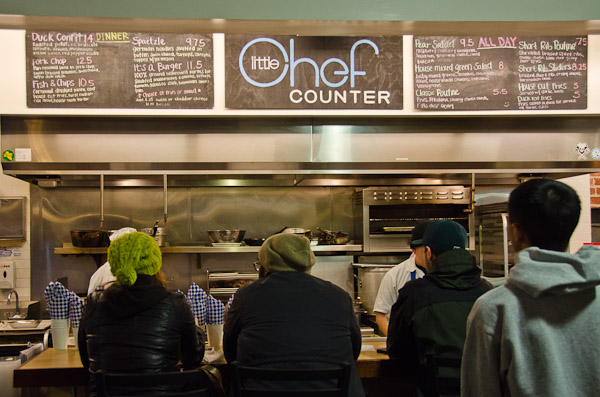 After that we met up with our friends to check out the band. Anya was a pretty-voiced Rockabilly girl, but by far the highlight of that time was dessert.
Treatbot, an artisan, ice cream truck that has been touring the city's events for the last few years, recently opened a truck in one of the buildings. Not a stand — a truck — they just drove it up and parked it inside. For dessert I tried two scoops their more uniuqe flavors. One of ume plum and the other, macapuno (young coconut). Both were tasty and sweet, not tart as I expected the plum might be. You have option to put it in a bacon-infused waffle cone, though with the fruity flavors I chose, I decided to pass.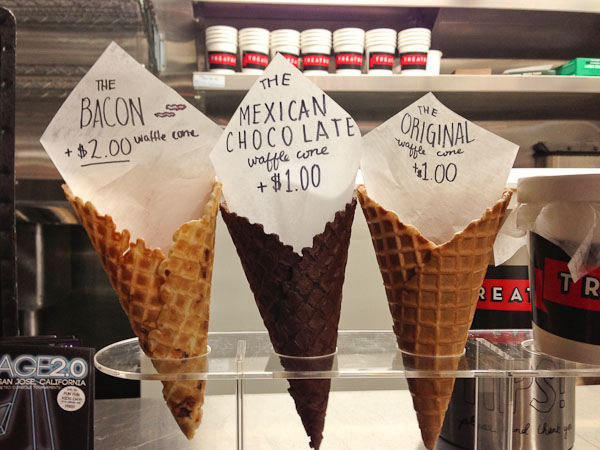 We went home satisfied with haven broken free of the rut we were in and excited by the new things we had tried.
But I'm still craving that pizza! Next time…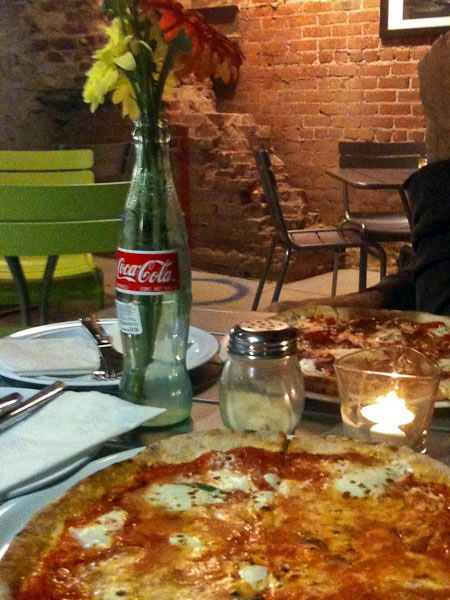 Find these restaurants on Urbanspoon:
Pizza Bocca Lupo
Calidog
Loteria Taco Bar
Robee's Falafal
San Pedro Square Market Bar
Treatbot