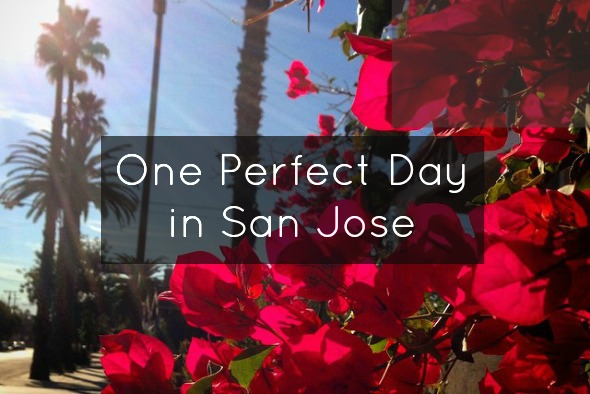 I love to travel, of course, but my favorite place in the world is home. When I'm away, I desperately miss my bed, my house, my dog (sometimes the cat), and my neighborhood–a diverse and historic part of Downtown San Jose, California.
Local love
I was invited to share my hometown pride and some local tips by the ladies from Taste Buds Travel, a new city-focused web series created in partnership with Ford. In their most recent episode, they highlight some interesting things to see, do, and eat in one of my other favorite places–San Francisco.
Sounds like a good day, getting off the tourist track and doing what locals do. How would I plan one perfect day in my own hometown… ?
One day in San Jose
My perfect day in San Jose would start with a morning hike through one of the parks and open spaces in the hills surrounding the city. San Jose's Alum Rock Park has the best views over the downtown but it's sadly not dog-friendly, so I more often walk the trails at Almaden Quicksilver, Santa Teresa, and Uvas Canyon–all Santa Clara County Parks. I'm just starting to explore the parks up the Peninsula in San Mateo County.
After a hike, I'd head down for a stroll through one of my favorite neighborhoods–San Jose's Japantown. I'd pick up a coffee at Roy's Station (a popular corner cafe built in an old automotive garage) and walk around the historic neighborhood. I'd walk by the local Betsuin Buddhist church, which looks just like the Buddhist temples in Japan. I'd browse the local shops–my favorites are the small natural Japanese grocery store Nijiya, and Nikkei Traditions, a Japanese and Hawaiian gift shop. I'd also recommend stopping into the Japanese American Museum, which offers an important look at history of the Japanese-American culture and community in California.
After Japantown, I'd head over to San Pedro Square Market for lunch. This popular public market has dozens of diverse food stalls and it's my favorite place to take first time visitors to the city. Everyone can get something they want and enjoy people watching indoors or on several outdoor patios. My favorite foodie finds are Pizza Bocca Lupo, Loteria Taco Bar, and Arepa Swing. The Market Beer Company lets you buy one of a handful of unique craft beers on tap, and hundreds by the bottle to enjoy with your meal on site.
After lunch, I'd walk through the downtown South First area to see what's on display at the local art galleries. Some favorites are the Institute of Contemporary Art, Zero 1 Garage, MACLA (Movimiento de Arte y Cultura Latina) and the surprising contemporary and tech infused designs–on quilts–at the San Jose Museum of Quilts & Textiles.
For an afternoon bite, I'd hop in the car and head to the diverse east side to visit one of my favorite ethnic cafes. For Mexican ice cream and tropical flavored whole fruit popsicles, stop into United Paleteria y Nevaria (410 S King Road)–I like the "Mangonada" which is mango ice cream, fresh mango fruit, tamarind candy, and spicy dollop on chile powder.
For Vietnamese treats, I like the do-it-yourself che (vietnamese sweet puddings) and the spicy fried tofu pieces at Thanh Son Tofu (2857 Senter Road). I also recently discovered the pandan and coconut milk waffles at Nuoc Mia Vien Dong 2 (979 Story Road). The tropical herb pandan in this popular Vietnamese street snack makes the waffles green (!) but they are savory and sweet, and just moist enough to enjoy without syrup.
For Portuguese espresso, vinho verde wines, and traditional Portuguese pastries, I like Cafe Docanto (7 N 33rd St) in San Jose's historic Little Portugal. The tiny cafe is always filled with old Portuguese-American men (mostly immigrants from the Azores) sharing local gossip and memories of life back on the islands.
I'd end my perfect day in San Jose watching sunset over the San Francisco Bay in San Jose's historic boating and shipping port, Alviso. Industry left the small community decades ago, but the coastal wetlands have been preserved as a county park and neighboring Don Edwards San Francisco Bay National Wildlife Refuge.
What's a perfect day look like in your hometown?
This post was sponsored by Ford.