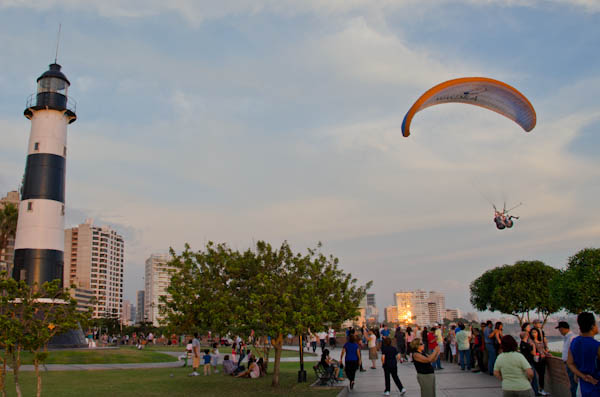 The first thing we did after checking into our hotel in Lima, Peru was head for the ocean. We were staying in Miraflores, an affluent neighborhood on the coast that reminded us a lot of the Southern California beach community, Redondo Beach.
Similar to Redondo's "Strand", Lima has the Malecón, a coastal walkway that meanders along the coast, but in Lima it is perched at the top of 70 meter high cliffs overlooking the Pacific. Strolling this gorgeous path was one of our top things to do in Lima.
Adventurous travelers can go paragliding in Lima, over these cliffs (tandem a trained guide) to get the best view of the city. At sunset, we watched one glider at a time zipping back and forth overhead in the coastal wind currents for what seemed like an endless ride. This sort of adventure isn't for me but I loved watching the gliders backlit by the glowing sunset. I read that sometimes riders can even see their reflection in the glass panes covering the Marriott hotel!
Flights take off from an area just north of the Parque del Amor. For more information about paragliding in Lima, Peru, check out Fly Adventure Miraflores.
---
Foto Friday is a series where I go back through my archives to share photos that I love either because I think they are beautiful or they have an interesting story. I hope you enjoy them as much as I do!