We landed in Lima from Cusco without any plans. Lima was the final stop of an adventure-filled trip and we were looking for the opportunity to relax before returning home. We knew nothing at all about the city, including how to get from the airport to our hotel. I had assumed a city of Lima's size would have public transit options available from the airport–the sprawling cities of Mexico City and Los Angeles both do. Unfortunately, we had to take a taxi. Beyond that, we were happy to discover a modern and attractive city and (better yet!) easy to visit the major sites without having to work too hard or travel too far.
Here's is a rundown of some of our top things to do in Lima:
1. Watch the sunset from the coastal cliffs of Lima in Miraflores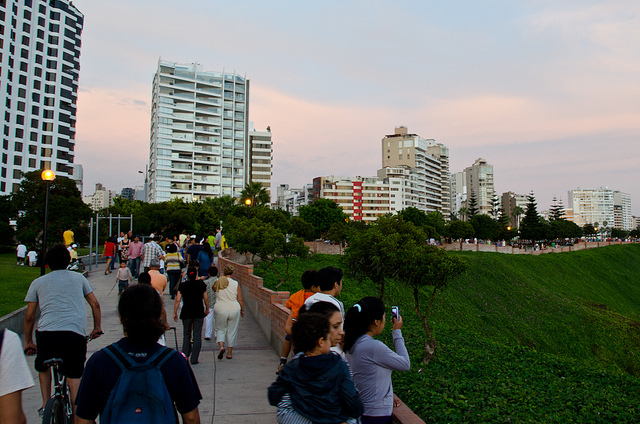 Sunset on the Malecon in Miraflores.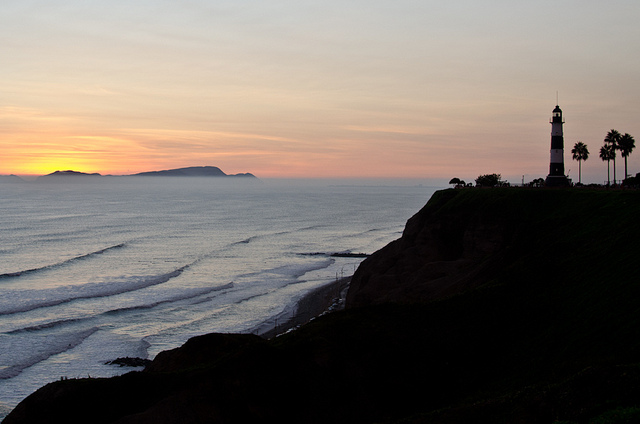 View of the lighthouse off the coast of Lima in Miraflores
Many of the hotels and hostels that tourists visit are located in the most upscale neighborhood in Lima, Miraflores. This is where we stayed and we definitely recommend it as it is centrally located, safe and easy to navigate by bus. The walkable, modern neighborhood lives up to its name ("look at the flowers") with lush landscaping and abundant green space. At the rim of the cliffs that overlook the coast, there is a winding walkway/bike path known as the Malecón. It is filled with pedestrians, cyclists and children playing in the park each night at sunset. The evening we were there, paragliders were flying over the cliffs back and forth, wherever the wind would take them, for several minutes. The Malecón runs into a park Parque de Amor (Love Park), that looks a lot like Barcelona's Park Güell with its colorful tiles, organic forms, and amazing view.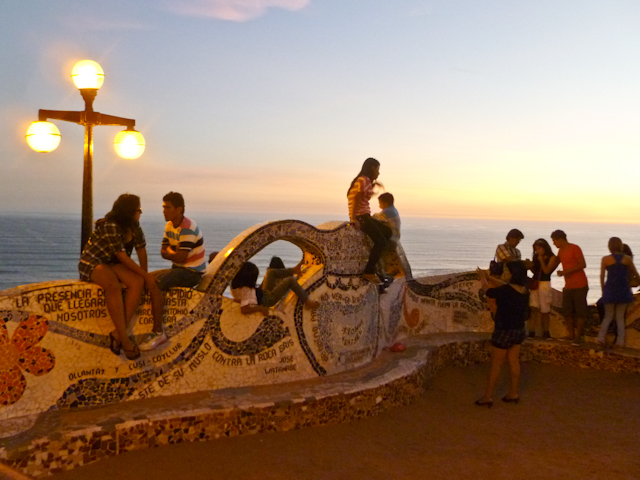 Parque de Amor in Miraflores, Lima, Peru
This integrated network of parks offers many opportunities for relaxed enjoyment of a beautiful sunset.
2. Dine at fancy restaurants we wouldn't be able to afford at home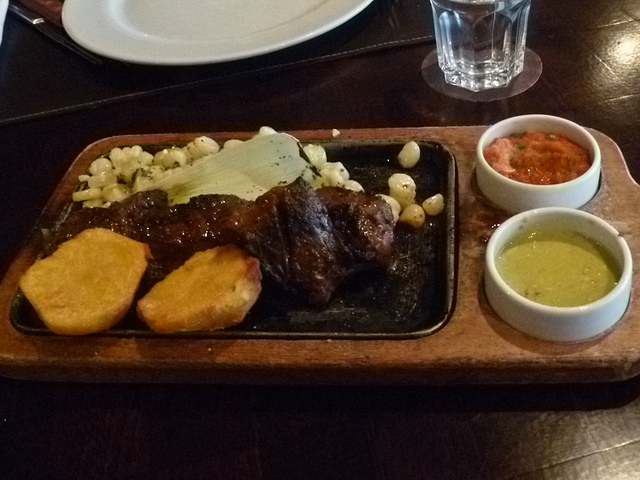 Beef heart anticuchos at Panchita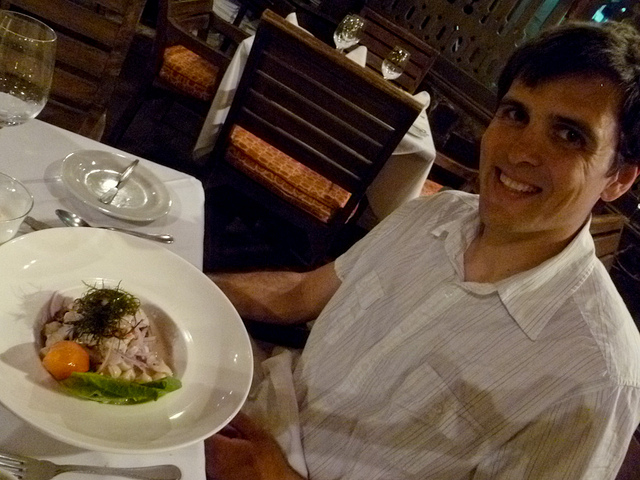 Ceviche at Alfresco, Lima, Peru
The one thing we did know before coming to Lima is that it's known for having amazing food. One of the people responsible for putting this cuisine on the map is Lima's celebrity chef, Gastón Acurio. Acurio is the biggest cheerleader for Peruvian food and has opened more than 30 restaurants around the world (including ceviche places in San Francisco and New York). When we read a great review of his restaurant, Panchita we decided to pay a visit so that Kevin could try their beef-heart anticuchos (a skewered, marinated meat that is a typical street food in Peru). He enjoyed it, and I was happy with their extensive side and salad bar featuring interesting ingredients like hard-boiled quail eggs.
Another night, we stumbled upon a seafood restaurant called Alfresco, just a block away from the Malecón that turned out to be excellent. Kevin had a very good ceviche (the best he had found!), and though good vegetarian dining was sometimes hard to come by in Peru, I had a surprisingly tasty mushroom risotto.
Both restaurants were wonderful and our meals cost about half of what they would at an equivalent restaurant back in California.
3. Sample pisco sours and other creative, fruity beverages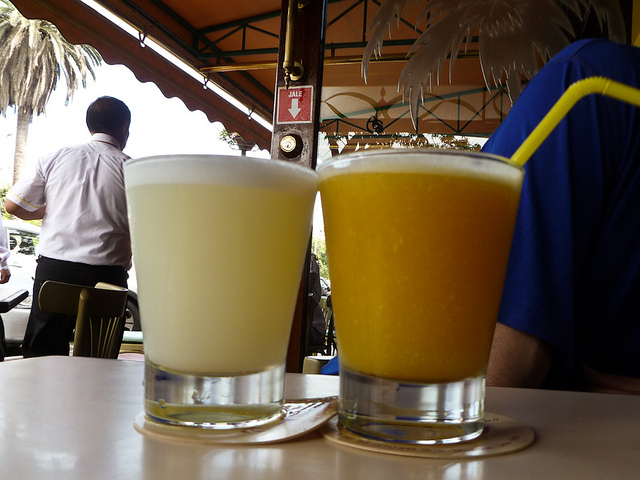 A pisco sour and a maracuya sour!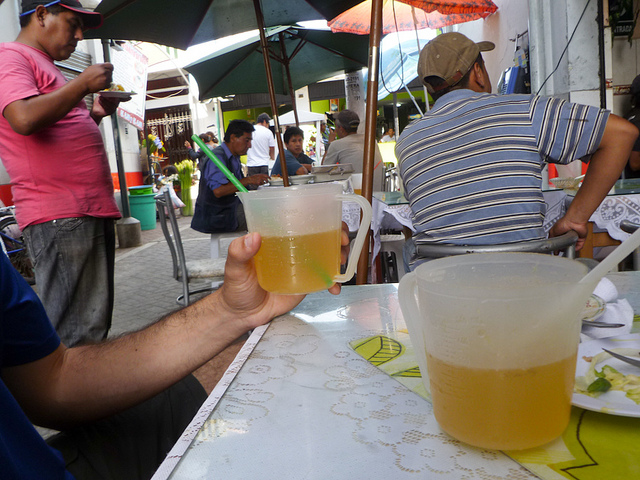 Passion fruit water served from a barrel into plastic measuring cups
To complement the amazing food, Lima restaurants fight over who serves the best Pisco Sour, as well as the most creative variations made with tropical fruits. Two variations we tried were the Maracuya Sour, made from passion fruit, and an Aguaymanto Sour, made from golden berry, my new favorite fruit! The nonalcoholic drinks that we tried were the chicha morada, a deep purple fruit juice made from interestingly enough, purple corn. A little ceviche stand we visited served exclusively a lightly sweetened agua de maracuya (passion fruit water). Wherever we went, there was a lot of opportunity for people watching, so sampling these beverages gave us a good opportunity to sit back and enjoy the view.
4. Wander the Barranco District's winding alleys and vibrant beaches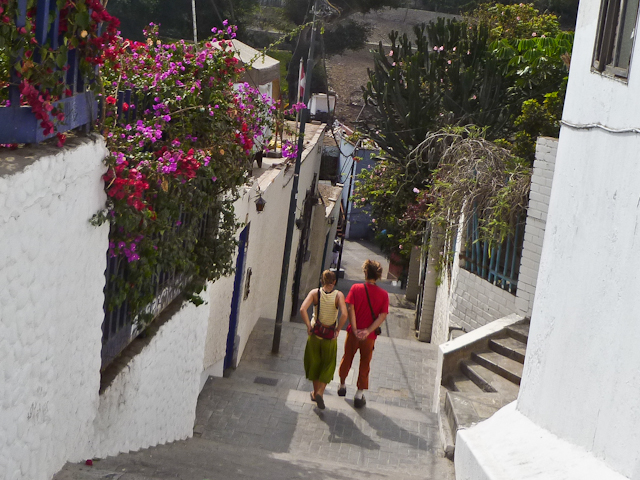 Winding alleys in the Barranco District, Lima, Peru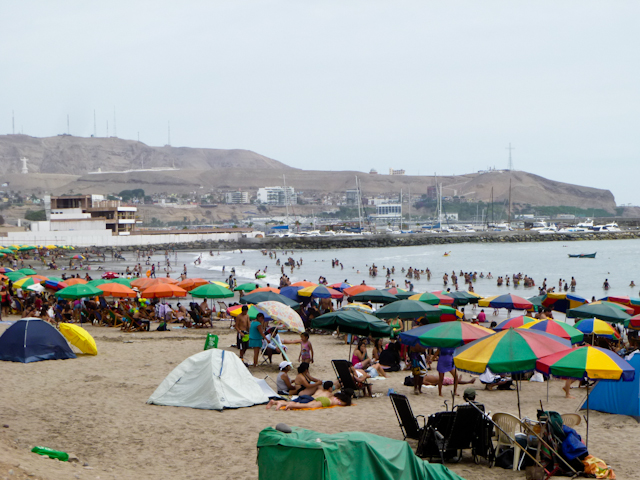 Local families flood Lima's Barranco Beach on the weekends
Barrio Barranco, though it borders Miraflores to the south, feels very different.  Full of crumbling, brightly colored buildings, the area is an easy walk or bus ride from Miraflores.  Along the way on our leisurely stroll through the neighborhood, we ducked into a  comfortable family restaurant that has been serving the district for generations.  You can even take a seat in a Trolley museum and slowly ride down the main street.  We promise your heart rate won't get above 72.
5. Explore the ancient temple of Huaca Pucllana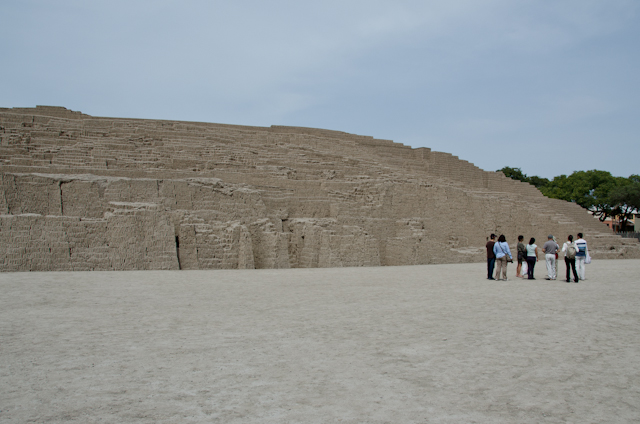 The main temple at Huaca Pucllana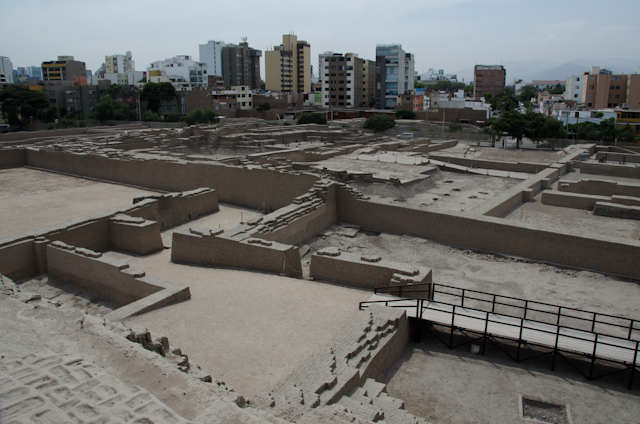 The temple rises above the city
As amazing as our exploration of the Sacred Valley and Machu Picchu was, I wasn't desperate to see any more ancient ruins on our trip to Peru. But on our final day in Lima, we had some time to kill and decided to swing by this site, as it was only a block from our hotel. I didn't have very high expectations of it but I was pleasantly surprised as we entered the gates and saw the residential neighborhood disappear into a mountainous, adobe temple. This site turned out to be a ceremonial center built by the people from the Lima Culture around the 5th century A.D.  So this was NOT of the Incas, in fact it was several cultures BEFORE the Incas arrived! Also the structures had been built with attention to seismic movement (to withstand Lima's frequent earthquakes) and the structures had been completely buried for over a thousand years. When discovered (not until the 1990's!) the dirt mounds containing these ancient structures were being used for, of all things, dirt-bike racing!
Interesting, yes, but how could hiking around ancient ruins be easy?  Machu Picchu was exhausting! To start, Huaca Pucllana covers only about one city block. We joined an English-language tour that took no more than 30 minutes. At the end of the tour you can visit their tiny, one-room museum featuring artifacts of the Lima culture. You can be in there and out of there in less than an hour. If you get there first thing in the morning, it won't even be that hot.
In all, it is an interesting look at a culture that is very different from the Incas you'll learn about through the rest of Peru. More importantly–it is easy!
---
Have you traveled to Peru? What are your top things to do in Lima?