It's been almost a year since we returned from Machu Picchu, and I realized we hadn't written anything about this special place. We shared a few photos from the road, but were never inspired to write anything further.
I guess this isn't surprising. By the time we got to Peru, we were burned out from travel, and the process of arranging the trip to Machu Picchu was frustrating and exhausting. The experience was further marred by the traumatic day prior when we ran screaming from a restaurant that we thought was about to explode, watched an adorable animal have his neck broken, and I developed food poisoning and spent the entire train ride to Aguas Calientes, the town at the base of Machu Picchu, over the toilet vomiting.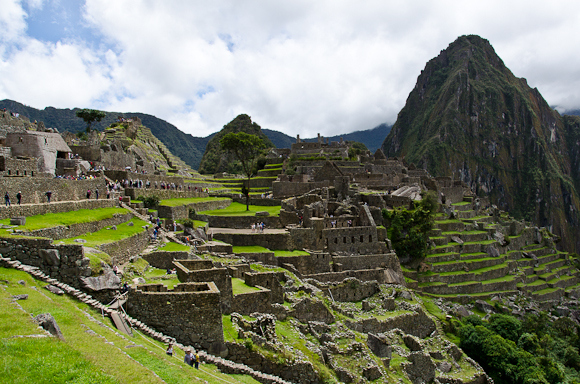 Nevertheless, exploring the streets of this mysterious city was a highlight of my world travels thus far. So I wanted to share our best Machu Picchu travel tips to save you time and help you have a great trip.
These tips only apply if you are NOT planning to get to Machu Picchu by doing an organized tour to hike the Inca Trail. For more information about hiking the Inca Trail, check out this post, this post, this post, this post, and this post.

---
1. Spend the night before going to Machu Picchu in the town of Aguas Calientes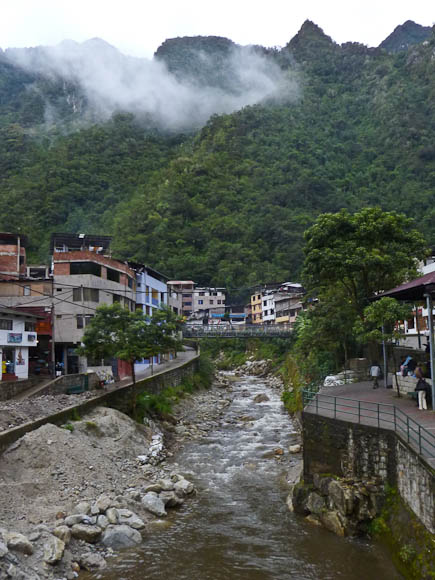 Aguas Calientes (sometimes called "Machupicchu Town") is a hole. It's located at the very end of the PeruRail line at base of the hill below Machu Picchu so every tourist who visits needs to pass through the town. The community was settled in the 1920's for the sole purpose of staffing the Machu Picchu tourism industry. The hotel rooms are much more expensive than elsewhere in Peru (and lower quality), and there's nothing of much cultural significance in the city. It was an altogether forgettable place. BUT (and this is a very big BUT) you need to spend the night there to pursue tip #2.
2. Take the first bus in the morning from Aguas Calientes up the hill to Machu Picchu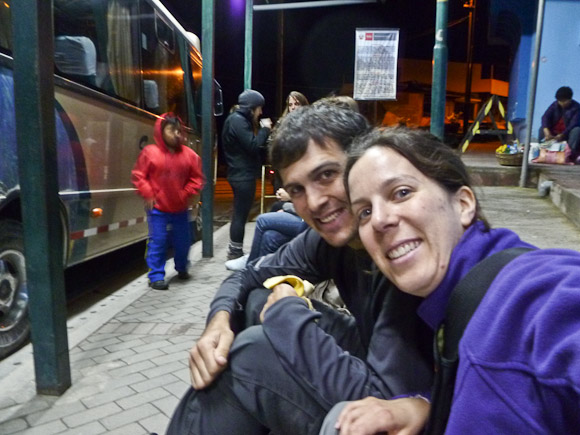 The first buses leave downtown Aguas Calientes each morning at 5:30am. It's these buses that all the staff of the park use to get to work. By getting on this bus for the 20 minute ride up the hill, you will be the first people in line to enter the park when it opens at 6am. The only other way to get there is by doing a 2 hour hike up the zig-zagging steep hill (starting at 4am), but personally I'd rather pay the ~$17 USD round trip bus fare!
I'm not a morning person, so getting up at close to 5am was brutal. But it was the best decision we made for travel to Machu Picchu. By being able to enter right when the park opened, we were able to see the park before the hordes of other tourists cover every available surface (as happens later mid-day as the majority of tourists travel to Machu Picchu from Cusco or Ollantaytambo that same morning–see first photo, above).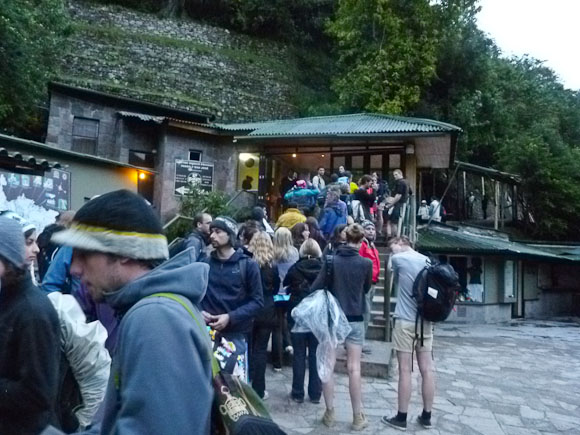 Entering the park early allowed us to admire the ancient city on our own and get the postcard-perfect photographs like this one, taken at about 6:10 am, right after the park opened: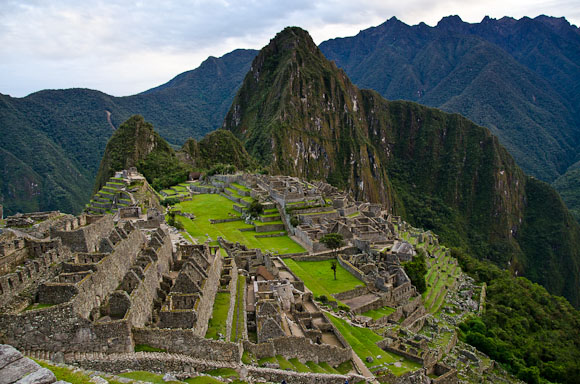 3. Booking rail transport and admission to Machu Picchu is annoying!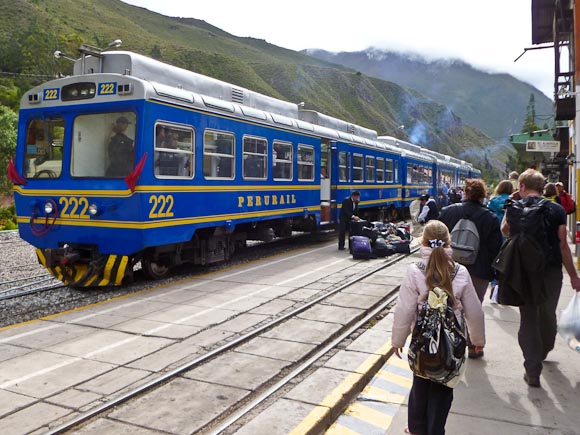 The Peruvian government restricts admission to Machu Picchu, so you need to buy your admission ticket and your train ticket to Aguas Calientes a few days in advance via the web or in-person at an office in Cusco.
This may have changed since we were there early last year, but at that time, the websites for both PeruRail and the government's official Machu Picchu Authority were buggy, painfully slow, and nearly impossible to use. We spent nearly 3 weeks before we arrived trying to buy our tickets to Machu Picchu (with optional admission to hike the trail up the mountain of Huayna Picchu) but we couldn't get the website to accept our credit card. We finally had an agent buy our tickets in person at the PeruRail office in Cusco, but by that point (4 days before), the admission to Huayna Picchu had sold out. We were pretty disappointed we wouldn't be able to do that hike and with the hours we had wasted online while traveling in the attempt to buy those tickets.
So get started trying to buy your admission several weeks before the day you want to visit, and if you are having trouble, don't hesitate to call Peru to have an agent at PeruRail or the Machu Picchu Authority help you out over the phone!
4. Hike either Huayna Picchu or Macchu Picchu Mountain for amazing views!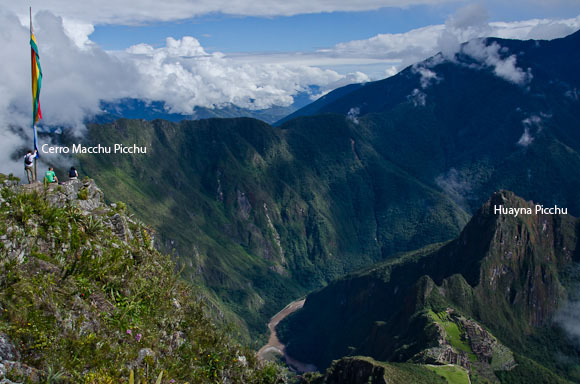 As I noted in #3, we were very disappointed that we were not able to get tickets to hike up Huayna (a.k.a. "Wayna") Picchu. We had heard a lot of people loved this hike and the views over the Machu Picchu ruins and, hey, it's one of the most recognizable mountains in the world!
But when we bought our ticket, we were given optional admission to another trail, up Machu Picchu Mountain (or Cerro Machu Picchu). Without knowing anything about it, Kevin opted to add that on. For only about $5 USD extra per ticket, we figured it couldn't hurt.
This hike is a much longer and higher hike than Huayna Picchu (elevation=2,740 meters, or 290 meters above Machu Picchu), climbing to an altitude of 3,051 meters, or 601 meters above Machu Picchu. It took us about 2.5 hours to climb Machu Picchu Mountain, and we'd heard that Huayna Picchu takes about an hour and a half.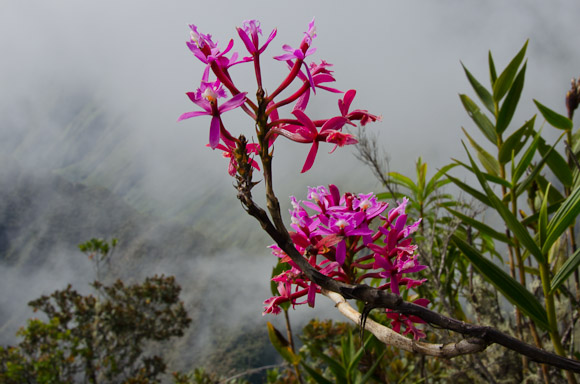 The trail up Machu Picchu Mountain is not as steep as Huayna Picchu, which I heard could be scary and precarious when wet, but I still found it scarily narrow in parts. It is also less busy, so we saw far fewer other hikers on the trail than we would have on Huayna Picchu, which is often congested.
Through the ascent, we had occasional shade (which was rewarding!) and a diverse range of orchids and plant life which changed as we rose in elevation. About half of the way up, we were high enough that we could look down into passing clouds.
When we finally reached the top, we had a 360-degree view over the ancient city, over Huayna Picchu, and down into the rivers and valleys below. We had a wonderful time, and feel it was an equal experience to Huayna Picchu.  Maybe even better!
Want to save this post? Pin it on Pinterest.
---
Have you been to Machu Picchu? What are your best Machu Picchu travel tips?