I have to admit that I had never even heard of Chile's Torres del Paine National Park until a few weeks before we booked our trip.  We had some airline miles with British Airways, and we discovered we could stop over in a lot of cities.  I was reading a discussion thread where people were posting their itineraries, and one or more itineraries included Punta Arenas, Chile, with the note "Torres del Paine" beside the PUQ airport code for the city.  It took only one Google search to see photos of the amazing spires that earn the Andes their nickname, "The Dragon's Backbone," and knew it was somewhere I had to go.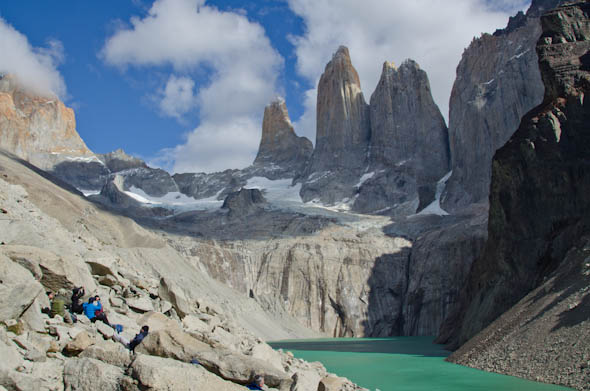 So we booked our flights to Chilean Patagonia, and the anticipation for our trek began.  It wasn't until a month later that I tried a second search for "Torres del Paine W trek booking" that I realized the information on how to actually get there is woefully lacking.  Yes, I finally figured things out, but it should have been easier, and I wanted to pass that information on to you.
1.  What exactly is the "W?"
The "W trek" is named for the physical shape of a four-day hiking route through Chile's Parque Nacional Torres del Paine. It can be done in three days by the hard-core or stretched to 5 or more if you want to add a rest day or two in the middle.  If you're an experienced trekker, the "W" isn't too bad of a hike, and you might consider trying "The O Circuit," which is a 9-day loop around the entire park that includes the "W."  The length of "W trek" portion is just about 50 miles.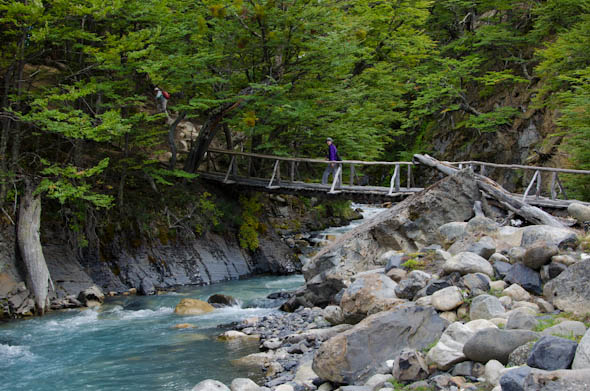 2.  How do I get there?
By traveling to the end of the world.  Seriously.  Punta Arenas is the largest city south of the 46th parallel.  Chile, while it is only about 100 yards wide, is the same length as the distance from Miami to Seattle.  It's far.  To get there, there are basically three choices:
Take a plane to Punta Arenas and then travel by bus to Puerto Natales where you will find transportation to the park, which is about a 90-minute bus ride from there.
Come from the north by ferry and bus.
String together multiple Andean treks by coming to the park from Argentina after having visited El Calafate and the Perito Moreno Glacier.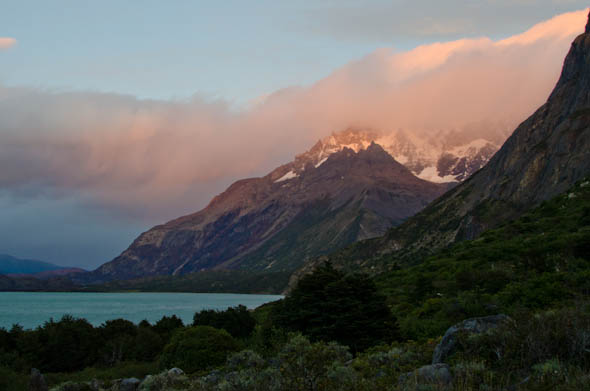 3.  Why is it worth my time, money and energy?
The scenery is simply some of the most spectacular on earth.  It's expensive if you're trying to do South America on a budget, but I wouldn't trade my experience for anything.
This does come with a small caveat, though…  If you've got a lot of time and you're traveling through South America, by all means, visit Torres del Paine on your adventure. But if you're from the United States, then you likely have limited vacation time. Getting to the park is pretty involved, and will take multiple days there and back.
If you're from the US and you haven't been to a) Yosemite, b) Yellowstone,  c) the Grand Canyon AND d) Arches and Canyonlands, then I highly recommend you visit those four places first.  These alternatives are just as beautiful, and they are right in your backyard.  But again, if time isn't a limitation, Torres del Paine is a must.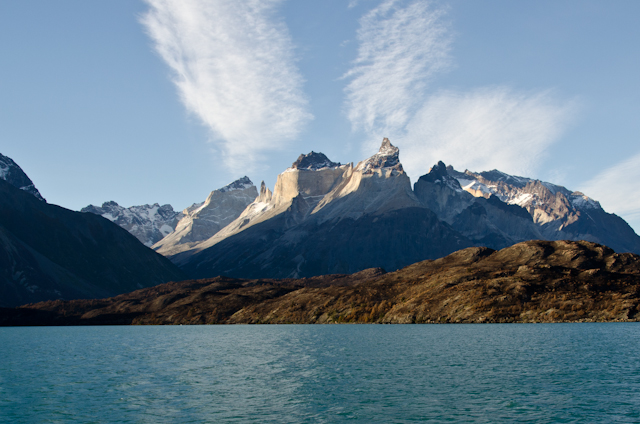 4.  What will I see?
To get more specific on the scenery, you'll witness breathtaking views of mountains, alpine lakes, forests, glaciers and more.  You will likely see Andean Condors soaring overhead.  While not really known for wildlife, you might see some animals such as foxes, owls, and other interesting birds along the way.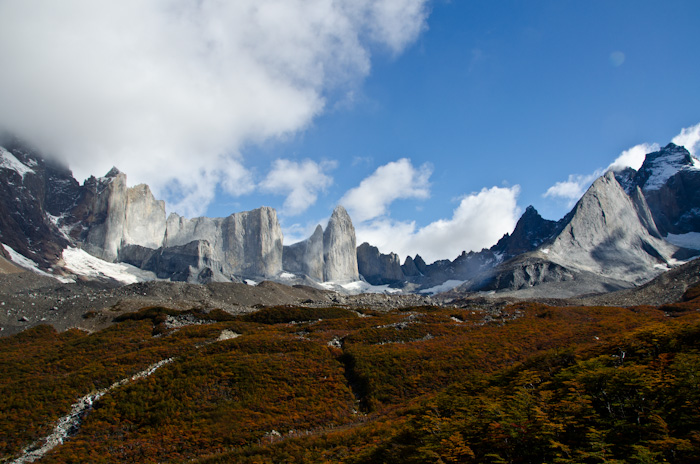 5.  What is the weather like?  What do I need to bring?
This trek is only open for about six months a year during the late spring, summer and early fall.  The weather is notoriously unpredictable, as you can experience high winds, heavy rain, snow, and beautiful sunshine… all in the same day.  It won't likely get much below freezing during your trip, so as long as your gear is rainproof and windproof, you can stay warm with a few layers. Here are our packing lists which were more than sufficient: women's list / men's list.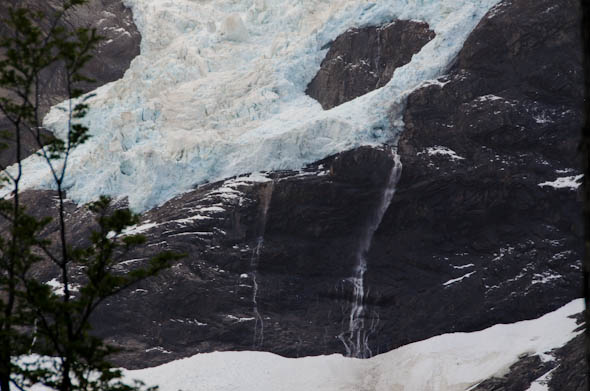 While we were there, the weather was pretty fantastic aside from a few scary gusts of wind.  But your experience could vary.  A friend of mine told me about his experiences hiking the full Circuit where his tent was blown flat in his face at night by constant 70 mph winds, and he also had to cross a stream that flowed waist high.  The "W" is far milder, and you don't have to ford any raging rivers, but you should be prepared for the possibilities.
6.  Where will I stay?
There is one luxury hotel in the park, Hotel Las Torres. That place looked amazing, with broad views up to the Towers, but it wasn't in our budget so we thought about our other two options: camping and refugios.
If you're an experienced trekker and you want to save money, then, by all means, camping is a great option.  There are many campsites along the way, and camping gives you more flexibility to be in certain locations at the right time.  For example, if you want to see the Towers at sunrise (the eponymous Torres del Paine), the only sane way to do it is to camp at the base, just before the ascent that would otherwise be at the end of several hours of hiking.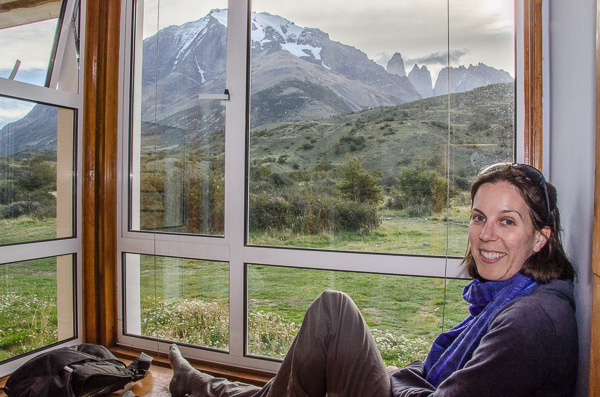 If you're less experienced with camping, I'd highly recommend the refugios. These are dorm style accommodations where you will sleep 6 or more to a room.  If you're unlucky enough to be stuck with somebody like me (who snores!), bring earplugs.  The refugios are warm, comfortable, and generally an easy way to relax after long days on the trail, but they are more expensive. We felt it was well-worth the extra money to treat ourselves with a warm dry room and a hot meal at the end of the day.
7.  What about food?
You can either bring enough food to eat with you for the duration of your trek or you can buy one or more meals at refugios along the way.  The park is incredibly remote, and it's quite a feat to get food to some of these locations as well as haul trash away.  For that reason, food is expensive.  If you choose to buy 3 meals a day, you will need to budget about $40 per day.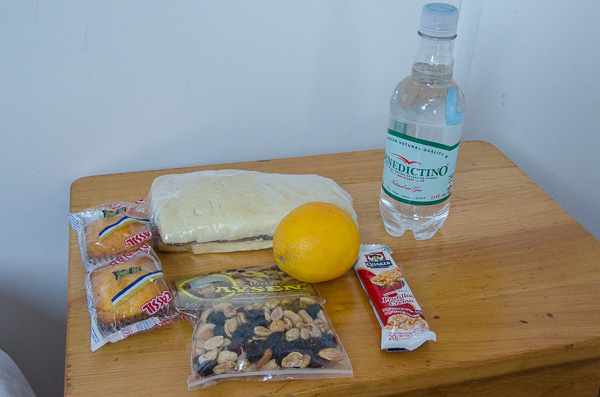 Before my trip, I had read mixed reviews about both the quality and quantity of the food.  I feared I would starve.  I found my experience to be a positive one, as the food was decent given the surroundings, and I had as much as I could possibly eat. The lunches were huge!  Just to be safe, we brought a lot of dried food supplies from Puerto Natales, and we didn't need any of it (though we did enjoy the dried fruits and other sweet treats).  If you are worried about the food, I'd suggest bringing enough food for one supplemental snack each day, just to be on the safe side.  My guess is you'll find that to be overkill.
8.  How do I book the trip?
You can book your stay in the refugios through Fantastico Sur.  This company owns the private land that includes a good portion of the east side of the park.  The prices aren't cheap, but I think it's definitely worth it.  While Fantastico Sur is the only game in town in terms of booking lodging at either the campsites or the refugios, you still have quite a few options.  Also, the website can be a bit of a pain, and I also encountered some language barriers to getting my questions answered by their representatives  (they were very nice, though).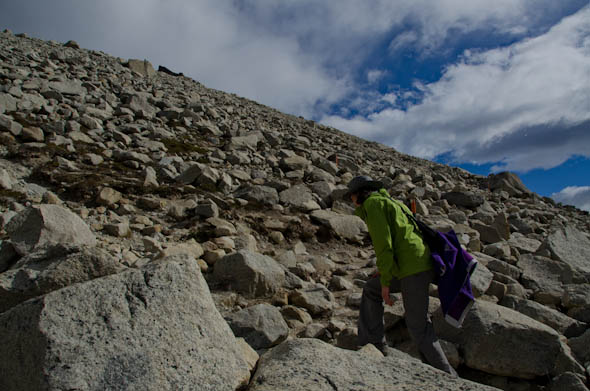 9.  How challenging is the trek?
If you're in good shape, it's pretty easy.  If you're not in the best of shape, it will be more challenging, but still doable.  Your feet will probably have the toughest go of things, because there are many sections of uneven rocks, and these can beat you up pretty bad after 8 hours of hiking on them.  The hike up and back through Valle del Frances is the longest day (day 3 of the typical east to west hike), and it's a fairly steady grade uphill, with a few steep uphill and downhill climbs.  The first day up to the Torres del Paine is the steepest hike, and also includes the rather perilous Paso del Vientos (Pass of the Winds) where you have to hike around a windy cliff.  (Scary)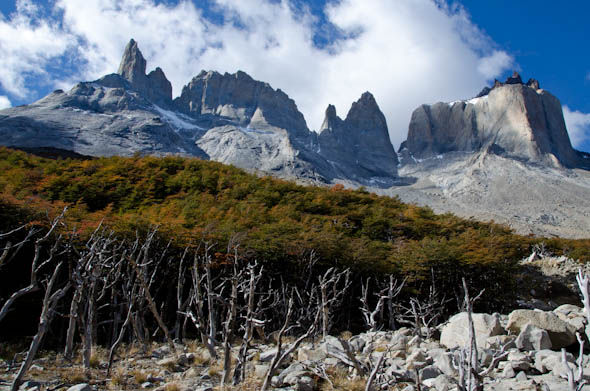 10. What else is around so I can maximize my travel time on the edge of the world?
I previously mentioned El Calafate and Perito Moreno Glacier, and there are other Patagonian treks near enough in Argentina that you can string together.  Also, if you go at the right time of year you can visit Magellanic penguin colonies at Isla Magdalena or Seno Otway.  And if you're really serious about seeing Patagonia, you could travel further south to Tierra del Fuego, or even to Antarctica–if you can afford it!
Want help planning your trip to Torres del Paine? Check out this more recent post: Tips for Travel to Torres del Paine National Park
---
Have you been to Torres del Paine or Patagonia? What other tips do you have?