A few years ago Kevin and I visited Parque Nacional Torres del Paine (Torres del Paine National Park) in Chile's Patagonia region. This visit to the end of the earth was amazing, but we found it somewhat challenging trip to plan. Seeking to address the lack of information we found online, we shared the post, Tips for the W Trek in Torres del Paine, Chile. As you can see from the comments, we still get a lot of questions from travelers seeking help planning their trip. One commenter–and Chilean local–Charlotte Bailey Catalán, offered to write this guest post and share some more Torres del Paine trip planning advice. Thanks, Charlotte! — Cassie
For most travellers, visiting Patagonia is a once in a lifetime experience, so it's important to plan carefully and plan ahead!
The first thing I say to anyone doing any Torres del Paine hiking trip or trek is to be ready for high prices. This is different than many parts of South America that are often considered affordable places to visit. Patagonia (in both Chile and Argentina) is not cheap, and it might be a bit hard to travel there on a tight budget, so be sure to plan ahead!
Start in Puerto Natales, Chile:
The town of Puerto Natales is a common base for all trips to Torres del Paine National Park.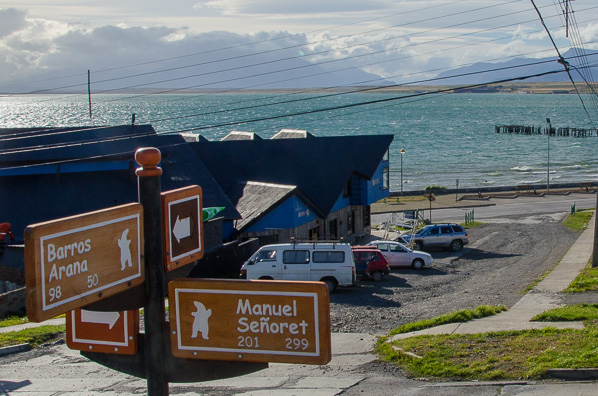 Once you've settled in Puerto Natales, I recommend taking at least one full day in town to organize yourself before heading out to Torres del Paine. This includes: buying supplies, renting equipment, arranging tickets, stays in refugios, etc.
If you are on a very tight budget, it's best to buy all your food supplies in Puerto Natales. Food is available at the refugios, but the prices are a bit high. You'll want to pack light for your trek, so don't overpack food. Keep it simple, rely on water-based preparations like instant oatmeal, instant mashed potatoes, instant soups. If you buy these things in larger quantities, divide out portions, so you only take what you are going to eat.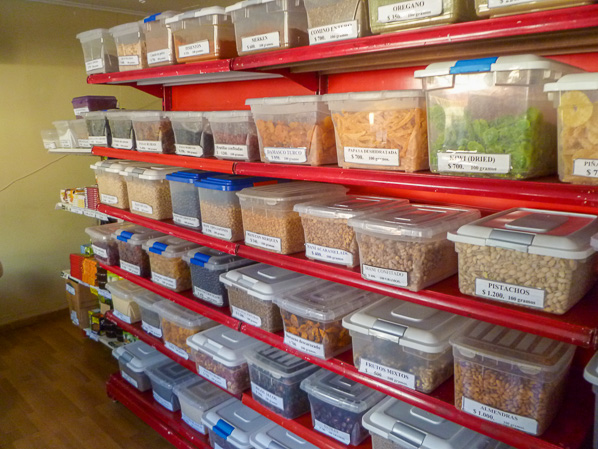 Where to stay in Puerto Natales:
There are plenty of accommodations in Puerto Natales, but in high season (October to April) everything fills up pretty fast, so do make a reservation before you arrive. The prices for a decent place to stay in Puerto Natales will vary around $9.000 – $12.000 CLP per person in dorms or $25.000 – $35.000 CLP for a double room with breakfast included. Most hostels and hotels offer free bag storage, so you can leave the stuff you don't want for your trek there while you are at the park.
(Note from Cassie: We stayed at Hostal Sir Francis Drake
in Puerto Natales and thought it was a great place to stay before and after Torres del Paine. It was affordable, comfortable, and convenient. They let us store our excess gear there while we did the hike.)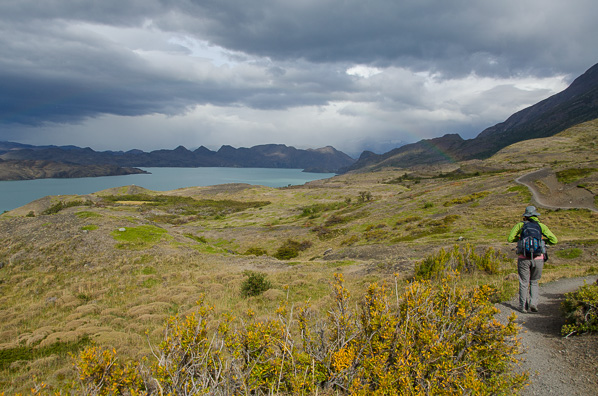 Getting to Torres del Paine National Park:
Getting to Torres del Paine is easy since basically you only have one choice: Buses that leave from the central bus station. As of last season, four companies ran this route (Buses Gomez, Buses JB, Buses Maria Jose and Via Paine). The prices range from $10.000 – $15.000 CLP round trip, and you can buy your ticket at most hostels, travel agencies, or directly at the bus station.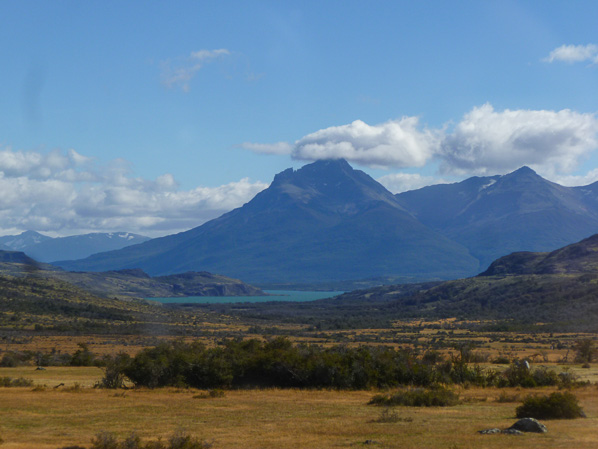 It's a 2.5 hour bus ride until the first bus stop at "Estancia Laguna Amarga". Here you will be asked to step off the bus to pay the park entrance fee of $18.000 CLP for foreign visitors. Right now, there is no limit of how many people can enter the park each day. In high season about 1,200 people visit the park each day.
From here, depending on which trek you are doing and which direction you will be going, you will either get off the bus or jump back on it. All of the buses make three stops (#1. Laguna Amarga, #2. Pudeto, #3. Administracion).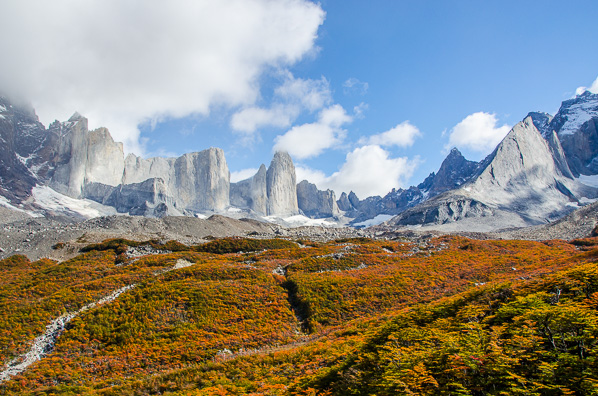 Choose Your Trek:
The most common Torres del Paine treks and hiking routes to take are as follows (NOTE: The number of days listed are common estimates, but in Patagonia, everything depends on the weather! High season is extremely windy at times and this might hold you up a bit. To be safe, always plan with 1 or 2 days to spare, just in case!).
The Circuit ("O" circuit) — 8-10 days
You will begin your trek in Hosteria Las Torres, going counterclockwise.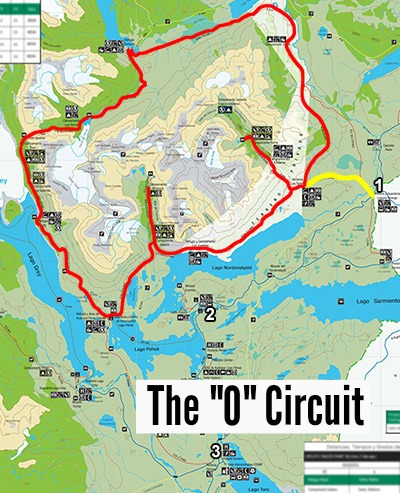 Variation ("Q" circuit) — 9-11 days
If you're going for the "Q" (which adds 1 day to the "O" circuit), you begin your trek at the last bus stop, "Administracion". From here you make an easy walk up to Refugio Paine Grande (facing the Macizo Paine) which gives a beautiful view of the park. Then you can go clockwise or counterclockwise, depending on whether you'd like to leave the John Garner pass for the beginning or the end of your trek.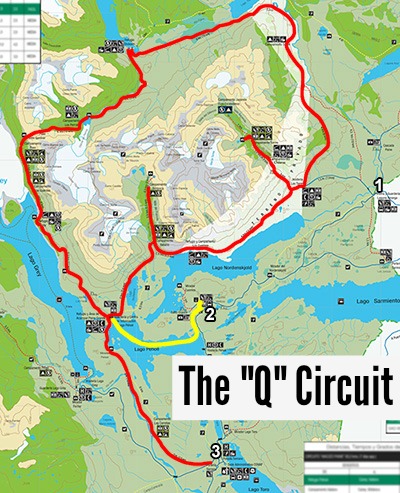 The "W" (East to West) — 4-5 days. You'll be getting off on the first bus stop, "Laguna Amarga". From here, you can either take one of the shuttles that drive you over to Hotel Las Torres, or you can walk there. This is an easy walk (only about 1.5 hrs) but my recommendation is to take the shuttle and save that time for some of the more intense trekking to come. The "W" can be done comfortably in 4 or 5 days, but in perfect conditions, 3 days is possible. In high season, having the afternoon bus, most people make it back to Puerto Natales on the 4th day. (Note from Cassie: This is the direction we went, as described in this post)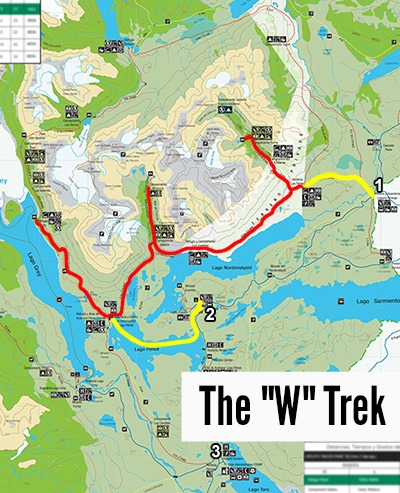 The "W" (West to East) — 4-5 days
For this option, you will need to get off the bus on the 2nd bus stop, "Pudeto". Here you will take the ferry across the Pehoe Lake, which is always synched with the arrival of the buses (take the ferry across Lake Pehoe, not across Grey Lake). The ferry will cost around $12.000 CLP one way, and it will be a half hour trip until you reach Paine Grande. A variation of this is to get off on the last bus stop, "Administracion," and hike up to Paine Grande instead of taking the ferry across Lake Pehoé.
Click here for a detailed map of the park.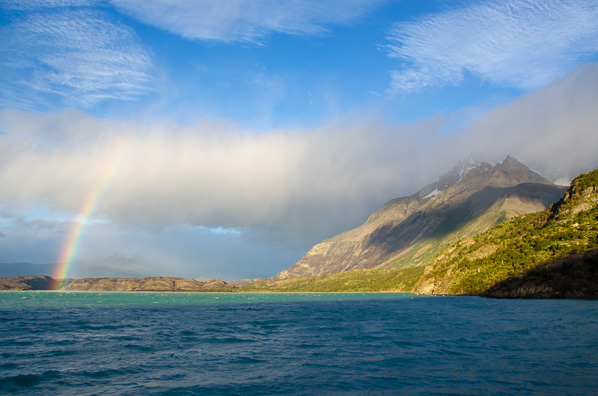 Where To Stay in Torres del Paine:
There are three main options for places to stay along the trek–hotel, camping, or staying in refugios (dormitory-style cabins).
Hotel: There is one luxury hotel (Hotel Las Torres) located on the east side of the park, near Refugio Torre Central. If your budget allows it, this would be a very special base for your trip!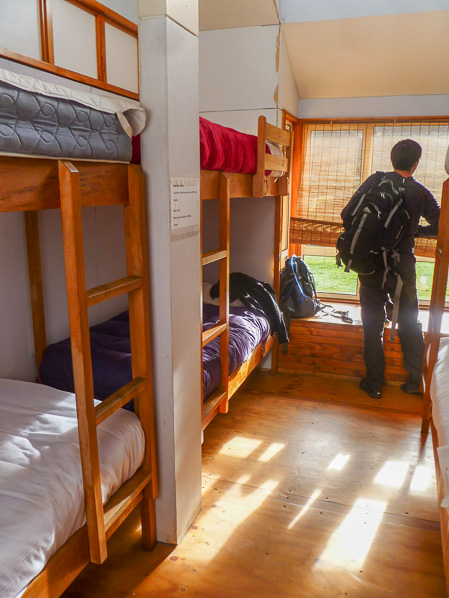 Camping and Refugios: Camping gives you the most options in the park and lets you wake up closer to the major vistas than you can get when staying in refugios. There are public campgrounds (operated by All CONAF, Chile's national park agency) and private campsites. All the public CONAF campsites are free, but in high season, you are only allowed to stay at each free site for one night.
Refugios are rustic dorm-like lodges with shared rooms and shared bathrooms, some refugios offer private cabins.
The refugios and private campsites belong to these two companies:
Fantastico Sur operates the campsites and refugios on the east side of the park.
Vertice Patagonia operates the campsites and refugios on the west side of the park.
Check their websites for more information about these options. (Note from Cassie: We shared our thoughts on camping vs. refugios in this post)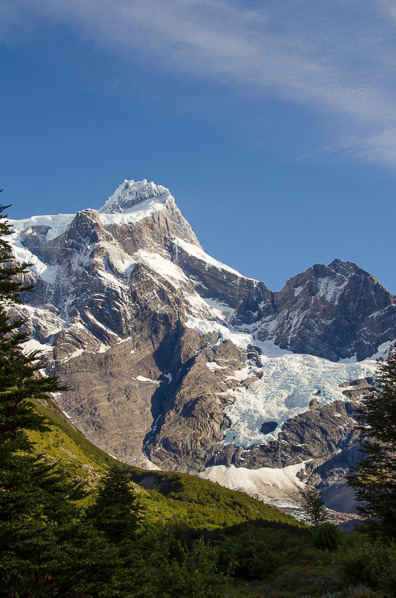 Other thoughts:
Walking poles: I say yes, bring them. They will give your knees a big rest, and can help you when it gets really windy and you need something to hang on to (i.e. Paso del Viento).
Going solo? The "W" trek is packed in high season which makes it pretty safe to go on your own. Just never be the first or last to leave camp.
Clothing: I recommend one set of clothes to walk in (3 layers) and 1 for sleeping (thermal), 1 pair of trekking shoes/boots, hat, sunglasses, bandana, and gloves). Also, wear sunscreen! The sun's rays are intense. (Note from Cassie: We shared our packing lists here: women's list / men's list. These are multi-destination trip lists–we left some of this clothing and gear at our hotel in Puerto Natales.
Weather conditions: "What's the weather going to be like for the next 5 days?" was the question I got the most, and the one I was never really prepared for. Why? Because the weather in Patagonia is unpredictable, seriously unpredictable! So, just prepare for the worst case scenario (rain, wind and mice–yes, mice!) and whatever it is you get, enjoy it!
Equipment: If you're camping, be sure (whether you are buying or renting) that you have adequate gear for the trek. Sleeping bags should be at least -10°C and tents should be professional mountaineering 4 season tents.
If you have any questions, leave a comment below and we'll try to help. Best of luck on your travels!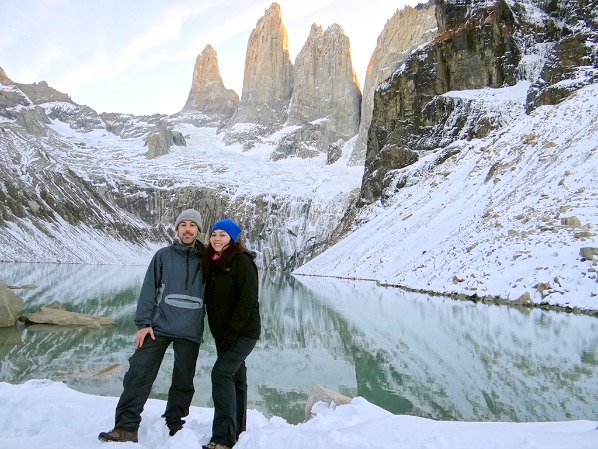 Author: Charlotte Bailey Catalán is a native Chilean with a passion for different cultures. A modern day nomad who has lived in USA, Canada, and Perú, she currently lives in Argentina. Update, February 2016: After four years of working in tourism, she recently opened a bed and breakfast in El Calafate (Argentinian Patagonia) with her fiancé. If you are heading that way, consider booking one of her two double rooms on AirBnb).
---
Want to save this post? Pin it on Pinterest:
All photos belong to EverInTransit.com, except for the final shot and the route maps which were contributed by Charlotte Bailey Catalán.