Last night, Passports with Purpose, a fundraiser we participated in closed and we got the great news that it surpassed its goals and raised over $100,000 to build clean drinking water wells in rural Haiti! This is a great accomplishment and thanks to all of you for your generous donations!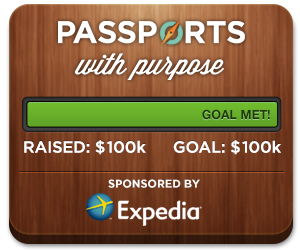 On the heels of this victory, I wanted to share another opportunity that I just found out about for travelers looking to give back to communities they've visited. TripAdvisor, the travel review resource has partnered with Kiva, the global micro-finance organization that I raved about last week (see #2). For a limited time, TripAdvisor will fund a $25 Kiva loan on behalf of travelers who write a TripAdvisor review of a hotel, tour, restaurant or attraction they've visited recently. So at no cost to you, you can help to fund a loan for a hard-working entrepreneur.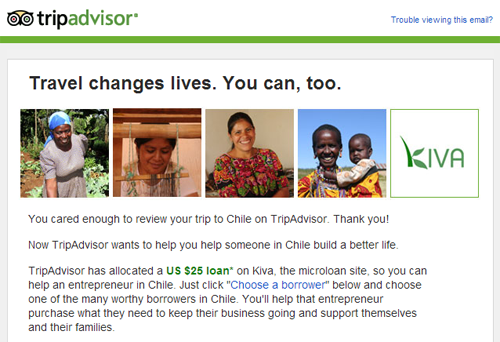 The loans are earmarked to go to borrowers in the country you reviewed. In my case, I wrote a review of a place where we stayed in Santiago, Chile so they recommended I donate to a Chilean borrower. At that time, there were no loans available in Chile so they said I was free to lend to anyone I wanted. I gave the loan to woman in neighboring Bolivia.
Haven't been to any developing countries? Kiva recently started offering loans to low-income borrowers in the United States (I'll keep quiet about what that says about the opportunity for economic mobility in the US!). I believe that even in reviews of attractions in developed regions, (Canada, Australia, Western Europe, etc.) TripAdvisor will allow you to make a free loan. Please report your experience in the comments.
Here's how to make your free $25 Kiva loan:
Log on to www.tripadvisor.com.
Find a hotel, vacation rental, restaurant or attraction that you've been to in one of the 66 countries (including the US) where Kiva offers loans.
Write a brief review to share your experiences.
When you click submit, you'll receive an email from TripAdvisor with all the information about lending with Kiva and a special link to the Kiva website (NOTE: This email came 2 days after writing my review)
Use that link to go to their website and choose a borrower in the country you reviewed whose story speaks to you. Click to make your loan free of charge to you — courtesy of TripAdvisor!
---
Kiva is hoping that once you feel the impact of making your first loan, you'll come back and make more loans in the future. I've been a member for several years now, and I get really excited every time I get an email that says my loans have been paid back and I have money in the account that is ready to re-lend!
JOIN OUR KIVA TEAM!
Already a Kiva donor? I set up a Ever In Transit Travelers lending team to keep track of our efforts. Please JOIN OUR TEAM so we can encourage each other's efforts and keep track of our impact!