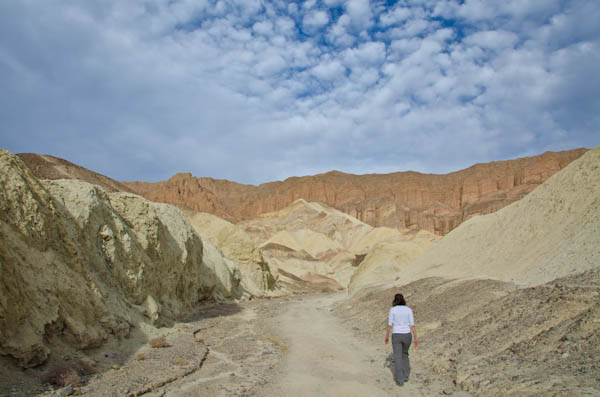 The first time I went to Death Valley National Park, I underestimated the "death" part of the name. It was August and I was on the road trip around California that ultimately inspired me to move here. My friend and I had booked a camp site in the mountains above the valley where we knew it would be cooler.
But after driving through the remote desert  for hours in the 120+ degree Fahrenheit temperatures, worrying our rental car would overheat, and having a park ranger tell us that our camp site would "cool down to about 110 degrees" after dark, we decided to keep driving and head to Las Vegas.
Since that brief, uncomfortable visit and unplanned diversion over a decade ago, I had wanted to go back, especially because Kevin had never been. He loves the natural beauty of Yellowstone, Yosemite, Arches, Canyonlands, and more, and I knew he'd fall in love with Death Valley. So on New Years weekend last year, we decided to see what the place would look like in more livable temperatures.
We stayed the night before in the nearest affordable place that would allow dogs, the Comfort Inn in Lone Pine, CA about 1.5 hours outside of the park's entrance. You can camp in the park, but it gets very cold (close to freezing) at night in the winter and we were just not up for that.
The drive in included a whole lot of open expanses like this…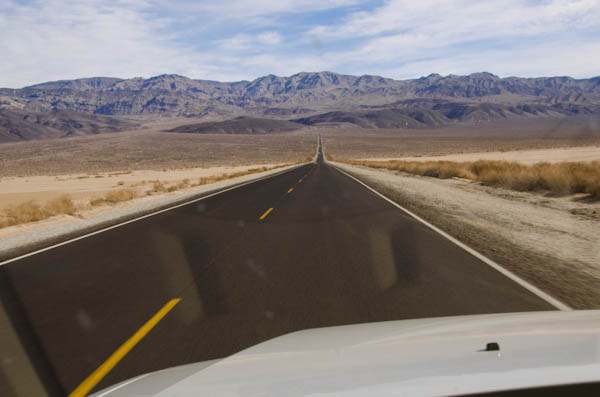 Though the geology changed periodically to colorful and curvaceous landforms like this…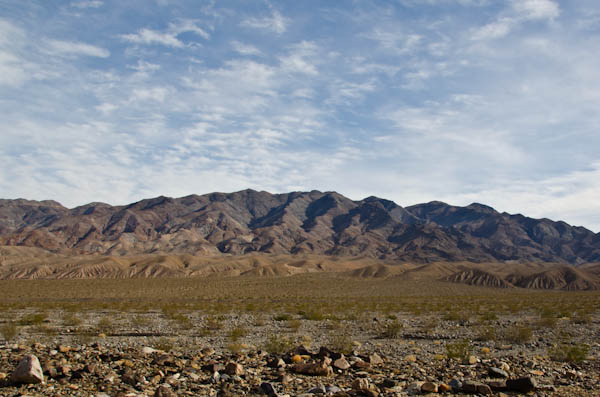 And this one…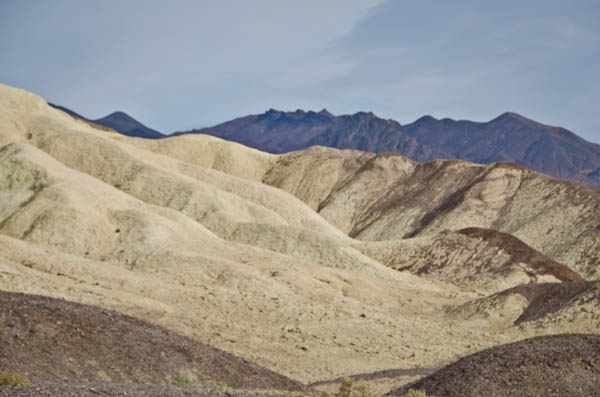 Not too far past the National Park entry sign, we turned off on a dirt road to explore the side roads. It was extremely pitted and rocky and I was sure we were going to lose a muffler (though, we had rented a four wheel drive SUV for the trip as we were planning to head into the snowy Sierras later in the trip). The vehicle held up like a charm. The other benefit of heading out to these side roads is that dogs are allowed on leash on roads (dogs are not allowed on hiking trails in any US National Parks).
I have no idea who this dog is, where she came from, and why she was off-leash…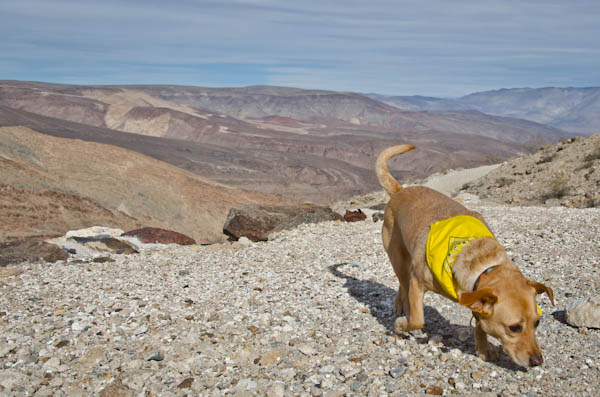 This side road had some scenic vistas…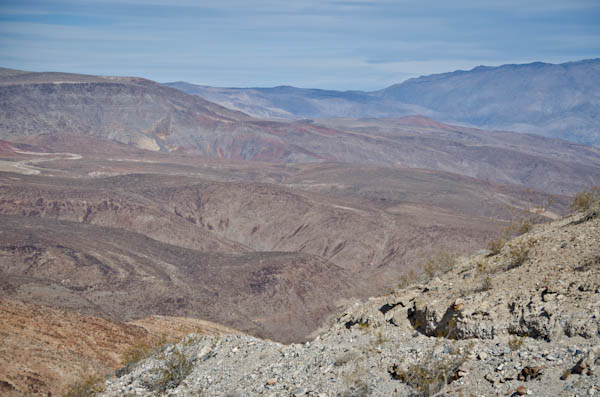 And had some signs of the former mining operations that used to operate a century ago on these mineral-rich lands.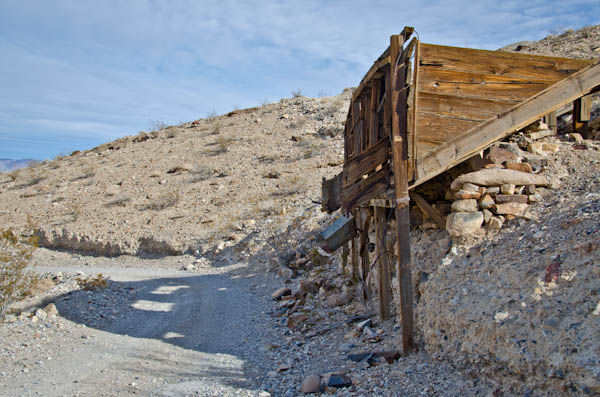 Getting out to hike around shows you the little life that can survive in this brutal environment.
There were lichens…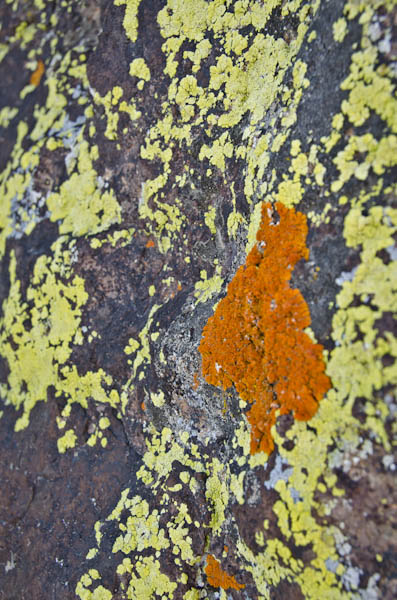 and shrubs and grasses.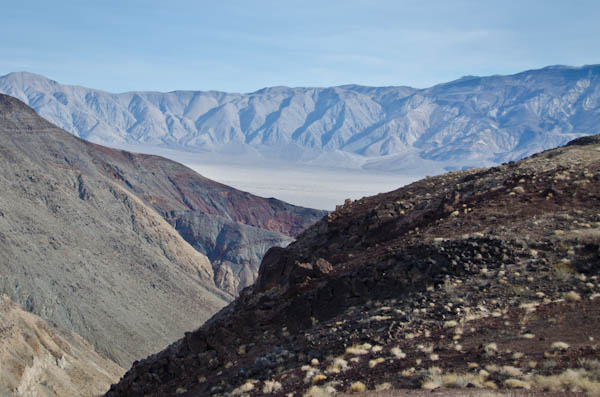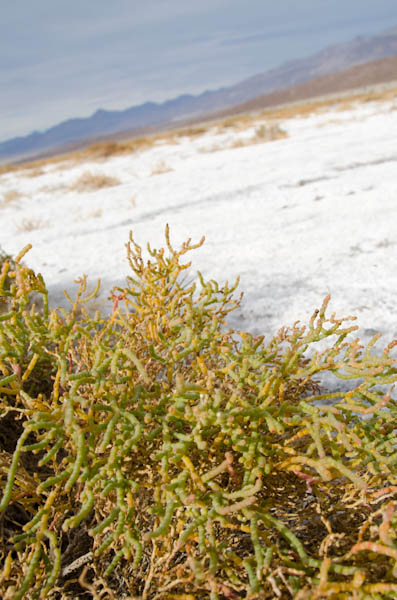 One of our favorite hikes allowed us to get an up close look at the salt flats that covered an expansive plain. We've shared some photos of it once before. I loved the feel and sounds of crunching of the salty minerals underfoot.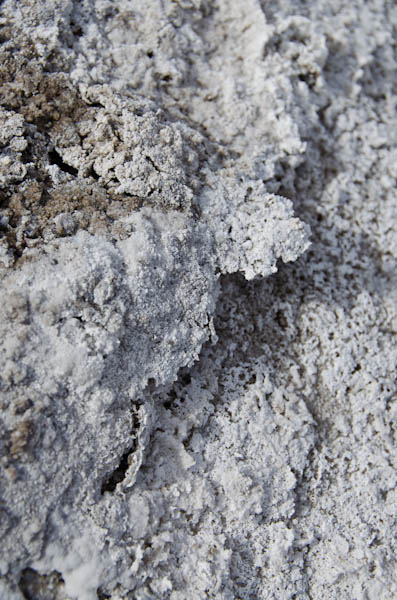 Another of our favorite hikes took us into Golden Canyon. It was short, quick and easy to do if you have a dog asleep in the car (maximum daytime temperatures were in the upper 50's so we knew she would be fine, I would NOT recommend taking your dog anytime other than the deep winter!)
The trail and canyon lacked any sign of life–beyond a few other hikers, of course.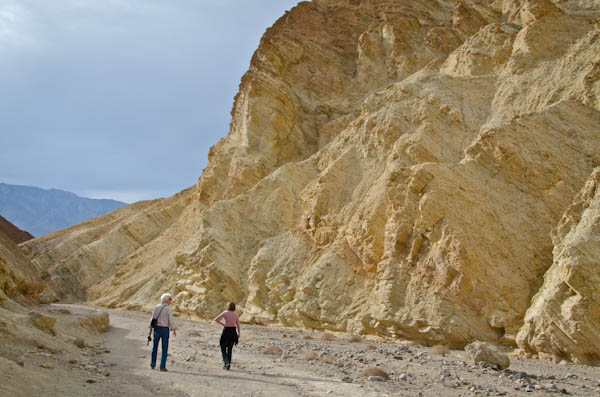 But it was colorful and had unique shapes..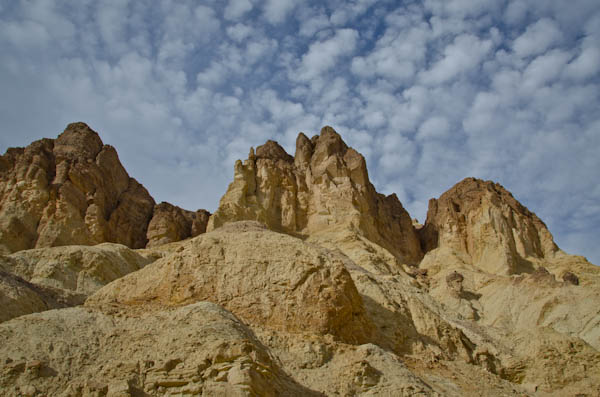 I felt like we were on another planet.  (Perhaps this is because scenes from Star Wars were filmed here.)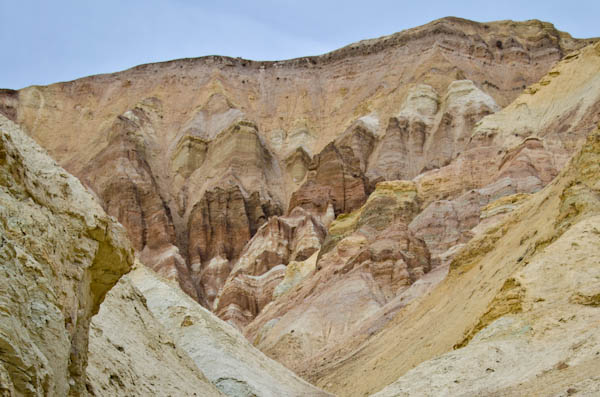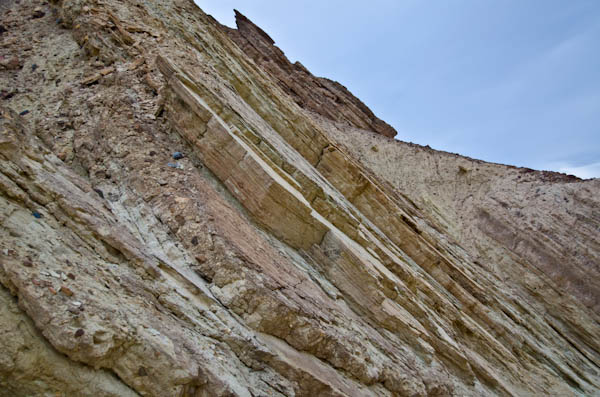 It ended with the colorful cliffs of Red Cathedral.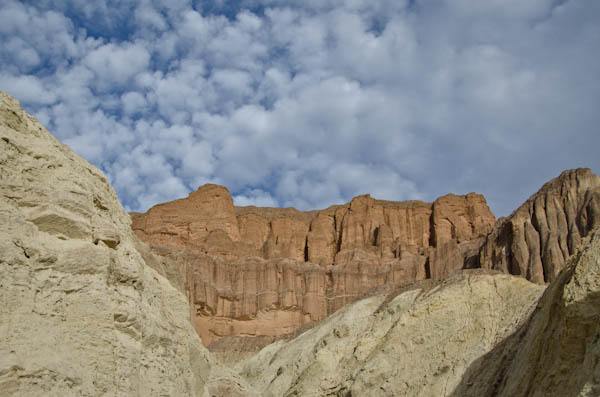 After this we drove through a very short area called Artist's Palette, where isolated mineral deposits color the rocks in unique pastel colors.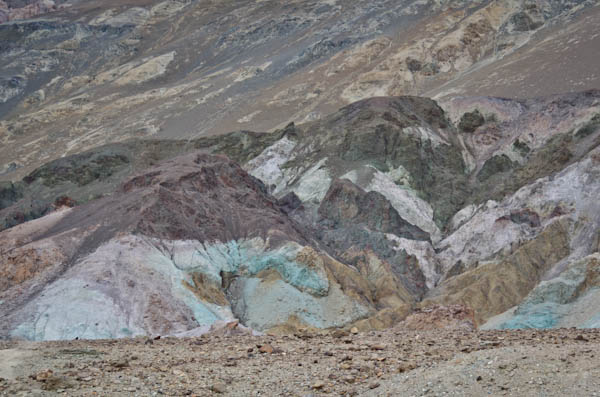 We ended our day with a drive up to Dante's View. At 1,669 m (5,475 feet) high, it's the highest point in the park and offers a panoramic view of the Southern Death Valley Basin. It was the perfect place to watch the sunset change from this…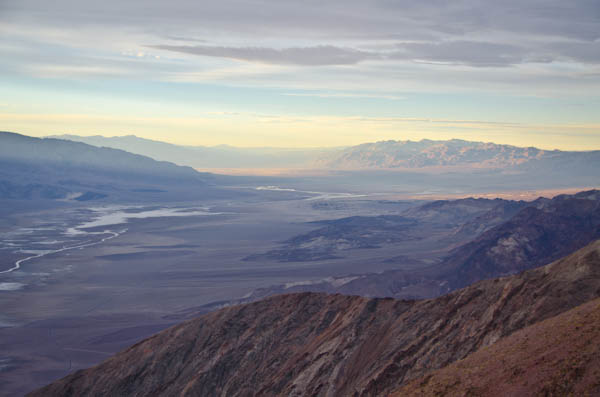 to this…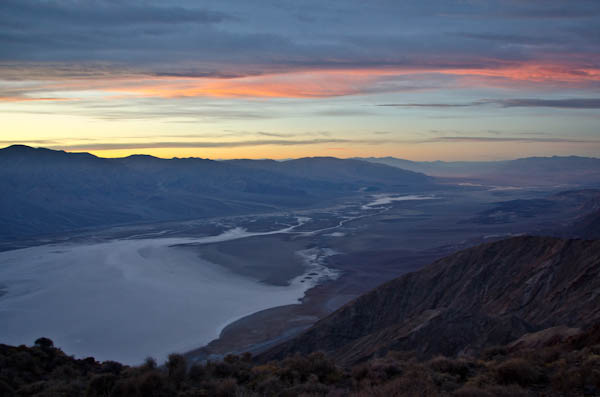 and finally to this…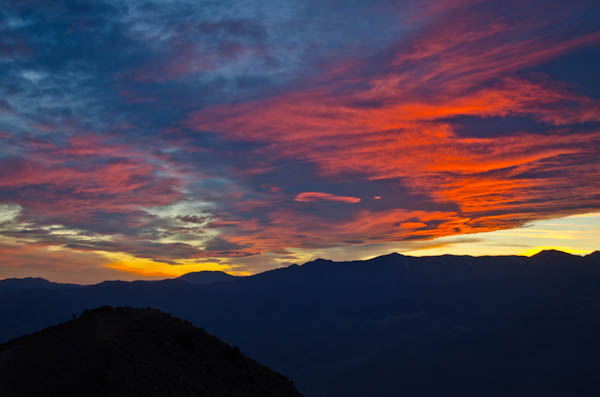 It was a long day of driving, but definitely worth it!  Death Valley is much less visited by US and international travelers who expect lots of monotonous beige rock and scorching temperatures. But plan your trip right and you'll see how surprisingly colorful and enjoyable it can be.
---
Has a place you thought would be boring ever surprised you?