I love pisco sours! We tried this tart cocktail at lots of bars and restaurants in Peru but haven't had a good one since we got back from that trip last April.
Last night we finally found the best pisco sour recipe! As part of our home-cooked Peruvian dinner for 15, my Peruvian friend Homer taught us how to make this regional favorite.
It turns out that this recipe is all about the limes.
First, you have to use large limes, not the small Mexican/key limes we usually buy.
Second (and most importantly), you have to hand-squeeze the limes and only squeeze them half way. Squeezing any more juice out of them will extract more of the bitter compounds in the peel and pith. This was hard for me to do, it seemed so wasteful, but it really did help to cut the bitterness.
I asked Homer what his favorite brand of Peruvian pisco was. Of the brands sold in the U.S., he recommends either Portón or BarSol.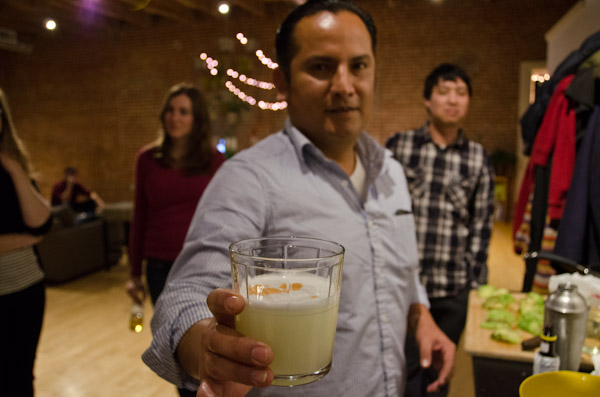 We'll be having another pisco sour to ring in the New Year tonight! You can, too. Here's his authentic Peruvian recipe…
Homer's Best Pisco Sour Recipe
Ingredients
3 oz. pisco
1 oz. freshly squeezed lime juice
1 oz. simple syrup
1 egg white
4 cubes of ice
Angostura bitters
Instructions
To extract the lime juice, squeeze limes <em>by hand</em> and <em>only squeeze them halfway </em>(until you've extracted only about half the juice.) Squeezing any more juice out of the fruit will extract bitter compounds from the peel and pith. You don't want that.
Make a batch of simple syrup — 1 part water to 1 part sugar, heated to a boil and then left to cool.
Put everything in a cocktail shaker and then shake vigorously (as hard as you can) for 10 seconds. You could also mix it in a blender.
Add 2 or 3 drops of aromatic bitters on top of the foam (do not mix in).
Leave a comment to let me know what you think!