2012 has been a pretty incredible year for us, and it's been a blast looking through the more than ten thousand photos we took and thinking about all that we've seen.  I'm pretty sure I could have picked 12 photos from any one of the many photogenic places we visited, so as an added challenge, and to highlight the diversity of the things we saw, I decided to just pick one photo from each calendar month. So these aren't necessarily my top 12 photos, rather a cross-section of several of the beautiful things we saw over the course of the year.  I also tried to choose pictures we hadn't shown here on the site before (though I believe July has made an appearance before–sorry, it's just that amazing!)
Here's to an even more scenic 2013!
Cassie
---
January:
View Toward Half Dome, Yosemite National Park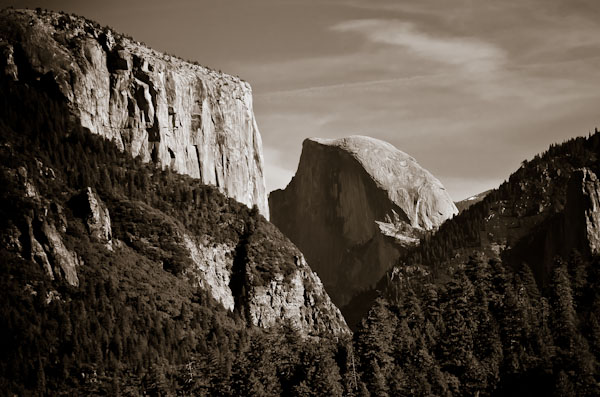 I took this on New Years Day 2012. By far my favorite photo from this trip was this photo of Mono Lake, but it doesn't count as it was taken the day before on December 31, 2011. Oh well, Half Dome is impressive any day.
January was also the month we went foraging for wild, edible mushrooms and we took a lot of photos there, too.
February:
Sand Dunes, White Sands National Monument, New Mexico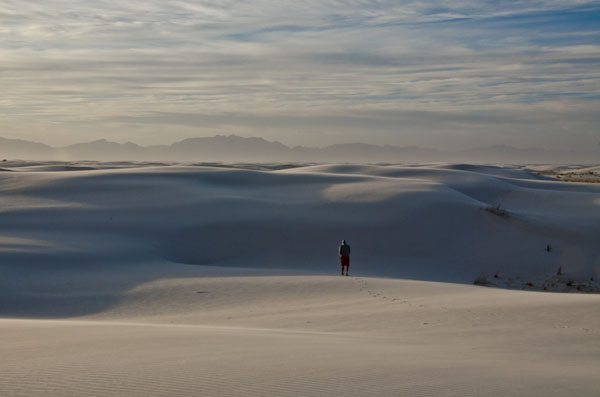 Kevin made this trip to New Mexico with his dad and brothers. I LOVE this photo he took of his brother Greg, getting lost in the dunes. Some more photos from White Sands and Carlsbad Caverns are here.
March:
Mirador Las Torres, Parque Nacional Torres Del Paine,  Chile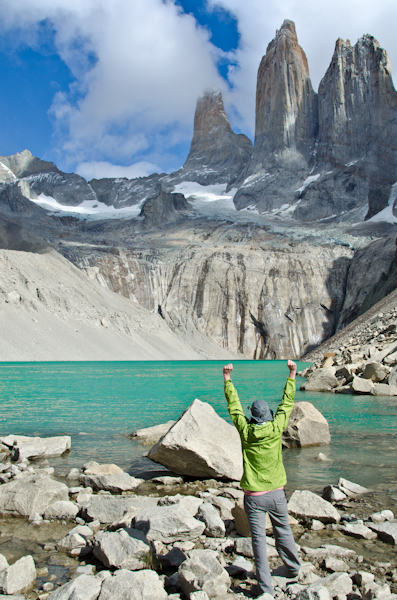 March and April were easy because we split the time between some of the most spectacular places I've ever been: Easter Island, Torres del Paine, and Machu Picchu. I love this photo and the memory of how exhilarated I felt to reach this peak and see this view.
April:
The Miraflores Coast at Sunset, Lima, Peru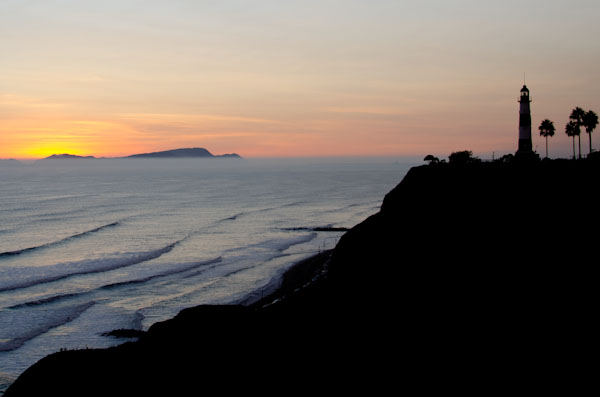 A beautiful sunset view of the awesome city of Lima taken just a few minutes after we took this one, of the paraglider flying up and over these cliffs.
May:
Mendocino Coast at Greenwood Pier Inn, Elk, CA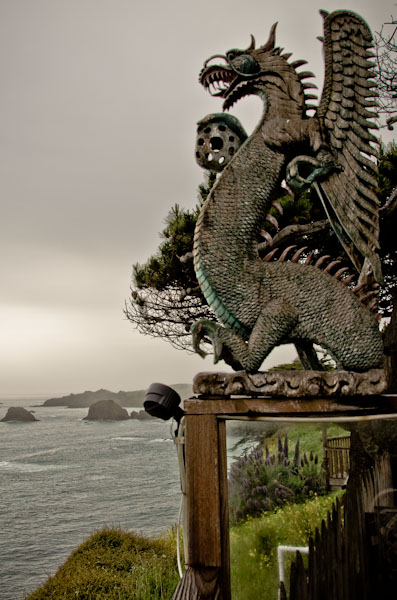 In May, we visited Mendocino with the dog, which inspired us to do this giveaway that you might remember. This was taken on the back patio of the dog-friendly bed and breakfast we stayed at.
In May, by dad and step-mom also came out to visit so I had some great photos from our visits to San Francisco and Santa Cruz, CA.
June:
Carla + Dave on the Central Coast, Cambria, CA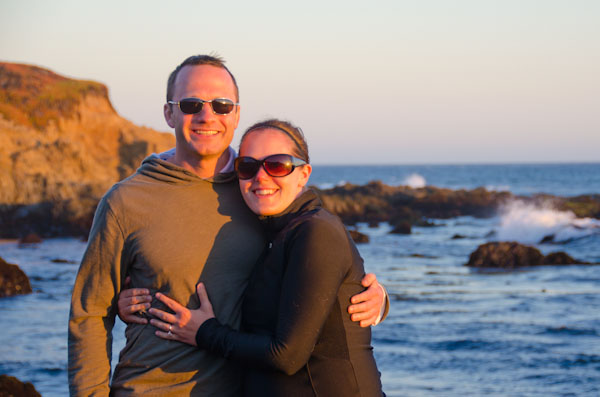 In June, my sister and her fiance came out to visit from the East Coast and we rented a house on AirBNB for a few days in the Central Coast town of Cambria, CA. We went wine tasting in Paso Robles and even went olive oil tasting. They charged us with taking some pictures they could use for their wedding announcement, so most of the great pictures we took are of them. We didn't use this one but I love this photo with the waves crashing in the background.
Late June was also when our friend, Kimi, came to visit (early stop on her RTW trip) and we explored nearby Santa Cruz, CA.
July:
Humpback Whales, Kenai Fjords, Alaska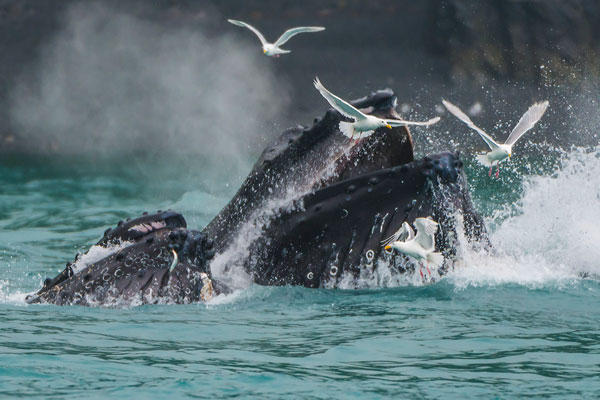 In July, Kevin went fishing in Alaska and learned some lessons about how NOT to let bad weather spoil a trip. He witnessed these humpback whales so close that he could smell them!
This month we also visited the Avenue of the Giants/Humboldt Redwoods, a wonderful camping trip with some good friends. I saw them all last night for the first time since this trip and we decided to make this an annual tradition!
August:
We didn't go anywhere in August (hooray!), so the only photos I took were a few snapshots on my phone.
We did watch Kevin's dad's dog for a few days while he was out of town. Check out this video of how Winnie reacted when she knew we were ready to take her for a walk! (Edited using the iPhone app, Vintagio)
September:
The Old Bethlehem Steel Factory, Bethlehem, PA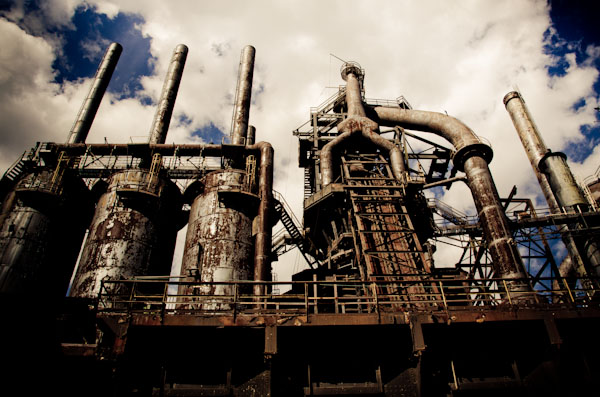 In September, we went to Columbus, Ohio to watch Kevin's Cal Bears get beat by Ohio State. Afterward, we zipped across Pennsylvania to visit family, including this stop and tour of the old Bethlehem Steel factory (post pending). We finished the trip with a  weekend in Los Angeles where Kevin watched more football (and another Cal loss), and I did a South Bay road trip with my friend Layal.
October:
Blue Footed Boobies, Galapagos Islands, Ecuador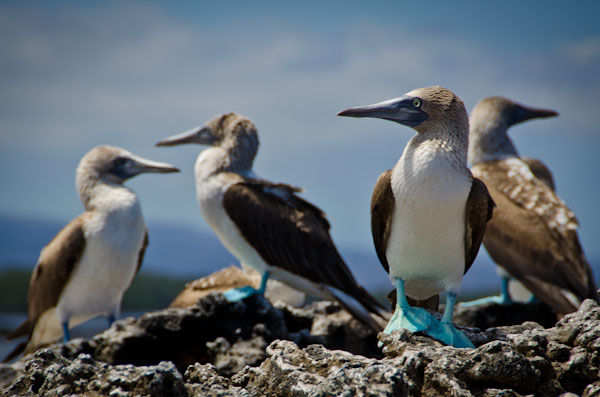 October was another huge trip! Galapagos Islands, Ecuador, and off to Colombia! I've shared a few of our Galapagos posts so far with still a lot more to come! Ecuador, I've barely written about yet with the exception of Mindo hummingbirds and the cock-of-the-rock.
The one thing I wanted to do in the Galapagos was get an up-close look at the blue-footed boobies, and I wasn't let down!
November:
Afro-Caribbean Dancers in Bolivar Square, Cartagena, Colombia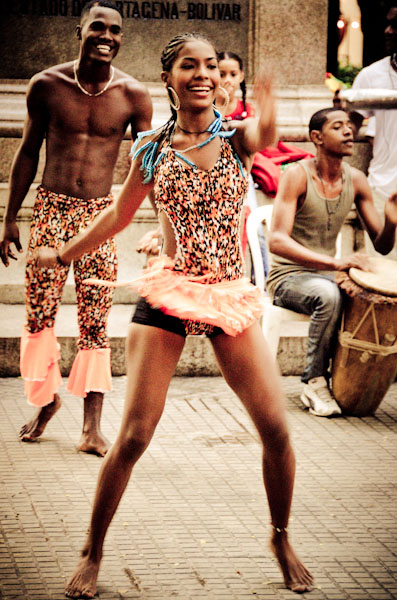 We ended our second trip to South America with a quick visit to the old town of Cartagena, Colombia and a few days in Bogota, Colombia–posts pending on both. All day long, dancers and performers filled Bolivar Square, right across the street from where we were staying, so we could hear the music from our balcony.
December:
Murals at Chicano Park, San Diego, CA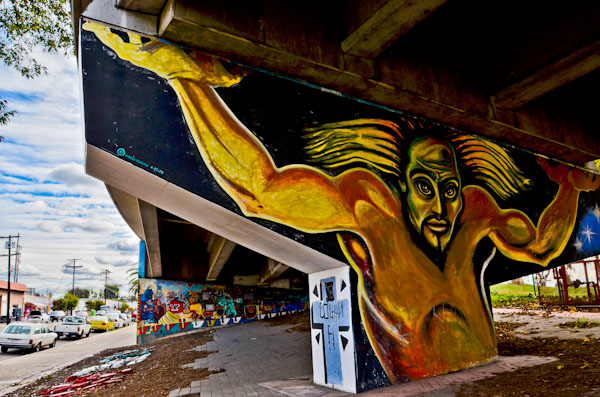 Earlier this month we went on a pre-holiday jaunt to San Diego, on buy-one-get-one-free airfare due to our awesome Southwest Airlines companion pass! We went to the San Diego zoo, visited some amazing breweries and the inspiring Chicano Park.
---
What was the best picture you took last year?