There are few things I like more than going through my photos and remembering great experiences so I was excited to be nominated by Kim of Kim Olson Photography and Ashley of No Onions Extra Pickles to take part in the Capture the Colour travel photo competition.
Capture the Colour asks bloggers to choose 5 photos from their travels that inspire them. Each photo must feature one color prominently and used in a unique way.
I'm no photographer, but I love taking photos and every single one of my photos is dear to me, even if out of focus, poorly lit, or awkwardly cropped. This why I relate so much to the story of amateur photographer/memory hoarder, Vivian Maier. Choosing one photo over another is painful. It feels like choosing one memory over another.
But I did it

Here is a selection of some of my favorite photos that I think are beautiful and whose colors help capture the moment.
---
Yellow
Boy and dog – Guanajuato, Mexico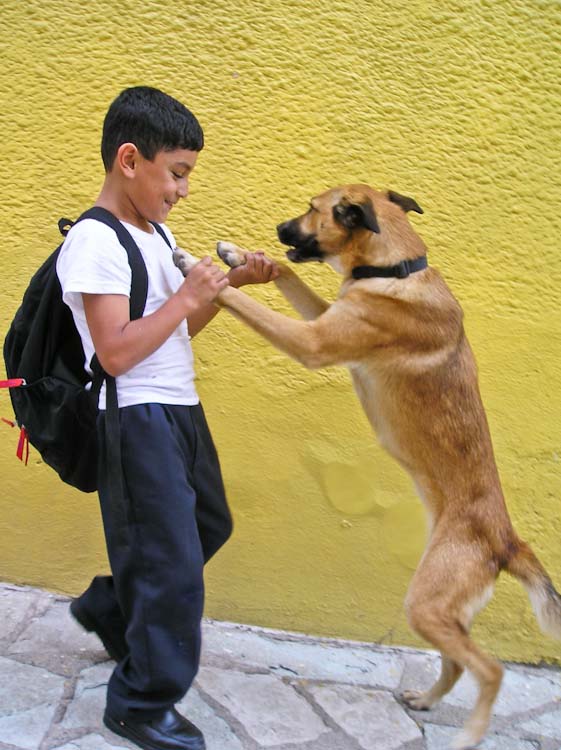 This is the only photo I chose that I've already written about. The dog was named Casimiro and he belonged to the owner of a language school I studied at in Guanajuato, Mexico. He would hang around the school during the day, wandering into and out of classrooms hunting crumbs under the desks. His owner would always call to him, "Casi!" (Cassie is MY name, so I always thought he was yelling at me!)
While sitting on the front steps between classes, I caught this photo of this neighborhood boy on his way home from school. He called Casi by name, ran up enthusiastically, throwing his arms around him, and scratching his ears and his lower back in just the right spot. God, I wish I could include the photo I took of them collapsing onto the ground in a big hug! The little boy was so happy to see his buddy and I could tell that this was their daily routine.
Red
Butcher – Madrid, Spain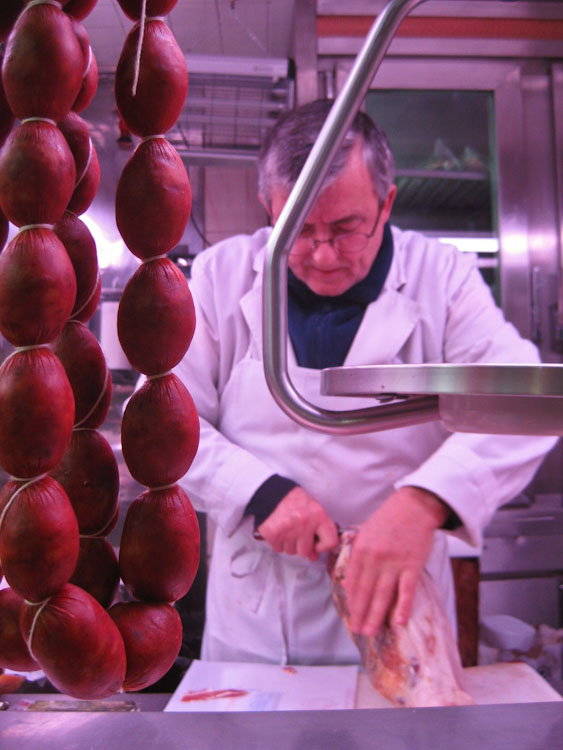 Like all traveling foodies, I love fresh markets and seek them out wherever I go. The meat section is always the most interesting part and I've been to some weird ones.
Madrid's most well-known food market is the super-fancy Mercado de San Miguel.
This is NOT that one. It was a small, locally-oriented market that we stumbled upon wandering a neighborhood. There were lots of broken windows, and only about a third of the stalls appeared to be in use. The hallways were dingy and dark, painted in that bright olive green that was characteristic of the 1970's. This particular stall caught my eye because it (and the meat!) glowed oddly with a green tinge from the bright florescent lighting bouncing off of the dull walls. The counters and floors were surprisingly spotless.
To equate this market to something more familiar to readers in the United States, I felt like I was in a dying mall. A place where only a select few stores are hanging on for dear life, because they offer a service that's unique  to the community, but will most likely meet their end sometime soon. I wonder whether this was the fate of this market, this carnicero, and his devoted community.
Green
Moss – Yosemite National Park, California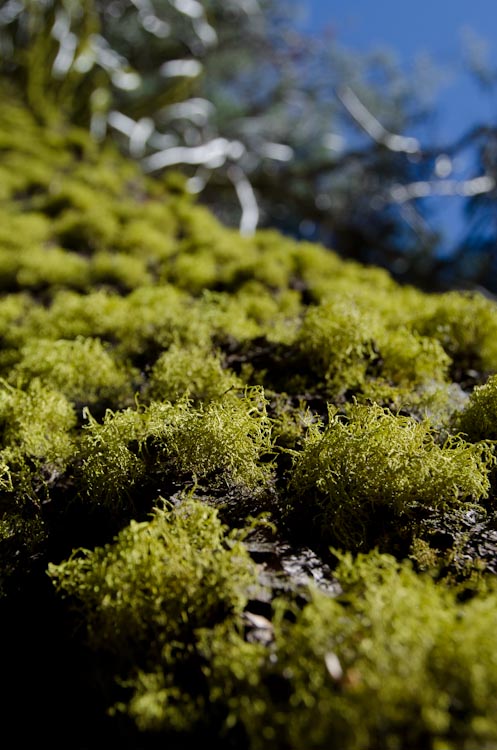 Yosemite is known for its broad and expansive views. The most quintessential photos of the park are taken at Tunnel View which depicts the majestic El Capitan, Half Dome, and Bridalveil Falls. These places are awe-inspiring and I have hundreds of photos of them.
It's really easy in a place like this to forget to look for the details that you'll miss with your wide lens and eyes toward the horizon. I took this photo of looking up a redwood tree at a stop on Tioga Road in the north part of the park.
White
Mono Lake – Lee Vining, California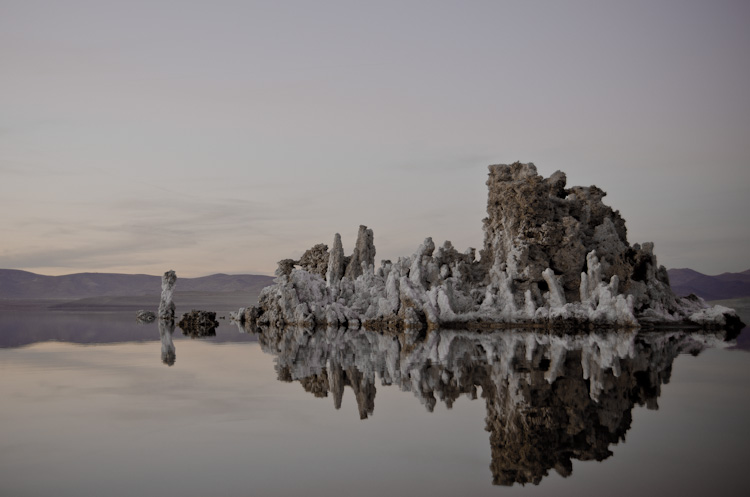 Yosemite had more than 4 million visitors in 2010, most of who missed out on a remarkable and otherworldly place just a few miles outside of the northern gate.
Mono Lake is an ancient saline lake (over 1 million years old) that's known for its creepy "tufa towers," white calcium-carbonate towers and shapes formed by interaction of freshwater springs and alkaline lake water.
We went there this past December 31, and arrived just before sunset (we really know how to ring in the New Year in our old age!)  It was freezing outside and there was frost on ground. We were bundled up but still cold and even the dog was pulling back toward the car (she NEVER wants to leave!)
Kevin and I are plagued with having clear skies wherever we go – it's good to have nice weather but clouds are much more interesting in photographs! The empty, color-less sky and complete absence of wind, causing a mirror-like reflection, made me feel like we were on another planet.
As I've written recently, Mono Lake Tufa State Natural Reserve is on the list of protected spaces threatened as part of massive cuts to the California State Park system! Check it out while you can.
Blue
Vacant Garage – Puerto Natales, Chile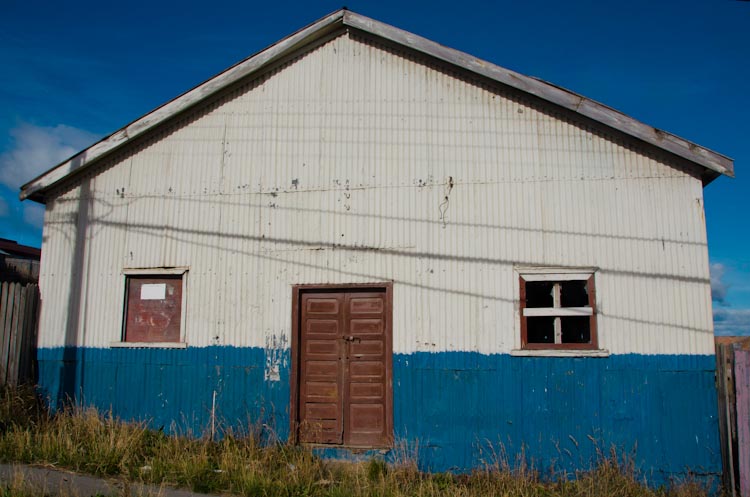 Puerto Natales is a small town in Chilean Patagonia that is the jumping off point for travel into Torres del Paine National Park, and right over the border from the tip of mainland Argentina. It was windy and cold though sunny and clear (more empty skies!) It had to have been the extreme latitude, because even in the middle of the day, the angle of the sun seemed to be flattering, like it is at the "golden hours" of sunrise and sunset. Just an observation–this particular photo was taken before sunset.
The rusting, tin-paneled buildings in town were painted brightly which was a great contrast to the otherwise dry, brown environment. This building was a few doors down from our hostal and I loved the color of blue and the fact that the simple, utilitarian structure was painted to make it appear to have more depth.
---
It's Your Turn!
Per the rules, I now need to nominate 5 more travelers whose photos I'd love to see (shooting myself in the foot because they have some great photographs!) I'm hoping you all haven't been nominated yet, but even if you have I wanted to light a fire on you to show us your picks!