Last weekend we held our latest #SweetsCrawl, an occasional EIT reader meetup and dessert-fueled city walking tour. We've done them several times before in various cities in California. It's a fun way to get out and do what I love to do–travel and eat!  This time around we explored local bakeries, sweets shops, and foodie things to do in Sacramento, our state capital.
About ten people came out to spend the day eating their way around the city. I brought a car full of Bay Area friends. And Sacramento-based blogger friends Jenna (from This is My Happiness) and Meghan (from Traveling Nine to Fiver) joined me to share their favorite local finds.
I'm so grateful to everyone who came out and joined us for this delicious afternoon! Sadly, I didn't get many photos of people — the only thing I documented are the delicious things that we ate.
Here's our itinerary for a very sweet walking tour of Sacramento…
The Sacramento Midtown Saturday Farmer's Market – On 20th from J to K St., Sacramento
A fun weekly farmers market featuring artisan treats (including craft brewed beer and kombucha) and farm fresh produce.
The Mill – 1827 I Street, Sacramento
A Midtown coffee shop featuring homemade shrubs, vinegar-based sweet flavor syrups and coffee lattes made with homemade almond milk.
Eatuscany Caffe  – 1801 L St., Sacramento
An Italian deli featuring some of Sacramento's best gelato.


Ginger Elizabeth Chocolates – 1801 L St., Sacramento
A bakery and chocolate shop featuring inventive desserts and beautiful French macarons as good as the best macarons in Paris.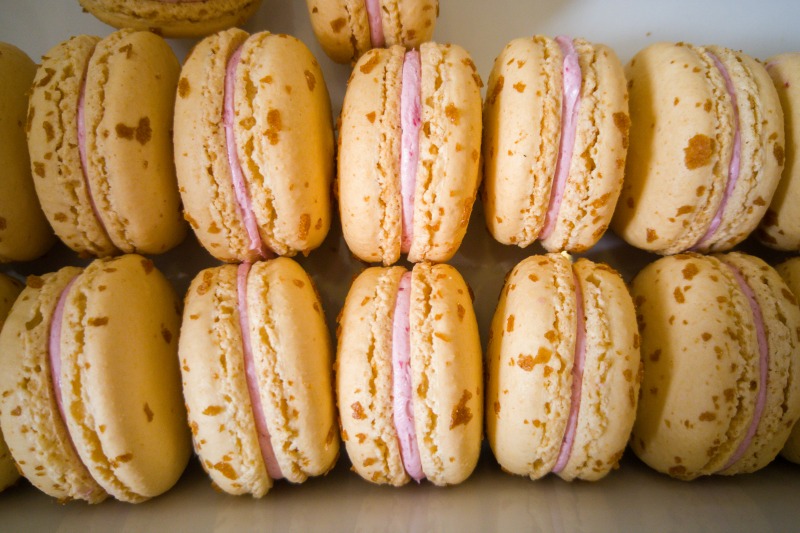 Capitol & the Rose Garden
We walked through Sacramento's central Capitol Park to see the California state capitol building and the colorful International World Peace Rose Garden.
The Allspicery – 1125 11th Street, Sacramento
A travel inspired culinary spice shop featuring hard-to-find flavors from around the world.
About A Bite Bakery – 1200 K Street, Sacramento
A bakery that offers a wide range of chocolates, candies, and cakes, all made to offer a bite-sized indulgence.
Andy's Candy Apothecary – 1012 9th Street, Sacramento
A well-stocked candy shop that resembles an old-timey pharmacy with rows of glass jars stocked with all manner of colorful, sweet treats.
Ruhstaller Beer Taproom – 630 K Street, Sacramento
A basement "research & development" tasting room for Ruhstaller Beer, an award-winning Northern California craft brewer. They even grow their own hops locally at their hop farm in Davis, California.
I was excited to find these fun, foodie things to do in Sacramento. Another great day added to the annals of SweetsCrawl!
Check out these wrap-ups from our previous meetups in: San Francisco, Oakland, Los Angeles, Palo Alto, and a reader-organized event in Atlanta).
Want me to do a SweetsCrawl walking tour in your city? Let me know…