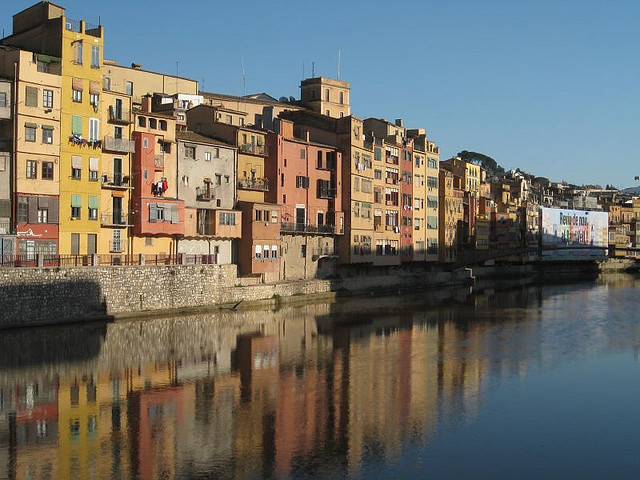 I've been trying desperately to stay off of social media this week. Each time I've signed in, I've been bombarded by photos of bloggers I know sharing beautiful European street scenes, savoring jamon iberico de bellota and drinking glasses of cava in smoky bars. The 2012 travel blogging conference, TBEX Europe begins today in the Catalan region capital of Girona, Spain.
Kevin and I went to Girona a few years ago after visiting Barcelona. We spent a night there after booking a RyanAir flight from GRO to Granada. It was a beautiful small Catalan city with AMAZING sunsets (see above). It was easy to get around, only a quick train ride from Barcelona. It was inexpensive and seemingly only visited by domestic tourists. It was the one place we went in Spain that wasn't crawling with English-speaking tourists. Girona was our "good find" that we've always recommended to friends planning travel to Barcelona.
We were excited to find out that Girona and the Costa Brava were chosen as the destination for this Fall's TBEX conference, but we were jealous that we couldn't go.  I go back and forth between being excited to read updates about our friends' Catalan adventures and wanting to eschew social media altogether.
To read more about this event, follow the #TBEX hashtag on Twitter through the weekend.
And of course, visit Girona. At sunset. You won't regret it.
---
Foto Friday is a series where I go back through my archives to share photos that I love either because I think they are beautiful or they have an interesting story. I hope you enjoy them as much as I do!