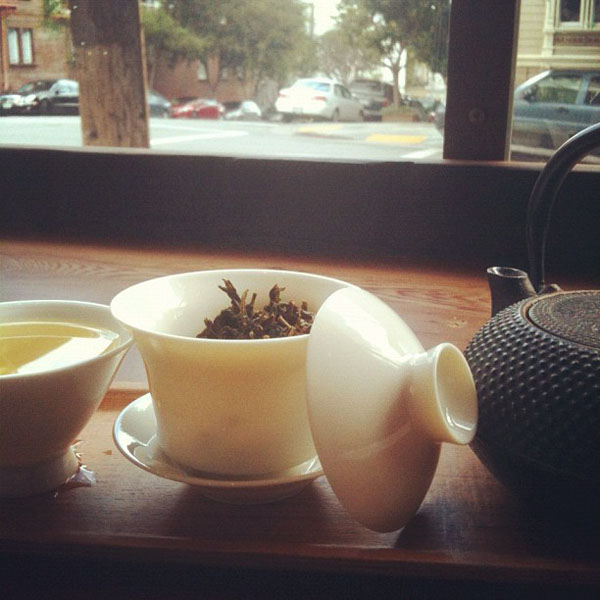 There are few things I like more that a hot cup of tea. When I was a young, I picked up the daily tea habit from my stepmom. Later this simple ritual turned into a fascination with all aspects of this ancient tradition, including how the plant is grown, how it has been used throughout history and how it continues to be enjoyed by cultures all around the world.
When I finally caught the travel bug, I started to fantasize about my dream vacation: a tour of tea producing regions of the world.  All types of tea — whether black, green, oolong or white, comes from just one plant — Camellia sinensis. This plant can only be grown in very specific climates, most of which are in Asia, though in recent decades growers have established gardens in Hawaii and East Africa  (see this map). I would love to visit these places one day
— see the fields, learn how the teas are processed, and learn about the unique local tea customs and traditions.
With that said, here's my "tea travel" bucket list, featuring some of the world's top tea travel destinations and experiences:
Tea Travel Destinations:
Tea gardens with the Himalayas rising up in the distance – Darjeeling, India

Source: davaodude 
Women harvesting tea – Assam,  India

Source: nalinandworld
Tea fields climbing the rolling hills of Sri Lanka

Source: mollow
The biggest tea producing region in Japan, at the base of Mount Fuji – Shizuoka Prefecture, Japan

Flickr: BlueRidgeWalker
In this remote area of Western China, the ancient tea trees  have grown so high, workers have to climb into them to harvest the tea. In Yunnan, Western China

Source: giahs
The high-altitude mountain peaks in Taiwan are home to some of the most prized oolong teas in the world. Ali Shan mountains, Taiwan

Source: sharleenchao
The only place in the United States where tea has successfully been grown is on the the Big Island of Hawaii

Source: karendunlap
Rooibos (or redbush) is a popular herbal tea native to South Africa. Here are some workers raking and drying the rooibos leaves.

Source: dfid
Tea Travel Experiences:
Watching a Tea Ceremony in Japan

Source: kamomebird
Eating "tea leaf salad",  a popular dish in Myanmar.

Source: kozeyar
Drinking sweet mint tea in a smoky, Moroccan tea house.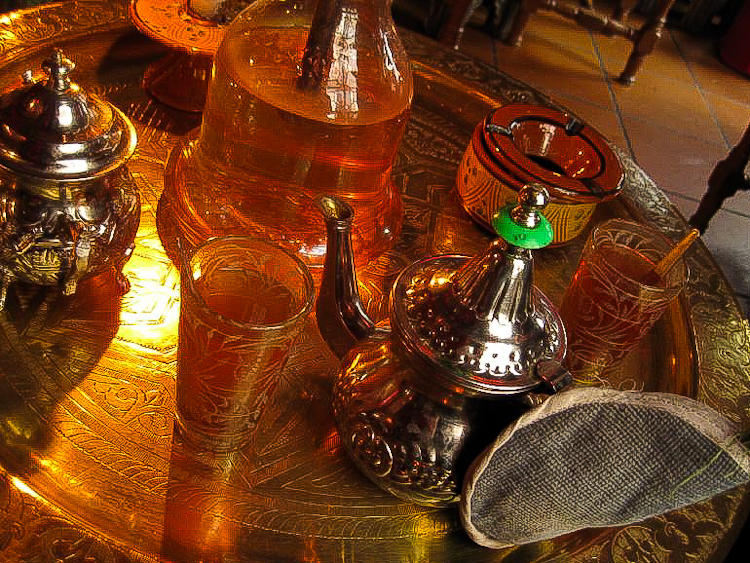 Source:  My photo from Granada, Spain
Learning about Yerba Mate in South America

Source: maltman23
Visiting the Celestial Seasonings (herbal tea) production facility in Boulder, CO

Source: evarees
Enjoy an English-Style afternoon tea — the more pastries the better!

Source: vergilyu
UPDATE 2/18/14: Some great recommendations from the Reddit tea board:
Here are two tea places that stand out in my travels:

Prior to being into tea, I got to visit Fishawi's tea house in Cairo. It was crowded as hell, we were seated with a bunch of a strangers that didn't speak English and we drank tea and smoked hookah into the night. Amazing.
I got to go to visit Uji, Japan which is the home of matcha and Gyokuro. If you are into JP tea, you definitely know the name Uji and if you have the means, you should visit at least once! It is a very touristy place but the city is so historic that I found it great to go and relax there. They serve green tea everything everywhere. Also the little street in front of the Byodo-in is lined with tea shops. Some have pretty good prices and very good tea.
Sat and had tea with the guys/gals from Obubu in Kyoto. It was in a huge department store building, during rush hour. Loud and hectic as hell, the guy barely knew English and I know little to no Japanese. Somehow we had a 2 hour long tea tasting full of conversation.

I think there is a huge gaping hole in your list: The Wuyi Mt area in China. It is home to the top-tier cliff teas(DaHongPao, RouGui, XuiShian, BaJiGuan, BeiDou etc). It is on my places to go list. This guy recounts his story. It is a popular tourist destination for people within China. Also Phoenix Mt deserves at least an honorable mention given that it is home to the prized DanCong tea. HOJO has a nice little article on it. However I am partial to Chinese oolongs  — User: mating_toe_nail
I grew up near Banff National Park, which I always strongly recommend people go see, regardless of their interests but….

At Lake Louise there are two tea houses at the top of the mountain — one at Lake Agnes and the other at Plain of Six Glaciers. Neither hike is easy, though Lake Agnes can be done in 2 hours. But when you get to the top, there's a tea house. And honestly, nothing tastes better than a well-brewed cup of tea after a strenuous hike and enjoying the beautiful view.

Even after living in the area, I still try to do the hikes once a year. One of my all-time favorite experiences.

And of course, if you're not up to the hike, The Banff Springs serves a great high tea, too. — User: splendidid
Stay tuned for our next post where I share some exciting news that may or may not involve tea…