For several months now, I've been keeping a secret and hoping not to jinx myself. Finally I'm ready to share the news.
We're going to Japan!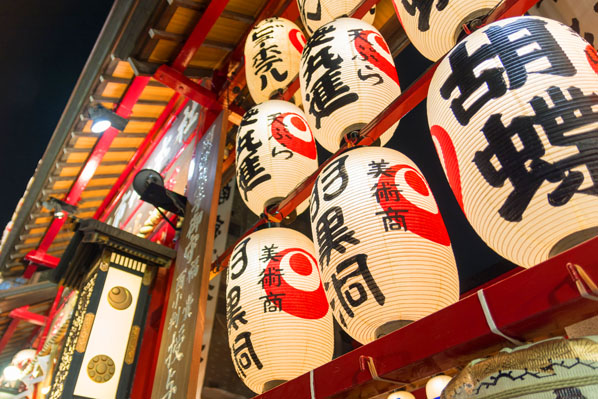 Photo: yoshikazut
At the end of this month, Kevin and I will be leaving for a nine-day tour of Japan. In that short time, we'll be exploring Tokyo's fast-paced urban life, Kyoto's history and temples, Shizuoka's (at the base of Mt. Fuji) green tea industry, and the natural beauty (and earthquake recovery) in the rural northeast. My head is spinning thinking about all of it, but I'm very excited.
Photo: diloz
I was invited to go on this trip as a guest of the San Francisco public affairs division of the Japanese Ministry of Foreign Affairs. This visit is part of their U.S. media campaign to promote travel to Japan. The application — including lots of emails back and forth to government offices in Tokyo — took several months so I kept it quiet until just recently when I received my final approval. Kevin decided to join me at our expense, and we're both thrilled to have this opportunity to share our stories with the world.

Photo: heiwa4126
This will both of our first trip to Japan (and my first to Asia!) so I have a lot to learn. The consular office gave us some ideas for the itinerary, but it is full of things we wanted to see, do, and eat. A few things we are planning to do include:
Explore Japanese cultural history and

traditional Buddhist temples

Learn about sushi and seafood — we'll be visiting the Tsukiji Market, the largest fish and seafood market in the world.
Learn about Japanese green tea production, tea-drinking customs, and culture
Learn about traditional Japanese vegetarian foods (me) / eat EVERYTHING (Kevin)
Explore Japanese major league baseball. We're going to spring training for the Yomiuri Giants — the sister team of our own San Francisco Giants!
Photo: swier
Tohoku Recovery
In planning the trip, consular staff asked if we would consider visiting the north part of the main island — a region called Tohoku. This large, mostly rural area sustained the most monumental damage in the great earthquake and tsunami of 2011. Though the tens of thousands of families who lost loved ones in this disaster are still trying to heal, the communities are steadily rebuilding. Despite these efforts, this region's economy has lagged behind. Today, nearly three years after this disaster, most tourists to pass up this area though many of the region's sites are far from affected cities or sustained little damage.
Still, I hesitated. I've said before that I'm one of those neurotic weirdos who stays awake at night worrying about cell-phone radiation. The thought of coming within a hundred miles of the Fukushima exclusion zone worried me. But then I thought again.
Photo: kyaabo
The Japanese government and U.S. State Department agree that, except for the immediate vicinity of the Fukushima reactors, it's safe to travel in Tohoku. Radiation levels in Sendai (the region's capital) are lower than recent reports from London, Paris, and Berlin. Furthermore, hundreds of thousands of people in this area rely on tourism — it's an important part of the economy. And those hundreds of thousands of people live there 365 days a year. I know tourism can help struggling communities and as I attempt to be a responsible traveler, I can't in good faith turn down this opportunity to see what the region has to offer. And frankly now that I've learned more about the region, it's the part of the trip I'm most excited about. It's Japan — but off the beaten path.
Please help us out…
What questions do you have about travel to Japan? What do you want to see? What do you want to know? Please share your thoughts in the comments below. Also, I'm curating a Japan travel Pinterest board with travel tips and destination photography so if you have any links to share, please put them in your comment and I'll pin them to the board.
We'll be sharing photos during the trip on Facebook, Twitter, and Instagram so join us there for the latest updates.