When I first got off the train at Amsterdam Centraal Station, I admit that the mass of people around me wasn't what I'd expected. The center city, just beyond the city's main train station has lovely historic buildings, but it's packed full of tourists, ugly souvenir shops, and fast food. Then there were the city's famous "Cannabis coffee shops" — there were so many coffee shops, and the smell spilling out into the streets seemed to follow me around. But even though I was a bit overwhelmed by the crowds, I quickly learned that the free-spirited city I'd seen in movies and photos was just a short walk in almost any direction.  Once I reached the first of many canals, which wind around the city in concentric rings, I took a deep breath and began my adventure through a city that really is just as charming as I'd imagined.
>>> Pick up my favorite Amsterdam guidebook here <<<
Here are 25 unique things to do in Amsterdam (other than "visit a coffee shop", which would be #26):
1. Wander the canals. Once you get past the few streets surrounding the Central Station, the neighborhoods within the canal ring are a diverse mix of tourists and locals.
2. Explore the fashionable Jordaan neighborhood: This formerly working-class, now trendy neighborhood is filled with art galleries, high-end shops, nice restaurants, and photogenic canal-side vistas.
3. Rent a bike, if you dare! There is no better way to see Amsterdam than by bike, the preferred method of transportation in the city. There are actually more bicycles than people in Amsterdam! While the city has a broad network of wide bike lanes, it does seem everyone is on them all the time, so they can be crowded and intimidating for inexperienced urban cyclists like me. (Note: Your beat up rental bike definitely won't be as cute as this one, spotted in the Jordaan)
4. Bikes as far as the eye can see. Check out the three-story bicycle parking garage at Amsterdam Centraal train station. It can accommodate 2,500 bicycles and more motorbikes. You'll want to take pictures.
5. Get on the water with a canal cruise. There are a few different companies that run 75-minute canal tours that traverse Amsterdam's waterways. It's a great way to orient yourself to the city.
6. Visit museums, both grand and weird. Amsterdam has a ton of interesting art, history, and science museums including the world-class Rijksmuseum, The Van Gogh Museum, the Ann Frank Museum, and NEMO Science Museum.  There are also lots of unique local museums like the Tulip Museum, the Cheese Museum, and my personal favorite, KattenKabinet, a truly bizarre cat-themed art museum.
7. Climb aboard an 18th-century Dutch sailing ship. Exploration and world trade was key to Holland's early prosperity and growth. Visit the National Maritime Museum, and get a chance to tour a detailed replica of a Dutch East India ship, that sank in a storm in 1749. If you're traveling with kids, tell them it's a pirate ship.
8. Stroll the Red Light district. I have to admit, coming face-to-face with a nearly nude woman sitting in a public storefront was one of the strangest experiences of my visit to the Netherlands. Like marijuana use, prostitution has long been legal in the country and as such, it's reasonably well-regulated to protect public safety. Sex-workers here have their own union, police protection, and regular health testing. To learn more about this curious industry, check out the Prostitution Information Center, a non-profit worker information and advocacy center run by former sex workers. The PIC is open to the public and also runs neighborhood tours (I wanted to take one, but we weren't there on the right day). Private tour companies also run red light district tours, but I'd prefer to support a charitable organization over any for-profit tour company.
Look for the red neon lights illuminating storefronts and overhangs. For the workers' privacy, it is illegal to take photos of the women, but you can get scenes like this if you shoot from a distance.
9. Get outside of the city into Holland's villages and rural spaces. While Kevin met up with some friends, I rented a bike at Amsterdam Centraal, crossed the river and biked around the lovely little villages in Amsterdam's "Waterlands." It was a beautiful and peaceful place and a fun adventure.
10. Explore Sparnwoude and Moulen de Veer. For the first few nights of our trip, we stayed at a hotel near this little village and open nature preserve between Amsterdam and Haarlem. It's a great place for hiking, biking, birdwatching, and a chance to see one of the last remaining windmills in the region, Moulen de Veer.
11. Eat Indonesian food! It may sound like an odd thing to do in Holland, but the food from Indonesia (a former Dutch colony) has been adopted as an important part of Dutch food culture and I fell in love with it! We ate Indonesian "rijsttafel" (an elaborate meal of 10+ different small dishes) 4 or 5 times in our week in Amsterdam. Our favorite restaurant was Aneka Rasa in central Amsterdam.
12. Eat stroopwafels. These hot, caramel-filled wafers are sold at street vendors and they are delicious! I tried them once (at a stand outside of the Rijksmuseum) and was kind of obsessed. Sadly I never found them anywhere else, so if you see them, try them!
13. Eat cheese. There's a reason Holland is one of the world's largest cheese producers. Dutch cheese is delicious. Sample several at a food market and pick up some to snack on throughout the day.
14. Eat Dutch Apple Pie. One of our Facebook friends recommended we try the fat, flaky slices at Winkle43, and I couldn't agree more!
15. Drink local organic craft beer at the city's last remaining windmill! The Gooyer windmill is the last traditional Dutch windmill in the city of the Amsterdam. The building is now home to one of the city's top craft brewers, Brouerij 't IJ. We met up with our beer-loving friend, Bret, there one night and almost couldn't find him in the crowds–the place gets packed!
16. Learn about the history of the city and the canals. The Amsterdam Museum shares the history of the 1,000-year-old trading city from its earliest days to the free-thinking city that it is today. The Canal Museum (Het Grachtenhuis) has a great interactive exhibit on the historic city's 17th-century canal ring, one of the world's architectural marvels.
17. Learn about houseboat living at the Houseboat Museum. There are 2,500 residential houseboats moored along Amsterdam's canals. Pop into the Houseboat Museum, aboard a former frieghter turned houseboat, for a chance to see what it might be like to live in one of those unique floating homes.
18. Visit neighboring Haarlem. The quaint old city of Haarlem is just about a twenty minute train ride from Amsterdam Centraal Station. Haarlem has some of the region's best preserved historic architecture and a grand town square, Grote Markt. We spent just a day there, but I've heard lots of other travelers recommend it as a good base for your entire stay in the Amsterdam area.
19. Take a walk in the city's biggest park: The Vondelpark is a popular public park crossed by bike paths, scenic ponds, fountains, monuments and an open air theater. The park dates back to 1865.
20. Shop for food, fashion and more at Albert Cuypmarket. Buy all manner of colorful things at this 100 year old public street market in the De Pijp neighborhood.
21. Visit the world's only floating cat shelter. The Cat Boat (De Poezenboot) is a houseboat turned cat rescue that can house up to 50 cats at a time. These adoptable cats may be homeless, but damn, I'm jealous of their view!
22. Go green in a city famous for sustainability. Sustainable living is the norm in Amsterdam, and there are lots of opportunities for eco-friendly places to eat, shop, and stay. We booked a room at the Conscious Hotel Vondelpark, a stylish, eco-friendly and affordable place to stay in Amsterdam. [my review] // [check prices on Booking.com]
23. Get your picture taken at the Iamsterdam sign. Iamsterdam is a slogan of the local visitor's bureau, but it's been adopted as a motto for passionate locals and tourists alike. The massive Iamsterdam sign just behind the Rijksmuseum has become one of the city's most photographed landmarks.
24. Enjoy a drink at sunset by the canals. At least once, or even better, every night.
25. Stroll the canal ring at night. The reflections of the neighborhood lights on the water are really something.
Travel Tip: Buy an 1, 2, or 3 day iAmsterdam card from the city's visitor's bureau for free entrance to many of the city's museums, canal tours, and public transportation. They may seem a bit pricy (starting at 49 euros for 24hrs), but they will save time and can save you money if you are hoping to do a lot in a short time.
For more things to do, don't forget a good guidebook! I used this one for Amsterdam: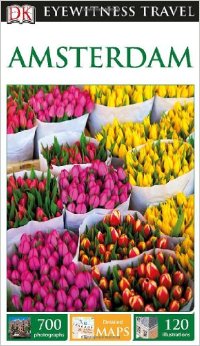 Looking for an Amsterdam hotel? I enjoyed my stay at Conscious Hotel Vondelpark: [read my review] – [check current prices!]
Explore other Amsterdam hotels on Booking.com.
Want to save this post for your next trip? Click here to pin it on Pinterest: